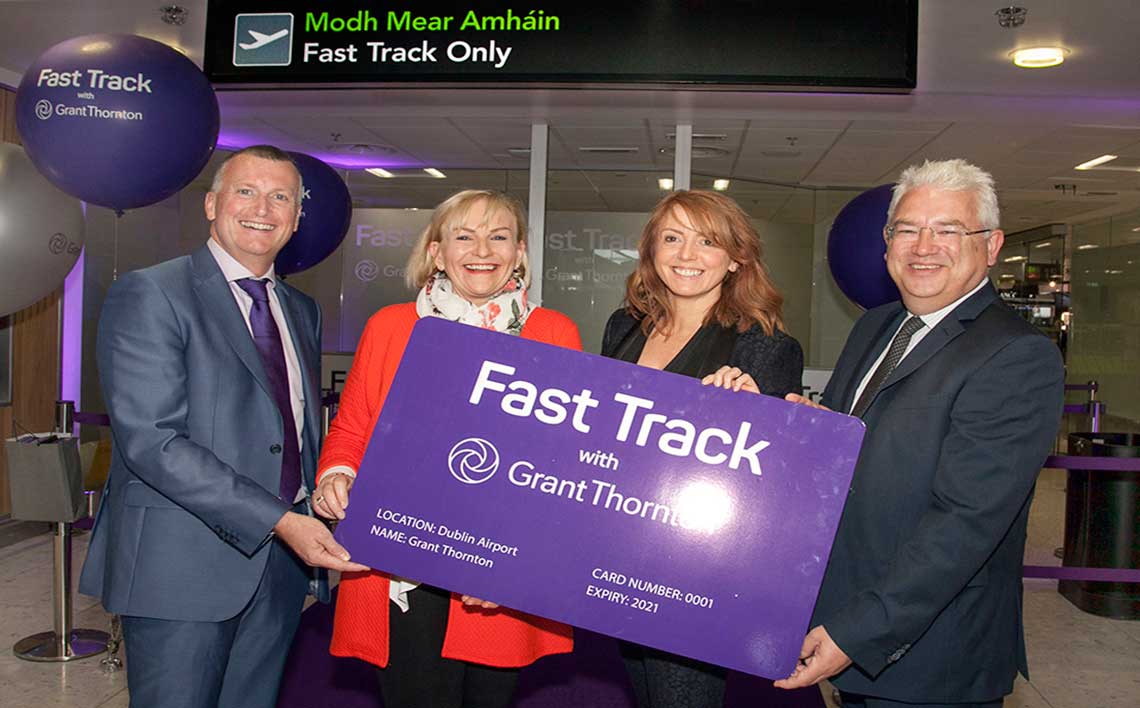 Dublin Airport has entered into a three-year partnership with Grant Thornton which will see the professional services firm sponsor the airport's Fast Track product. This is one of the first sponsorships of an airport fast track facility worldwide.
Under the partnership, which commences this week, Dublin Airport's Fast Track facilities in both T1 and T2 will be exclusively branded by Grant Thornton, with the product now known as Fast Track at Dublin Airport with Grant Thornton.
Dublin Airport's Fast Track lane at security screening enables departing passengers to clear security in less than 10 minutes.
"We're delighted to have concluded this ground-breaking agreement with Grant Thornton to sponsor our Fast Track product," said Dublin Airport Managing Director Vincent Harrison.
"About 80,000 passengers travel through Dublin Airport daily so the power and value of airport advertising has been long recognised and with this agreement we want to take that to the next level," according to Mr Harrison.
"One of our qualifying principles for brand sponsorship is that sponsors should complement Dublin Airport's brand. Our Fast Track service delivers speed and efficiency which are particularly important for our business passengers. We are delighted to partner with Grant Thornton, whose ethos is a perfect fit with our Fast Track service."
Almost three quarter of a million passengers used Dublin Airport's Fast Track service in 2017.
Grant Thornton is Ireland's fastest-growing professional services firm, having expanded its team and service offering to meet increased demand from clients across, tax, audit and all aspects of advisory.
Since 2012 the firm has grown its turnover by more than 130% to €110 million and has expanded from a team of 30 partners and 375 staff, to 48 partners and more than 1,200 employees.
Michael McAteer, Managing Partner, Grant Thornton Ireland, said: "Grant Thornton is delighted to partner with Dublin Airport on such a unique and innovative sponsorship. This places Grant Thornton front and centre of business travel from Ireland as the firm pursues an ambitious growth strategy at home and overseas. Fast Track eases the journey for business passengers, a key audience for the firm, and Grant Thornton is proud to lend its name to such a premium passenger experience. Being one of the first sponsorships of its kind, the move represents the ambition and success of the Grant Thornton brand and our business, both in Ireland and globally."
Ciara Bourke, Marketing Director, Grant Thornton Ireland, said: "Over the past three years, Grant Thornton's marketing campaigns within Dublin Airport have resonated with passengers, in particular Ireland's business community. Our ambition was to work with daa on a standout partnership with real added value and longevity. Our new three-year sponsorship brings the Grant Thornton brand face to face with clients outside the confines of the boardroom and into the world of business travel. It promises to be an exciting three years ahead."
Organisations advertising at Dublin Airport have their brand exposed to a new and unique audience every day meaning the brand reach is extended even further than mainstream advertising.
Dublin Airport is one of the most important economic assets in the country. It supports or facilitates 117,300 jobs and contributes €8.3 billion annually to the national economy.
Dublin Airport will welcome 14 new routes and services comprising five long-haul and nine short-haul destinations starting this summer. New long-haul services include Dublin Airport's first ever direct routes to the Asia-Pacific region with Cathay Pacific flying to Hong Kong and Hainan Airlines flying to Beijing; both of which start in June.
More than six million passengers have travelled through Dublin Airport in the first quarter of this year, representing a 4% increase, or an extra 248,500 passengers, compared to the same period last year. This summer Dublin Airport will have flights to 195 destinations in 42 countries, operated by 56 airlines.
Image above: Announcing Dublin Airport's new three year partnership with Grant Thornton, which will see the professional services firm sponsor the airport's Fast Track in T1 and T2, were Grant Thornton Ireland Managing Partner, Michael McAteer, Dublin Airport Head of Advertising Sales, Loreto O'Byrne, Grant Thornton Ireland Marketing Director, Ciara Bourke and Dublin Airport Managing Director Vincent Harrison.