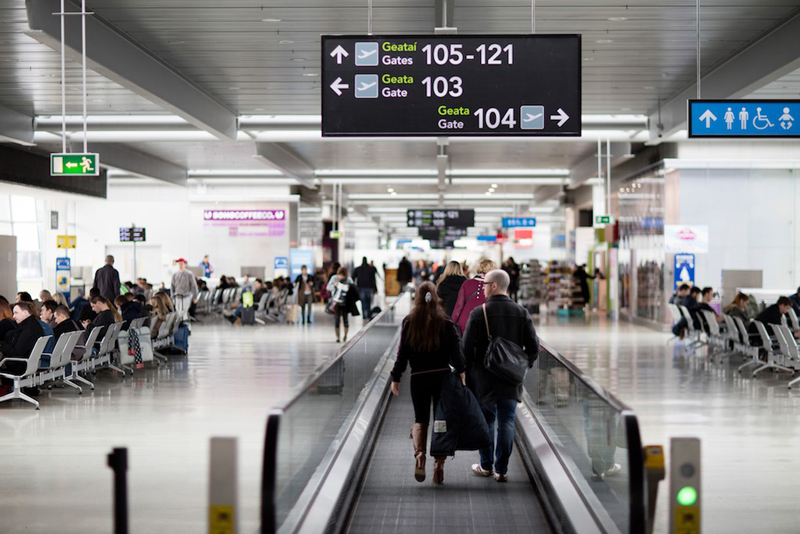 Dublin Airport's passenger growth has helped create almost 20,000 new jobs in the Irish economy over the past four years, a new economic study has found.
The number of jobs supported or facilitated by Dublin Airport increased from 97,400 in 2013 to 117,300 last year, as annual passenger numbers at the airport increased from 20.2 million to 27.9 million during the same period.
Dublin Airport's annual value to the Irish economy increased from €6.9 billion per year to €8.3 billion per year, as passenger numbers grew by 38% over the past four years, according to the study by economic consultants InterVISTAS.
"Dublin Airport plays an absolutely vital role throughout the Irish economy," said daa Chief Executive Kevin Toland. "The 20,000 extra jobs supported by its recent growth have been created right across the country, as greater connectivity boosts trade, tourism and foreign direct investment in every corner of Ireland."
Cork Airport also plays a major economic role within the Ireland south region, as it supports about 11,000 jobs and €727 million worth of economic activity. Cork's economic role is also boosted by the fact that it has the highest connectivity of any airport in the Republic of Ireland outside of Dublin.
"Dublin and Cork airports are two of the most important pieces of economic infrastructure in the State and their standing will increase even further in a post Brexit environment," according to Mr Toland. "We're working hard to increase connectivity at both airports for the good of the Irish economy, to help generate more trade and investment and to expand Ireland's growing tourism industry."
Mr Toland was speaking as daa announced its annual results for 2016, which showed a significant increase in profits for the group, which operates Dublin and Cork airports, the global travel retail business ARI, and daa International.
Profits after tax increased by 75% to €108 million last year due to growing passenger numbers at home and abroad, improved commercial income and the impact of new overseas businesses.
Turnover increased by 17% to a record €793 million, with aeronautical and commercial activities showing good growth and international turnover benefitting from the impact of ARI's new retail operations in New Zealand and daa International's contract to manage a new airport terminal in Saudi Arabia.
Earnings before interest, taxation, depreciation and amortisation increased by 20% to €247 million for the year. Operating costs increased by 14% to €381 million due to the impact of new businesses overseas and additional staff hired to cope with growing passenger numbers.
Overall passenger numbers at Dublin and Cork airports increased by 11% to a record 30.1 million in 2016. daa welcomed more passengers at its two Irish airports last year than it did during any year when it operated three airports in Ireland.
Passenger numbers at Dublin increased by 11% to a record 27.9 million in 2016 helped by 19 new routes and additional capacity on 31 existing services. Dublin was the fastest-growing major airport in Europe last year, as its traffic grew at more than twice the European average.
Cork Airport also had an excellent year in 2016 with passenger numbers increasing by 8% to 2.2 million due to six new routes and increased capacity to sun destinations and a number of provincial British cities.
In the first four months of this year traffic at both airports continued to grow, as Dublin traffic increased by 7% to 8.3 million and Cork passenger numbers increased by 2% to 602,000. Cork will welcome five new routes this year, including its first ever transatlantic service; while Dublin will have 11 new routes.
The 38% growth in traffic at Dublin Airport since 2013 is putting pressure on some areas and daa is currently investing about €100 million per year in capital expenditure to maintain, expand and improve facilities at Dublin Airport.
"We're investing in Dublin Airport for both for our airlines and our passengers," said Mr Toland. "We need additional aircraft parking stands, boarding gate areas and runway capacity and we're working in each of these areas. We also have a major maintenance and upgrade programme underway."
An extension to the Pier 1 boarding gate area opens later this month and in the autumn another new boarding gate area will open to the south of Terminal 2. "These new facilities will deliver nine extra boarding gates this year on top of the six new gates that were brought into service last year," Mr Toland added.
The first package of construction works for the new North Runway started last December and is proceeding well. "We've made significant progress on the North Runway project, which will be a vital enabler for the Irish economy for decades to come."
The procurement contract for the main phase of construction for North Runway will be placed next year and construction is projected to be complete in 2021. daa is also seeking to have two restrictive planning conditions relating to North Runway removed.
daa is also investing in Cork where a €4 million upgrade will deliver a new security screening lane, a major revamp of the airport's cafés and restaurants and a new fire training area.
The profit generated by ARI's overseas retail operations and investments increased by 11% to €24 million in 2016. "ARI benefitted from strong sales growth across its portfolio, an excellent performance in Cyprus and the first full year of operations at its stores in Auckland," Mr Toland said.
Passenger numbers at Düsseldorf Airport, in which ARI owns a 20% stake, increased by 5% to 23.5 million during the year.
ARI had significant tender successes in the Middle East during the year. It won a new duty paid concession at King Khaled International Airport (KKIA) in Saudi Arabia and at Muscat International Airport in Oman ARI retained the main concession and also won a new speciality concession. Subject to contractual negotiations, ARI may also take a stake in a new duty free business at Jakarta's Soekarno-Hatta Airport.
Last year was a landmark one for daa International with Terminal 5 at KKIA in Saudi Arabia, which is operated by daaI, successfully opening during the year. The new terminal, which has a capacity of about 12 million passengers per year, was opened on a phased basis last summer and was fully operational by the autumn.
daa operates Dublin and Cork airports, which are the two largest airports in the Republic of Ireland. daa also owns the international travel retail business ARI, which has operations in 10 countries and daa International, an airport management and aviation advisory services business.
Through its airports, retail outlets and airport management contracts and investments daa Group provides services to more than 135 million passengers per years in 11 countries across Europe, North America, the Middle East, Asia and Australasia.