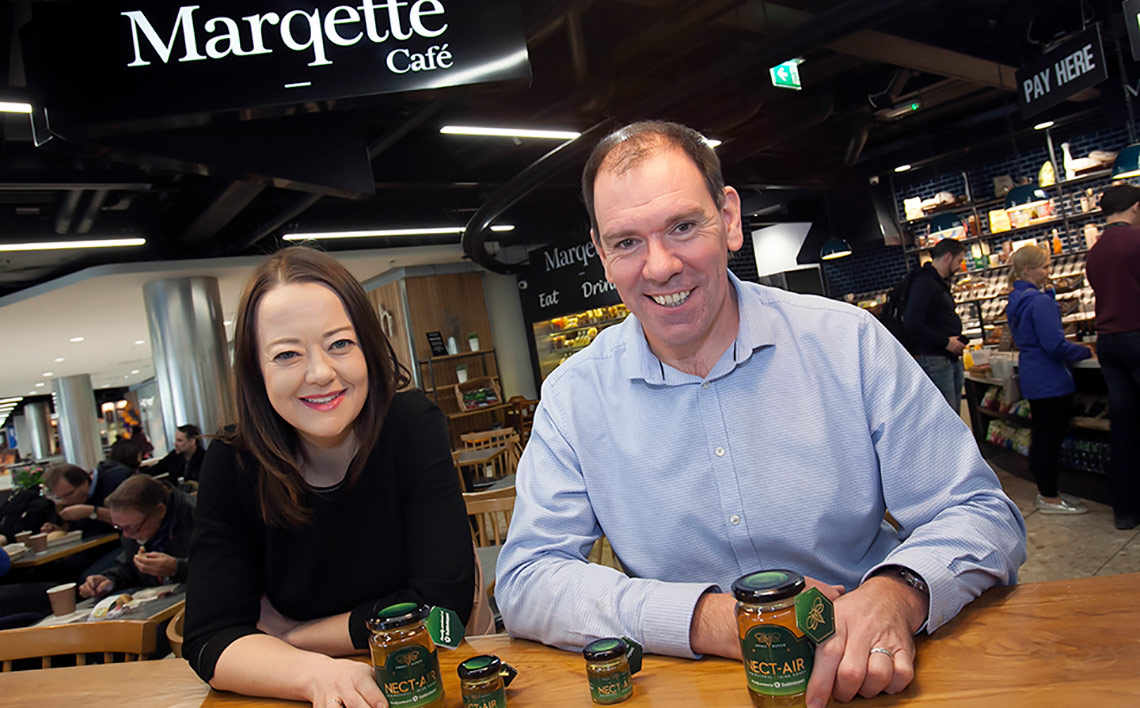 Sweet News For Passengers
Honey from bees in hives located on Dublin Airport lands is now available for passengers to buy.
The 100% natural Irish honey called Nect-Air is harvested from four hives housing more than a quarter of a million Irish dark native honey bees on airport owned land. The premium honey is now available in 340g jars to buy exclusively in Marqette restaurant in Terminal 1 at a cost of €9.95 each.
Marqette is the first restaurant at the airport to stock Nect-Air, according to Dublin Airport Managing Director Vincent Harrison. "We are thrilled to work with Marqette to make our honey more widely available so that passengers have the opportunity to purchase Nect-Air. Now that it is on sale directly to passengers, Dublin Airport honey will bring a sweet taste of Ireland to consumers all over the world."
The Dublin Airport bees produced their first batch of honey earlier this year and the honey is already popular with customers, as it forms part of the menu in some of Dublin Airport's own executive lounges.
"We are very proud of this top-quality honey as it was produced on our own land and is testament to the fact that the air quality and surrounding vegetation at Dublin Airport is excellent for the bees to thrive," Mr Harrison said.
"Marqette is delighted to partner with Dublin Airport to sell its locally harvested honey in our restaurant," said Marqette General Manager Michael Thornton. "We pride ourselves on serving dishes made from locally grown fresh produce and Nect-Air is a perfect fit for us," Mr Thornton added. "This partnership with Dublin Airport also helps us keep our promise to contribute to a more sustainable environment," he said.
Dublin Airport's bee hives were installed on airport lands with the help and advice of the Fingal North Dublin Beekeepers' Association and the Department of Agriculture, Food and the Marine. The hives are tended to by local beekeeper Colm Fogarty, who has 15 years' experience in beekeeping.
"Honey bees are one of the most important species within our eco-system, they are crucial for the survival of most of our animal and plant population," Mr Fogarty said.
Introducing native Irish bees to the local Dublin Airport environment helps biodiversity, as bees are essential pollinators. Colonies of bees can cover an area of up to twelve square kilometres, working intensively for their food.
The 250,000 bees who live and work in the airport apiary feed on nearby wild plants such as clover, blackberry, bramble and hawthorn. "This blend of flora gives Nect-Air its pleasantly mild, gently sweet flavour, along with its rich texture, warming amber hue, delicate aroma and slightly nutty undertone," according to Mr Fogarty.
Passengers travelling through Dublin Airport will find Nect-Air honey on sale at Marqette's main outlet, which is located beyond the security screening area in Terminal 1.
Marqette opened in September 2015 and is modelled on an outdoor food market. It caters for over 260 people and opens with breakfast from 5am with service continuing until the last flight. Marqette was recently named the Airport Food Hall of the Year at the Moodie Davitt Airport Food and Beverage (FAB) Awards for the second year in a row.
Dublin Airport has welcomed almost 27 million passengers in the first 10 months of the year, a 6% increase over the same period in 2017. More than 1.6 million extra passengers have travelled through the airport between January and October.
Dublin Airport has flights to almost 190 destinations in 43 countries, operated by 56 airlines.
Image above: Dublin Airport Corporate Environment Manager Emer Tierney and Marqette General Manager Michael Thornton.