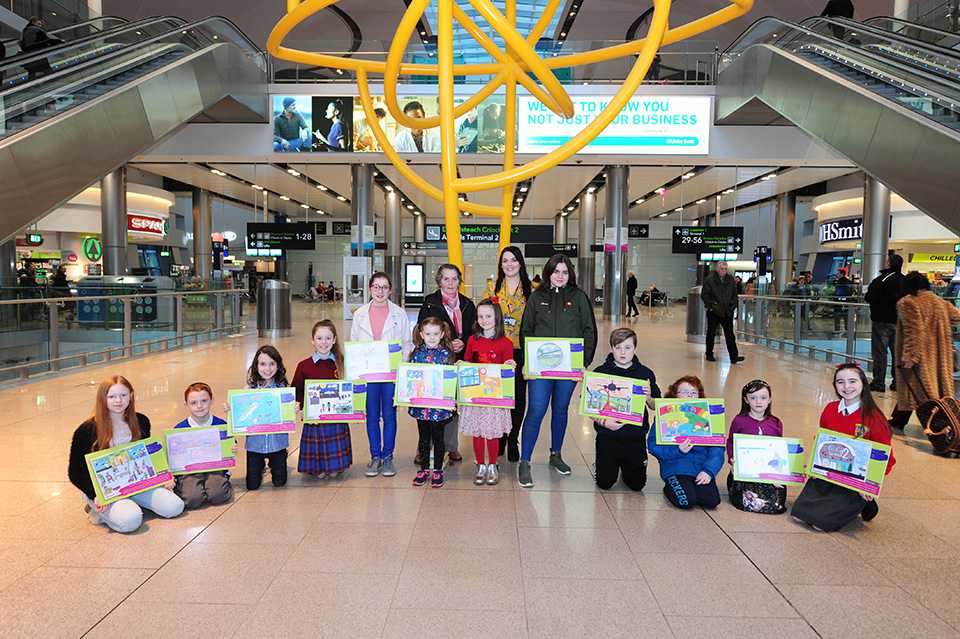 The winners of Dublin Airport's 2019 schools calendar competition were announced in Terminal 2 recently.
Every year children from local primary schools are invited to participate in a calendar competition themed around Dublin Airport. For the 2019 calendar students were asked to write a limerick, a five-line rhyming poem, based on their favourite thing about Dublin Airport.
More than 100 children from three local schools took part in the competition and a winner was chosen for each month of the year. All 12 winning entries are now featured in the airport's 2019 calendar alongside artwork drawn by the winners or a photo representing airport life.
"Choosing a winner from over 100 or entries was really difficult as each entry reflected an individual experience and happy memory of Dublin Airport," said daa External Communications Coordinator Sinéad O'Donnell.
"It was lovely to meet the students and their families and hear first-hand how their experiences travelling through the airport, taking part in Dublin Airport sponsored events in the community, or singing in the terminals as part of our Christmas Entertainment inspired their poems," she added.
Two of the winners were celebrating multiple appearances in Dublin Airport's calendar. Lillyaine Ní Sheibhleáin from Scoil an Duinnínigh has been featured in the calendar three times and Delia Toma from St. Margaret's NS has been featured for a second time.
Winners received a one-for-all voucher and a A3 cut-out of their winning entry as a souvenir. All students and teachers from the three participating schools received copies of the calendar to take home.
The winning entries were:
January Caragh Ní Réamoinn Scoil an Duinnínigh
February Aaron Macken St. Margaret's NS
March Lara Shelley Mary Queen of Ireland
April Robbie Doyle Mary Queen of Ireland
May Lily Ní Flanagáin Scoil an Duinnínigh
June Delia Toma St. Margaret's NS
July Annabell Callan Mary Queen of Ireland
August Lillyaine Ní Sheibhleáin Scoil an Duinnínigh
September Leah Burke St. Margaret's NS
October Amelia Woolsey St. Margaret's NS
November Jareth Cole Mary Queen of Ireland
December Shane Madigan St. Margaret's NS
Dublin Airport welcomed 31.5 million passengers in 2018, a 6% increase over the previous year and has flights to almost 190 destinations in 43 countries, operated by 56 airlines.
Image above: Delia Toma, St. Margaret's NS, celebrating her second appearance in Dublin Airport's Schools Calendar, pictured with daa Community Liaison Manager Maura Cassidy.