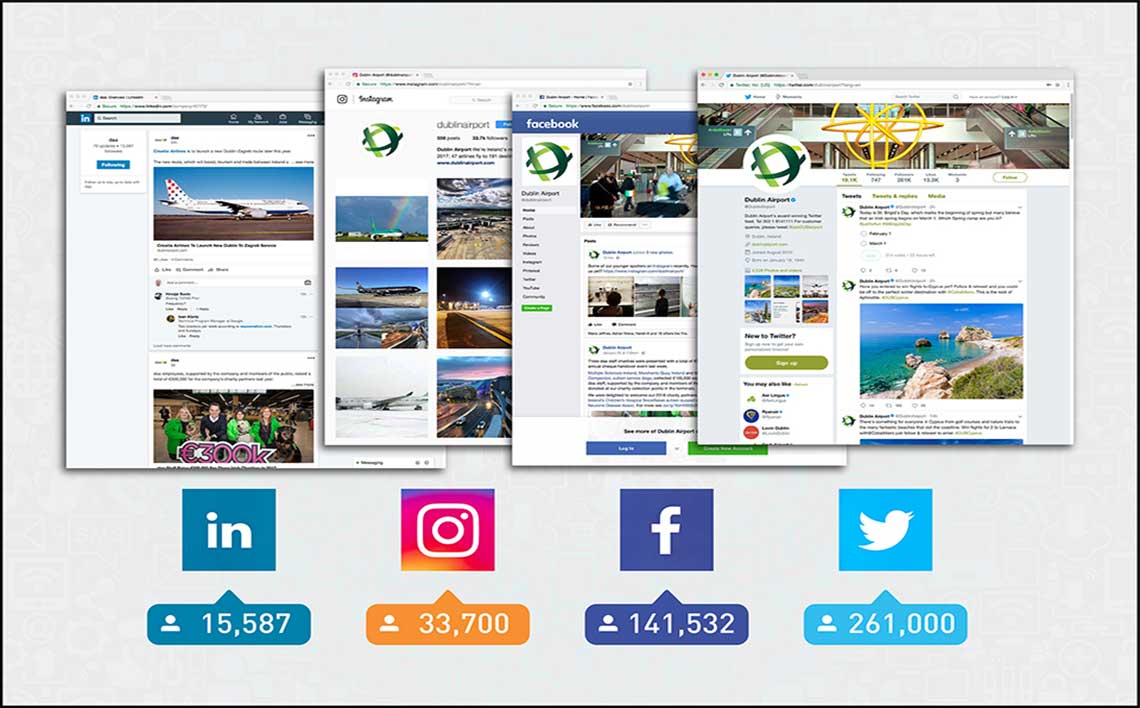 Dublin Airport has been shortlisted for three international social media awards.
The Moodies, which reward best practice in social and digital media among airports and airport retailers globally, has nominated Dublin Airport for the Best Twitter Feed, the Best Use of Instagram and the Best Use of Social & Digital Media by an airport.
"Social media has been an essential element of our communications activities for several years and we are delighted that our efforts have been recognised with these awards nominations," said daa's Chief Communications Officer Paul O'Kane.
"Social media allows Dublin Airport to connect with the public in an engaging and informal way," Mr O'Kane added. "Our social media channels are perfect for getting clear messages out quickly, posting information and updates on key developments and allowing Dublin Airport to have conversations with its customers through sharing photos, videos, and user generated content."
Dublin Airport has twice previously been named the world's Best Airport Twitter Feed at the Moodies and has also won four other awards for its social media accounts.
Dublin Airport has the world's fourth largest Twitter account with more than 260,000 followers. Last year, Dublin Airport's tweets were seen by 28 million people at home and abroad, almost matching the airport's record throughput of 29.6 million passengers in 2017.
Dublin Airport is shortlisted in the Twitter category alongside airports such as Amsterdam Schiphol, Heathrow, Gatwick, and Dubai and several international airport retailers.
In the Instagram category, Dublin Airport's account, which has almost 34,000 followers, is shortlisted alongside airports such as Changi in Singapore, Chicago O'Hare, Heathrow, LAX, and Sydney.
Dublin is one of 10 airports shortlisted in the overall use of social media category, alongside airports such as Bristol, Changi, Copenhagen, Dallas, Helsinki, Heathrow, and Ireland West.
The Moodies, which are now in their fifth year, are organised by the Moodie Davitt Report and cover 22 separate categories for social, mobile and digital media activity by airports and airport retailers globally. The award winners will be announced later this month.