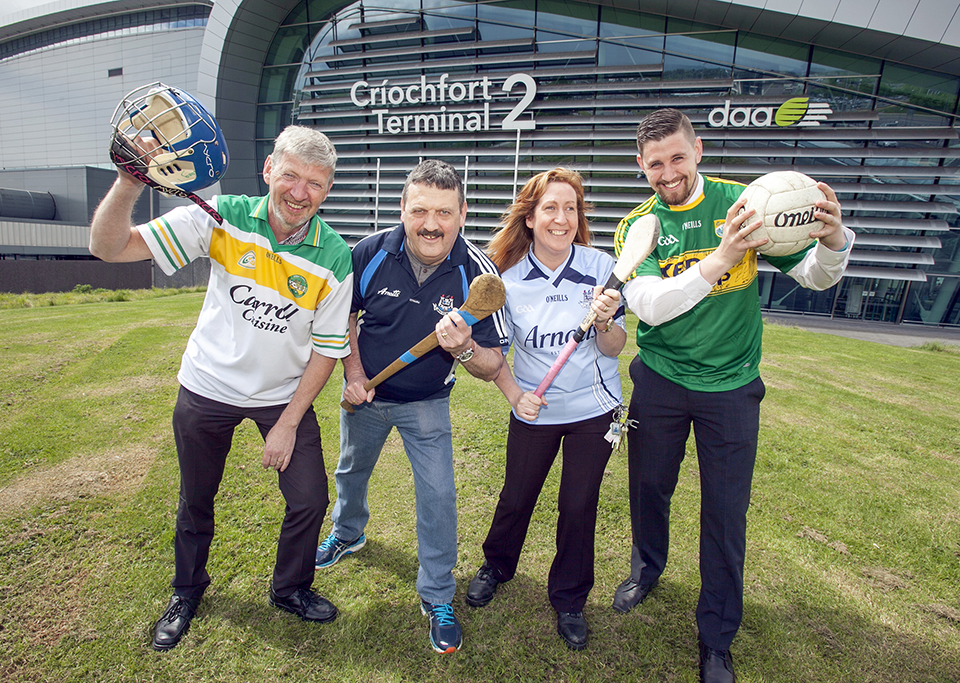 Sam and Liam Also in Attendance
Dublin Airport staff are invited to wear their county colours to work today Friday, June 2, in aid of the airport's three charity partners.
The initiative, which is in aid of the company's three charity partners MS Ireland, My Canine Companion for Autism and Merchant's Quay Ireland,is designed to generate banter among colleagues and passengers at the start of the June Bank Holiday Weekend.
Both front line and office-based staff have been encouraged to wear their county colours, whether it's a jersey, t-shirt, neck or wrist band.
"We're always looking for fun and simple ideas to raise money for charity partners," said Dublin Airport Charity Chairperson, Siobhán O'Donnell.
"This is a great opportunity for our colleagues to celebrate their home county and our national sport while also raising money for three great charities," she added. "We're hoping that passengers travelling through the airport will join in some good humoured banter with our colleagues."
Passengers travelling through Dublin Airport on the day can expect to see an array of GAA jerseys worn by staff across the terminals. Dublin Airport staff wearing their county colours are each making a €5 donation to the Charities of the Year fund.
"We're delighted to have the support of the GAA which is lending us the Sam Maguire and Liam McCarthy cups for the day so we'd like to encourage passengers to get into the spirit of the event by joining us in wearing their county colours also," O'Donnell said.
Dublin Airport's charity programme started in 2007 and over the past decade daa employees, supported by the company and members of the public, have raised a staggering €2 million for 18 different Irish charities.
Image above: Dublin Airport staff Des Mullally, Martin Mulligan, Carmel Darling and Robbie Coogan wearing their county colours for charity.