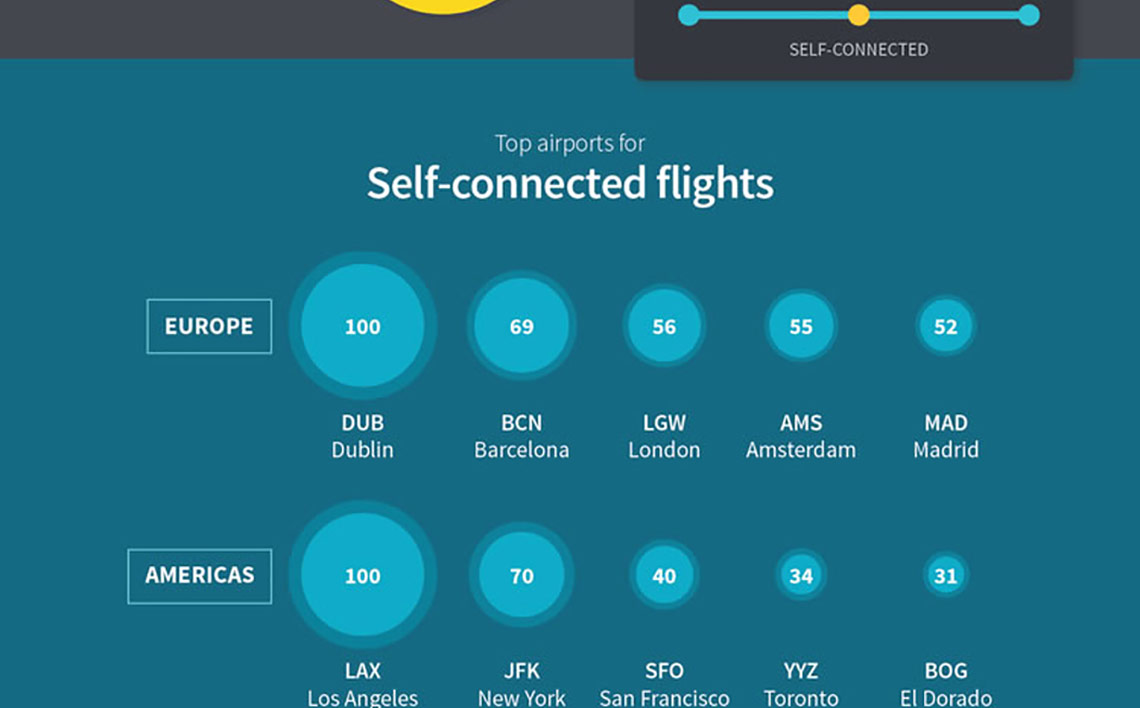 Dublin Airport is Europe's most popular airport for passengers choosing to self-connect, according to a new study by the global travel search engine Skyscanner.

Data from Skyscanner shows the top airports that travellers are choosing to self-connect through in Europe, the Americas, and Asia, with Dublin, Los Angeles' LAX and Singapore's Changi airport topping the list for their respective regions.

Self-connecting air passengers design their own itinerary, travelling on two separate tickets, often with different carriers in order to save money or to enable them to make stop-overs en route.

The most popular airports for self-connecting travellers in Europe were Dublin, Barcelona, London Gatwick, Amsterdam Schiphol and Madrid, according to the study, which was drawn from Skyscanner's 50 million monthly users in 2015.

"The trend for self-connecting is on the rise globally and Dublin Airport is perfectly positioned to benefit from this expanding market," said Dublin Airport Managing Director Vincent Harrison.

"We have a strong and growing network to North America and an extensive short-haul network to Britain and continental Europe. Our geographic position coupled with our connectivity, and our award-winning customer service makes Dublin a great option for self-connecting between Europe and North America."

Dublin Airport is now the fifth largest European airport for connectivity into North America, with only the major hubs of London Heathrow, Paris Charles de Gaulle, Frankfurt and Amsterdam Schiphol having more routes and flights.

Dublin Airport is also the only major airport in Europe to offer US preclearance, which enables passengers to save time on arrival in the US by completing all the necessary immigration and customs checks prior to departure.

"We're working hard to grow all of our connecting business at Dublin, both traditional connecting traffic and also the self-connecting market," Mr Harrison said. "Connecting traffic is hugely beneficial for Dublin Airport and for the wider Irish economy, as it generates additional demand for services which means more choice and connectivity for Irish business and leisure travellers, and more inbound visitors to Ireland."

Last year, more than one million passengers transferred or transited through Dublin Airport, as the airport continued to expand its position as a growing hub for transatlantic traffic.

Dublin Airport offers free unlimited WiFi and a free virtual digital assistant – accessible on any mobile device via www.dublinairport.com/dubhub - to help passengers who have onward connections at the airport and is also deploying new Flight Connection Hosts to help all connecting passengers through the airport.

Dublin Airport, which welcomed a record 25 million passengers last year, has direct flights to over 180 destinations in 40 countries.