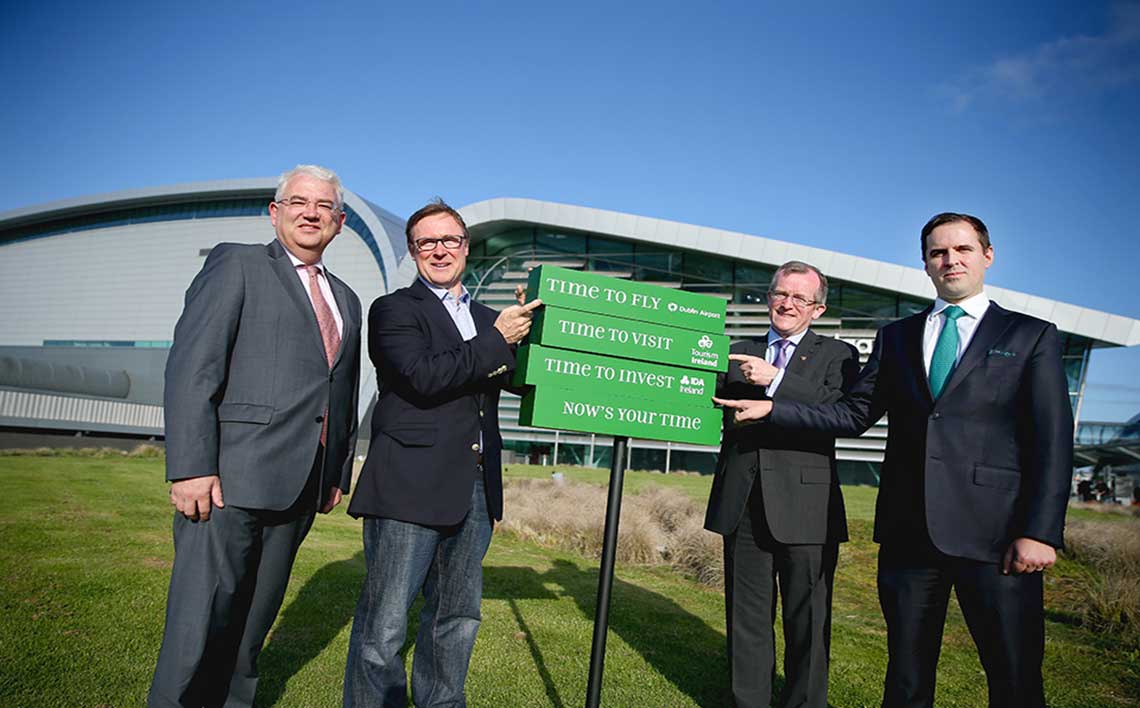 Dublin Airport, Tourism Ireland and IDA Ireland are coming together to showcase Ireland's collaborative approach in driving aviation, tourism and foreign direct investment in Ireland to delegates attending the International Air Transport Association (IATA) Annual General Meeting and conference in Dublin later this week.

The three-day IATA conference will take place in the RDS from June 1 and will be attended by more than 600 airline delegates from over 100 airlines globally. A number of strategic partners in the aircraft leasing and financing area, as well as aviation service providers, aircraft manufacturers and maintenance organisations are also attending. The conference was last hosted in Dublin in 1962.

Ireland, Now's Your Time message being delivered by Dublin Airport, Tourism Ireland and IDA Ireland to promote Ireland to these important delegates. daa Chief Executive, Kevin Toland said he was delighted IATA had chosen Dublin for its AGM and World Air Transport Summit. "Dublin Airport is a critical piece of national infrastructure, a gateway for the island and Ireland and a key economic enabler that has experienced strong and sustained growth in recent years," Mr Toland added.

Niall Gibbons, CEO of Tourism Ireland, said: "We are delighted that the 2016 IATA AGM and World Air Transport Summit will take place in Dublin this week. As an island destination, the importance of convenient, direct flights to Ireland cannot be overstated; there is a proven direct correlation between access and growth in visitor numbers. This summer, there will be almost 537,000 direct, one-way air seats available each week to the island of Ireland – a record number of seats and a +9% increase in capacity compared with the peak summer months in 2015. Tourism Ireland is committed to working with Dublin Airport, as well as other airports, carriers and tourism partners, to promote and help maintain vital routes and services to Ireland."

Martin Shanahan, CEO, IDA Ireland said: "Some of the most recognised brands in the world have their European headquarters in Ireland, so it is fitting that some of the world's most celebrated airline brands will be visible in the next few days in Dublin, as this important event gets underway. Ireland has a long association with aviation, going right back to the first transatlantic flight, and hosting this IATA annual general meeting cements this association even further. Ireland continues to win significant investment from the sector, particularly in the aircraft leasing field and hosting this event allows Ireland to showcase its multi-disciplinary aviation industry to an important group of industry professionals''.

Dublin Airport had its busiest year ever in 2015 facilitating a record 25 million passengers and welcoming an extra 3.3 million passengers. Passenger numbers are up 15% for the first four months of the year with 7.8 million passengers travelling in January to April.

Dublin Airport has direct flights to over 180 destinations in 40 countries on four continents. Dublin Airport is a key economic engine for the Irish economy, as it supports or facilitates a total of 97,400 jobs and contributes €6.9 billion to the Irish economy.

IATA is the trade association for the world's airlines, representing some 260 airlines or 83% of total air traffic. It is the prime vehicle for inter-airline cooperation in promoting safe, reliable, secure and economical air services for the benefit of the world's consumers. IATA also helps formulate industry policy on critical aviation issues.
Image above: Dublin Airport Managing Director Vincent Harrison, daa Chief Executive Kevin Toland, Tourism Ireland Chief Executive Niall Gibbons, and IDA Ireland Chief Executive Martin Shanahan launch the Ireland, Now's Your Time initiative at Dublin Airport.