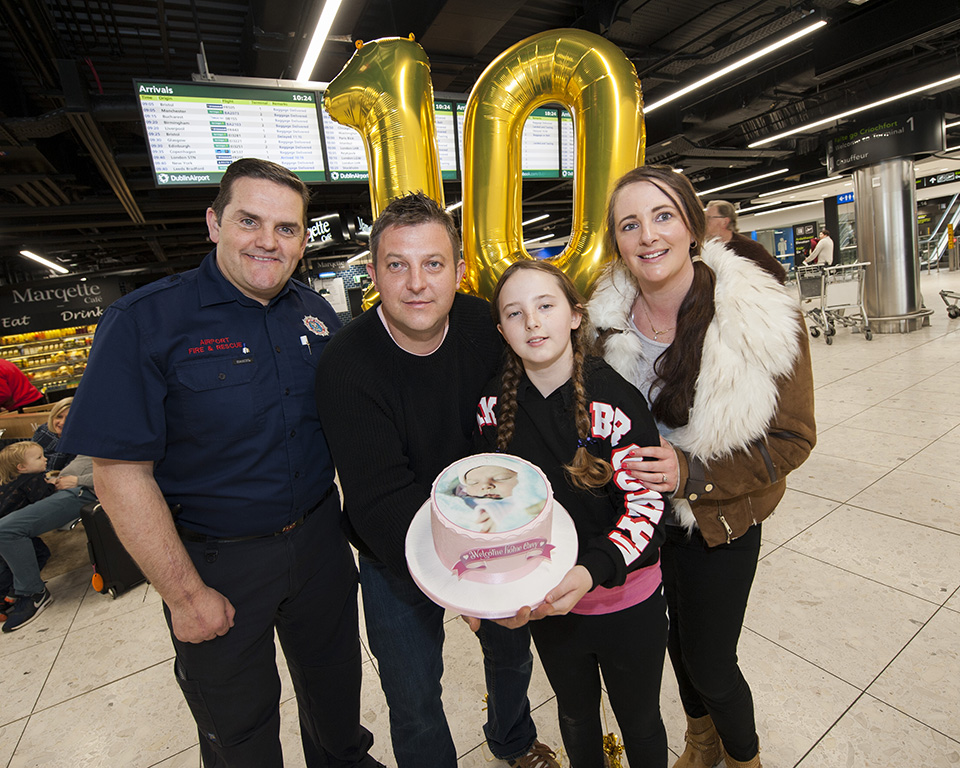 10-year old Carey was delivered in a bathroom in T1
Dublin Airport staff had a very special welcome for Carey Ingwell when she arrived in Terminal 1 recently.
Ten-year-old Carey made a surprise appearance into the world on February 25, 2008 when her mother went into labour and gave birth in a bathroom on the Departures Floor in Terminal 1, placing her in the unique position of being the only baby to be born in Dublin Airport.
"I had no idea I was expecting," said her mother Catherine Hutson. "I was returning home to Bristol with my family after a weekend in Dublin city celebrating my father-in-law's 70th birthday, I felt very unwell and to my complete surprise I proceeded to give birth to a baby girl in the cubicle on my own.
"My mother-in-law came looking for me and gave me her coat to wrap around Carey, she then called for help from airport staff. I really want to thank the airport's emergency services for looking after us so well and getting us to the hospital quickly."
Dublin Airport Fire Officer, Ciaran Foster was part of the team assisting with the birth. "We have attended to women who have unexpectedly gone into labour but this was the first birth we attended to. It was important for us to move very quickly to get mum and baby to hospital. I remember the look of shock on Carey's father's face when we told him he had a new baby daughter.
"We often wondered how Catherine and Carey were doing, so it was fantastic to meet them both again to personally recount the story of her birth," said Foster.
"Carey's birth is something that's still remembered at Dublin Airport" said Dublin Airport Spokesperson, Siobhán O'Donnell. "We see most of life's events happening at the airport, as people are travelling for a variety of happy and sad occasion, but this was our first birth at the airport and that was a very special event."
Carey and her family were originally scheduled to travel back to Dublin for her 10th birthday and Grandad, Tony's 80th birthday celebrations at the of February however flight disruptions as a result of Storm Emma meant their plans were postponed.
Carey was presented with a special cake by Dublin Airport to mark her arrival back to Terminal 1 and a voucher to spend in the airport's retail shopping area, The Loop on her return home to Bristol.
Image above: Dublin Airport Fire Officer, Ciaran Foster with Tom & Carey Ingwell and Catherine Hutson.