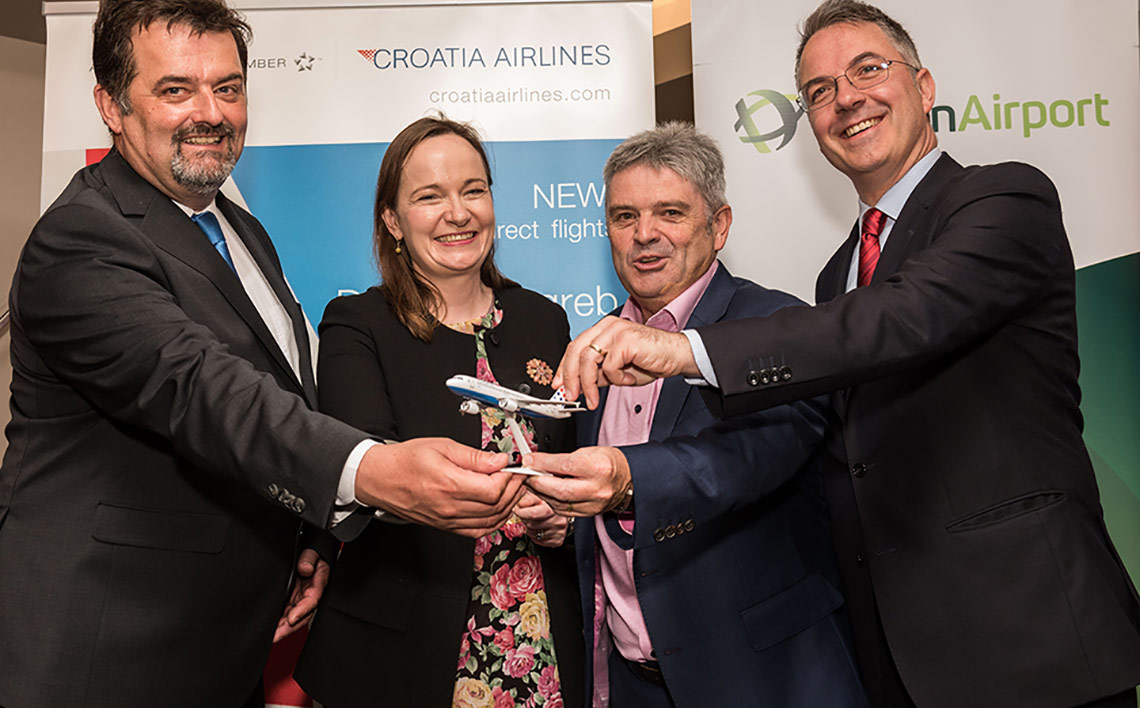 Dublin Airport is delighted to welcome the launch of Croatia Airlines new twice-weekly service from Dublin to Zagreb, the capital of Croatia.
The airline, which is part of the Star Alliance, will operate the new service on Thursdays and Sundays between May and October.
Dublin Airport's Managing Director Vincent Harrison said he was delighted to welcome Croatia Airlines to Dublin Airport and to Ireland. "Zagreb is a city filled with history and culture and we are delighted to add it to our growing list of direct destinations from Dublin Airport. I have no doubt the route will be popular with both Irish residents visiting the Croatian capital and Croatian residents coming to Ireland for a holiday. We will continue to work closely with Croatia Airlines to promote its new route."
Croatia Airlines Sales and Marketing Director of Boris Kolka said the airline was delighted that Dublin is now part of its route network, which comprises 40 destinations this year. "The new route, offers Irish people an opportunity to experience both the continental and Mediterranean part of Croatia and we are looking forward to welcoming many Irish citizens in our aircraft over the coming months. We have worked closely with Dublin Airport to launch this new route between the two capital cities."
Croatia Airlines is one of four new airlines launching a total of 14 new services at Dublin Airport this summer. This summer Dublin Airport will have flights to 195 destinations in 42 countries, operated by 56 airlines.
Zagreb is an exciting city with a lot to offer visitors including good shopping, music, architecture and food. As the hub of Croatian Airlines, Zagreb also offers onward connectivity to the popular summer destinations of Split, Dubrovnik, Pula and Zadar.
Croatia Airlines will operate the new service with an Airbus A319 aircraft, which has a capacity of 144 seats. It will have a two-class configuration with economy class and business class. The Croatian national carrier's fleet consists of 12 aircraft: six Airbus aircraft, four A319s and two A320s, and six Dash 8-Q400 turboprop aircraft.
The new service will operate as follows:
Thursdays:
Depart Zagreb at 08.30 arrive Dublin Airport at 11.00
Depart Dublin Airport at 11.45 arrive Zagreb at 15.55
Sundays:
Depart Zagreb at 07.30 arrive Dublin Airport at 09.55
Depart Dublin Airport at 11.00 arrive Zagreb at 15.25
More than six million passengers have travelled through Dublin Airport in the first quarter of this year, representing a 4% increase, or an extra 248,500 passengers, compared to the same period last year.
Pictured above (L-R) Boris Kolka, Director of Sales and Marketing, Croatia Airlines, Olive Hempenstall, Irish Ambassador to the Republic of Croatia, Jon Woolf, SVP Aviation Business Development, Dublin Airport and Ivan Mašina, Ambassador of the Republic of Croatia to Ireland.