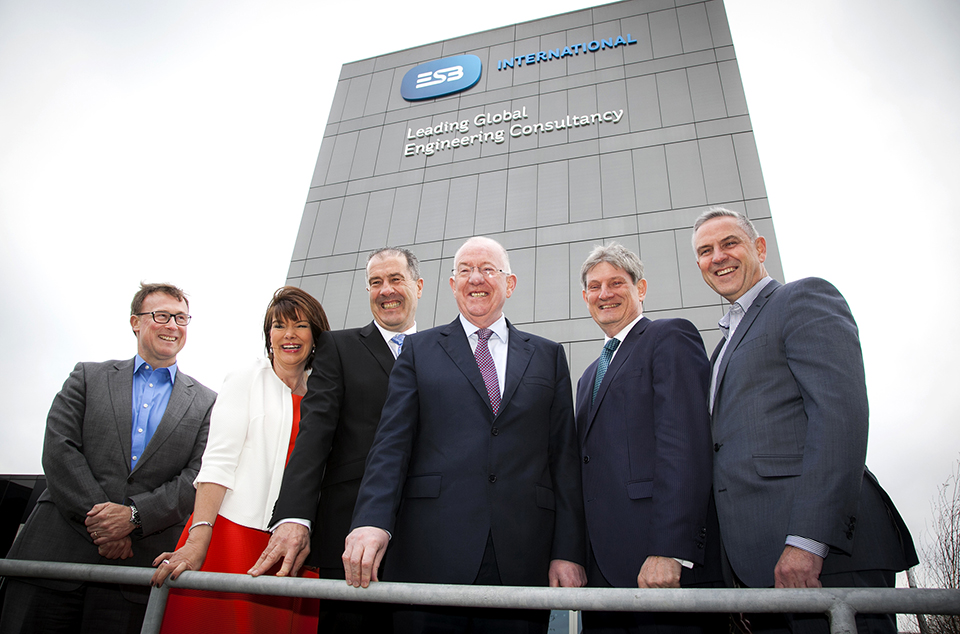 Dublin Airport welcomes ESB International to One Dublin Airport Central its new home in the heart of the airport's campus.
The award-winning building, which is the first phase in the Dublin Airport Central development, will house about 500 ESB International staff.
The new ESB International Headquarters was officially opened by the Minister for Foreign Affairs and Trade Charlie Flanagan TD.
"We are delighted to officially welcome ESB International and its 500 employees to their new location in the heart of Dublin Airport," said daa Chief Executive, Kevin Toland. "The relocation of ESB International not only strengthens Dublin Airport's position as an economic hub it also underscores the airport's attractiveness as an office location with easy access to our extensive long-haul and short-haul route network, as well as high frequency connections to a huge number of destinations," he added.
ESB Chief Executive Pat O'Doherty explains that ESB International is at the forefront of ESB's broader vision to lead the transition to a low carbon future. "At ESB, we have an innate understanding of electricity as a vital precursor to social and economic development. Ireland's experience has underlined electricity as a key enabler, with ESB bringing its transformative power to even the most remote corners. For the last four decades, ESB International has exported skills and ingenuity to 120 countries around the world. It isn't just this engineering expertise that distinguishes ESB International from our competitors, but rather a culture of solving problems and sharing knowledge that is rooted in ESB's DNA and driven by a desire to drive progress and growth in the communities we serve. Today's office opening in the heart of Dublin Airport Central opens an exciting new chapter as we rise to the global energy challenges of the coming decades."
One Dublin Airport Central is a former 1960s office building that has been completely transformed by daa. The building's world-class environmental credentials have been recognised with an award of the highest 'platinum' level sustainability accreditation of Leadership in Energy and Environmental Design (LEED), making it the first such award in Ireland for a 'core and shell' building. ESB International's new headquarters builds on a wider collaboration between ESB and Dublin Airport, which are partners in a project that has delivered 33% energy saving in the airport complex.
A major study by economic consultants InterVISTAS in 2014 found that Dublin Airport supports almost 16,000 jobs on site and facilitates a total of 97,400 jobs in the Irish economy and contributed €6.9 billion to the national economy.
Dublin Airport is the key gateway to the island of Ireland with direct flights to 185 destinations in 41 countries operated by a total of 47 airlines.
Image above: Kevin Toland, Chief Executive, daa; Joyce Farrell, HR Manager, ESB Innovation; Ollie Brogan, Managing Director, ESB International, Charlie Flanagan, Minister for Foreign Affairs, Pat O'Doherty, Chief Executive, ESB; and Paul Mulvaney, Executive Director, ESB Innovation.