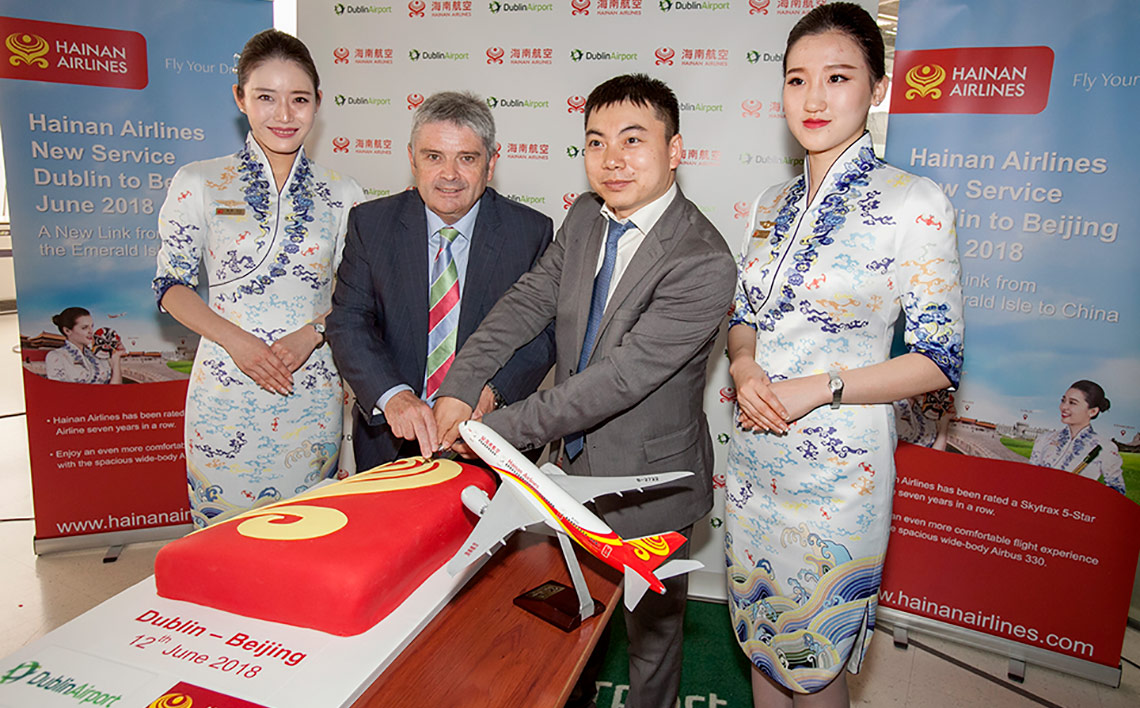 Dublin Airport is delighted welcome the launch of Hainan Airlines' new direct service to Beijing.
The year-round service is Dublin Airport's first ever direct route to mainland China which is a major milestone for the entire Irish economy.
Hainan will operate Dublin to Beijing direct with an Airbus A330 aircraft on Tuesdays and Saturdays and via Edinburgh on Thursdays and Sundays.
Welcoming the new Dublin to Beijing service, Dublin Airport Managing Director Vincent Harrison said it was a historic day for the airport. "We are delighted to welcome Hainan Airlines to Dublin Airport and to Ireland. We have worked really hard to bring this direct route to Ireland and today is the result of many years of dialogue. I would like to thank a wide range of other bodies such as Irish Embassy in China, our colleagues at Tourism Ireland and other key stakeholders such as IDA Ireland, Enterprise Ireland and Bord Bia, all of whom helped to get us to the launch here today.
"Trade between Ireland and China is hugely important for our economy and it is currently estimated to be worth more than €14.9 billion per year. The new direct route will greatly facilitate Irish firms and exporters with operations and clients in China, as well as China's financial services and technology companies investing in Ireland. Ireland is also home to more than 5,000 Chinese students attending Irish educational institutions. This new direct service makes travelling between the capital cities of Ireland and China much easier and I have no doubt it will be popular for both business and leisure travellers. We will work closely with Hainan Airlines to market the new route."
Hainan Airlines Chairman Bao Quifa said "We are delighted to launch this first ever direct route between Dublin and Beijing and we are very proud that Hainan Airlines will play a central role in forging greater friendship and cooperation between our two countries. We look forward to welcoming many Irish and Chinese guests on board our five-star Skytrax service."
Tourism Ireland estimates that about 70,000 Chinese visitors came to the island of Ireland last year, up from 60,000 visitors in 2016. China is the world's largest outbound travel market, and one of the fastest-growing, with trips from China predicted to grow to 200 million per year by 2020.
Last year 120,000 passengers travelled between Ireland and mainland China. With about a quarter of those people per year travelling between Dublin and Beijing. Before today's inaugural flight Ireland was the largest travel market in Europe for Chinese traffic that did not have a non-stop flight.
Hainan Airlines carried almost 72 million passengers to 110 destinations last year on a fleet of 300 aircraft. It is part of the Chinese-based global HNA Group, which also owns the Dublin-based aircraft leasing business Avolon.
Hainan was established in 1993 in Hainan Province, which is the largest special economic zone in China. Since then, Hainan Airlines has established bases in 12 Chinese cities including Beijing, Xi'an, Guangzhou, Dalian, Shenzhen and Chongqing. Hainan's route network comprises destinations in China and elsewhere in Asia and extends to Europe, North America and the South Pacific. Prior to today's launch the airline had seven existing routes between China and western Europe.
The flight times for the new Dublin-Beijing route are as follows (all times local):
The direct Beijing-Dublin flights will operate on Thursdays and Sundays. Flights will depart Beijing at 01:30, arriving in Dublin at 06:00. The direct Dublin-Beijing service will operate on Tuesdays and Saturdays and will depart Dublin Airport at 11:10, arriving in Beijing at 05:00 the following day.
The Beijing-Edinburgh-Dublin service will operate on Tuesdays and Saturdays. Flights will depart Beijing at 01:30, arriving in Dublin at 09:10 via Edinburgh. The Dublin-Edinburgh-Beijing service will operate on Thursdays and Sundays, departing at 08:00 and arriving in Beijing via Edinburgh at 05:00 the following day.
Image above: Hainan Airlines cabin crew Jonny Yang and Joy Zhang with Dublin Airport Senior Vice President Aviation Business Development Jon Woolf and Hainan Airlines Sales & Marketing Director Frank Shi Zhiwei.