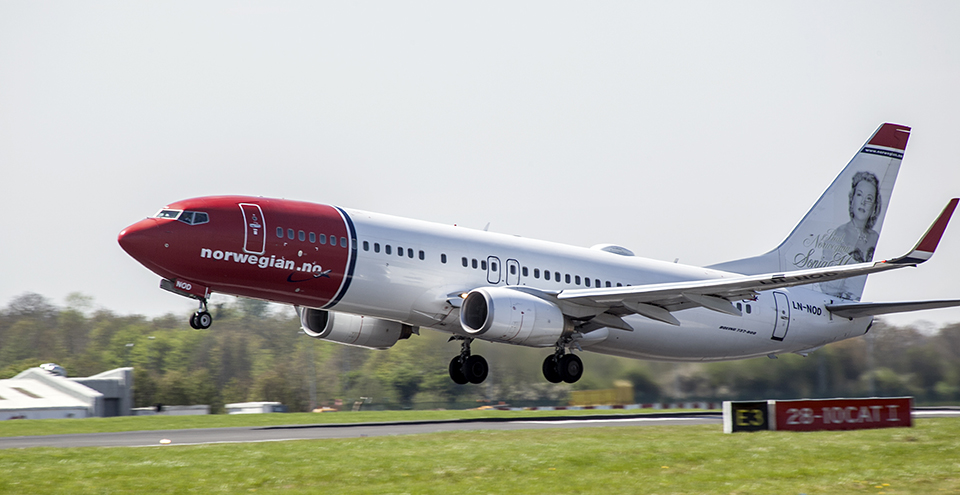 Dublin Airport welcomes today's announcement from Norwegian that it is to launch new direct transatlantic services to Stewart International Airport in New York state and to Providence, Rhode Island this summer.
Norwegian will operate a total of 12 transatlantic flights per week to the US east coast comprising seven daily flights to Stewart International and a five times weekly service to Providence Airport. Both new services will begin on July 1.
Dublin Airport Managing Director Vincent Harrison said he was delighted to see Norwegian expanding its services from Dublin Airport "We are delighted that Norwegian will start services to the east coast of the US this summer. Transatlantic traffic has tripled at Dublin Airport since 2010 and these two new routes from Norwegian mean that 19 new transatlantic services have been added to our route network since 2011."
Stewart International is located just 90 minutes from New York City and Providence airport in Rhode Island is just 90 minutes away from Boston, and is close to key areas of interest such as Cape Cod, Nantucket and Martha's Vineyard. "These new routes offer great choice and flexibility for both business and leisure customers" Mr Harrison said.
Announcing the new routes, Norwegian Chief Executive, Bjorn Kjos said "These ambitious new transatlantic routes simply wouldn't have been possible without the significant support we have received throughout Ireland over the last three years. We are hugely grateful for this continued support and are delighted to finally unveil our transatlantic plans with groundbreaking fares and never before seen routes."he added.
Dublin Airport is now the fifth largest airport in Europe for North American connectivity after Heathrow, Paris, Frankfurt and Amsterdam. During the peak summer season, Dublin Airport will have 50 flights per day to and from 15 cities in the United States and five Canadian destinations.
Norwegian will operate the route with a Boeing 737 MAX aircraft.
Fares start from €69 and can be booked HERE
Dublin – Providence (Greater Boston)
Departs Dublin (DUB) Monday, Wednesday, Thursday, Friday Sunday at 15:45
Arrives Providence Intl (PVD) at 18.35
Dublin - Stewart International (New York state)
Departs Dublin (DUB) Monday to Sunday between 15.45 and 16:00
Arrives Stewart Intl (SWF) between 18.45 and 19:00
Dublin Airport is the key gateway to the island of Ireland, as more than two thirds of all air passengers who arrive in Ireland use Dublin Airport.
Last year, passenger numbers at Dublin Airport increased by 11% to a record 27.9 million, which is more than four times the population of the island. Dublin was the fastest-growing major airport in Europe in 2016.
Dublin Airport has direct flights to 187 destinations in 41 countries operated by a total of 47 airlines.
Image above: Martha's Vineyard