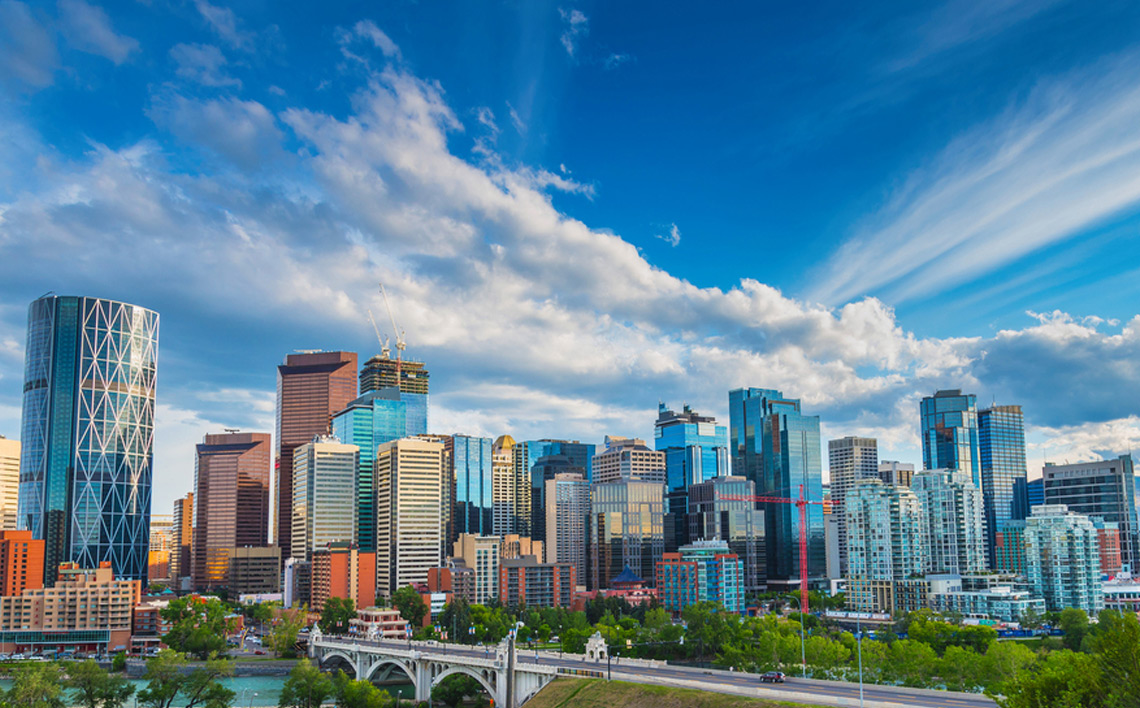 WestJet To Operate Route With Dreamliner 787 Aircraft
Dublin Airport welcomes today's announcement by Canadian airline WestJet that it will launch a new direct Dublin-Calgary service next summer.
The new route will operate three days per week with a Boeing Dreamliner 787 aircraft and will be the only direct scheduled service between the two cities. WestJet's new Calgary service will also offer potential onward connections to 24 destinations including Vancouver and Las Vegas.
"It's great to see yet another Canadian destination added to the growing Dublin Airport network, and to see WestJet expand its operations in Ireland." said Dublin Airport Managing Director Vincent Harrison. "Calgary, which has about the same population as Dublin, is a youthful vibrant city, and is also a natural base for exploring the breath-taking Canadian Rockies," Mr Harrison added.
"Today's announcement marks the start of another exciting chapter in the history of WestJet," said Ed Sims, WestJet President and CEO. "As the only airline flying non-stop between Dublin and Calgary, Canada we are extremely proud to make this connection so that family, friends and business travellers alike can benefit from WestJet's enhanced presence in Ireland. We look forward to welcoming our Irish guests on board our new WestJet Dreamliner in 2019."
Mr Harrison said Dublin Airport would work closely with WestJet to promote the new route and to grow passenger numbers and trade and tourism links between the two cities. Already, about 21,000 people per year travel between Dublin and Calgary on indirect air services.
WestJet, which is Canada's second largest airline, is headquartered in Calgary and operates about 725 daily flights to 105 destinations. Last year it carried more than 24 million passengers. Dublin was WestJet's first ever transatlantic destination, as the airline launched its Dublin-St John's Newfoundland service in the summer of 2014.
The new Dublin-Calgary route will operate from Dublin three times per week on Sunday, Monday, and Thursday. Flights will depart at 13:45 and arrive in Calgary at 15:05. The return flights will depart Calgary on Saturday, Sunday, and Wednesday at 20:45 and arrive in Dublin at 11:38 the following day.
All flights will operate on WestJet's new 787-9 aircraft, featuring 320 seats in a three-class configuration, including Business, Premium Economy, and Economy sections.
Calgary will be one of six Canadian destinations served directly from Dublin Airport next summer; joining Toronto, Montréal, Vancouver, St John's and Hamilton, Ontario. Dublin Airport will also have direct services to 18 destinations in the United States next year as part of its largest ever transatlantic offering.
Calgary, which hosted the Winter Olympics in 1988, is Canada's fourth largest city. It was recently named the fourth "most liveable" city in the world by The Economist magazine and has a thriving restaurant and entertainment scene. Calgary is located just one hour's drive from Banff National Park in the Rockies and is also home to the Calgary Stampede, which is the largest outdoor event in the world attracting more than one million people to the city every summer.
Ireland and Canada have strong and enduring cultural and business links. About 14% of Canada's population is of Irish descent and more than 70 Canadian firms have businesses in Ireland, employing a total of more than 13,000 people.
Almost 24.2 million passengers have travelled through Dublin Airport in the first nine months of the year, a 6% increase when compared to the same period last year. Dublin Airport has welcomed an extra 1.4 million passengers in the first nine months of the year.
Image above: Downtown Calgary