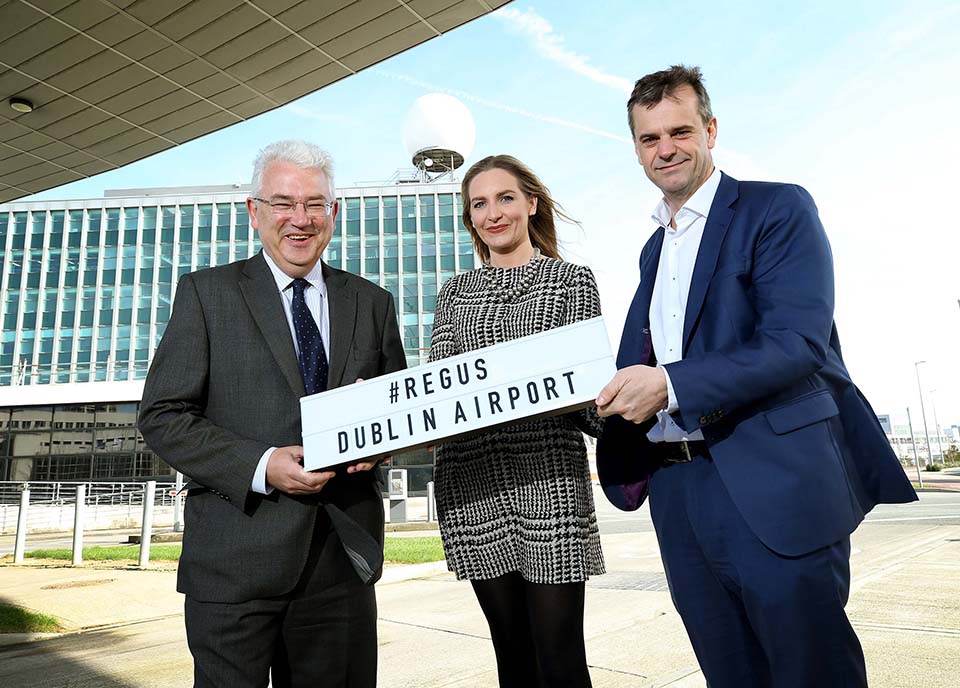 Dublin Airport has welcomed the first tenants to a new high spec office building close to Terminal 1
Regus, the global provider of workspace solutions Regus, is now operating from Skybridge House, which is located beside the Skybridge and just a short distance from Terminal 1.
Over the past 12 months, daa has completely overhauled the seven-storey 1960s building to transform it into ultra modern, Grade A office accommodation. It was originally known as the TASC Building, but has recently been renamed Skybridge House. It is immediately identifiable within the airport campus due to the iconic giant white sphere containing Met Eireann's radar equipment which is located on its roof.
"We're delighted to welcome Regus to Dublin Airport," said Dublin Airport Managing Director, Vincent Harrison. "We have identified the need for easy access, high quality office accommodation and Regus can now offer this service to our business customers. Dublin Airport's extensive long-haul and short-haul route network, as well as high frequency connections to a huge number of destinations underscores the airport's attractiveness as an office location."
Regus' new business centre, which offers panoramic views across the airfield and North Dublin, can be used for any period of time - from one hour to one year and thereafter. It occupies three floors in the newly renovated Skybridge House and offers professional, modern and fully serviced office, co-working and meeting room spaces.
Regus Country Manager, Gearoid Collins said: "With a sharp rise in passenger numbers, there is significant demand for flexible working space close to Dublin Airport's terminal buildings. This development offers an ideal solution for our customers who are looking for quick and easy access to high spec office accommodation located a short distance from both terminals."
All offices come fully equipped with modern furniture, secure business-grade internet and WiFi, along with phone handsets and dedicated telephone lines.
Last year, passenger numbers at Dublin Airport increased by 11% to a record 27.9 million, which is more than four times the population of the island. Dublin was the fastest-growing major airport in Europe in 2016.
Passenger numbers were up 6% for the first two months of this year with 3.6 million travelling through the airport over that time.
This year, Dublin welcomes five new long-haul services - a new daily, year-round direct service to Doha with Qatar Airlines, a new daily summer service to Boston with Delta Air Lines, a new three times weekly summer service to Miami with Aer Lingus, a new daily, year-round service to Stewart International Airport, New York with Norwegian and a five times per week service to Providence, Rhode Island also with Norwegian. It will also have new short-haul services to Munich (Transavia), Split (Aer Lingus) and Ibiza (British Airways).
Last year Dublin Airport had direct flights to 185 destinations in 41 countries operated by a total of 47 airlines.
Image above: Dublin Airport Managing Director, Vincent Harrison; Regus Area Manager, Michelle Queally and Regus Country Manager, Gearoid Collins.