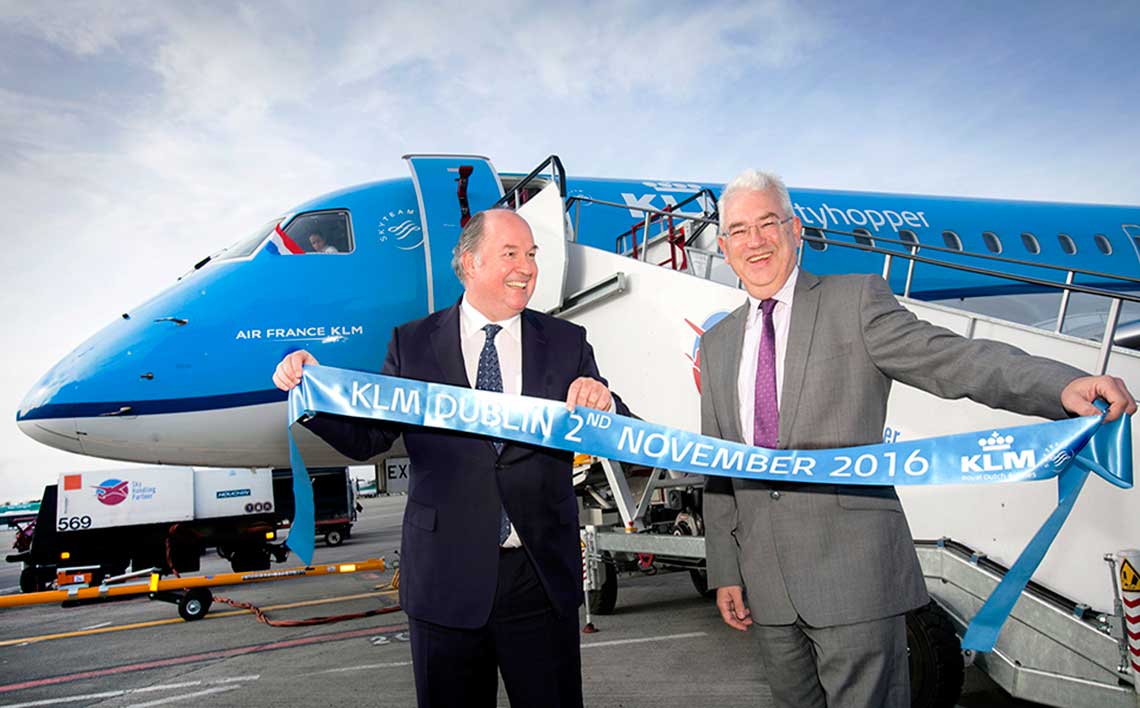 Dublin Airport is delighted to welcome the launch of KLM's new direct service between Dublin and Amsterdam.
Initially starting with twice daily flights connecting Ireland's capital city to KLM's award-wining hub Schiphol the airline will further strengthen this service from March 2017 by doubling capacity on the route.
KLM will operate flights with an Embraer 190, carrying up to 100 passengers. The schedule has been devised to compliment KLM's long-haul network, offering passengers easy connections to destinations such as Johannesburg, Havana, Beijing and Hong Kong.
Welcoming KLM's new route Dublin Airport Managing Director, Vincent Harrison said "It's 50 years since KLM last operated in Ireland and we are delighted to welcome the airline back to Dublin. We are particularly pleased that KLM has already committed to increasing its frequency on the route next year, which is testament to the popularity of this destination and the strong connections that KLM offers from Schiphol."
Boet Kreiken, Managing Director, KLM Cityhopper, said "We are proud to be flying to Ireland's beautiful capital in KLM Cityhopper's Embraer 190. The addition of Dublin to KLM's route network is yet another endorsement of continuous investment to best serve the market. Ireland is experiencing a blossoming economy and strong growth in the tourism sector. Besides the Dublin-Amsterdam route, the direct KLM connection offers access to KLM's European and intercontinental network – and all at attractive prices, and featuring an excellent flight schedule."
Flights will depart Dublin 05.55, arrive in Amsterdam 08.30 local.
Depart Amsterdam 12.10, arrive in Dublin 12.50 local.
Depart Dublin 13.20, arrive in Amsterdam 15.55 local.
Depart Amsterdam 21.20, arrive in Dublin 22.00 local.
More than 21.4 million passengers have travelled through Dublin Airport in the first nine months of the year, a 12% increase when compared to the same period last year. During the first nine months of the year Dublin Airport has welcomed an extra 2.3 million passengers.
Dublin Airport has direct flights to over 180 destinations in 40 countries on four continents.
Prices start from €98 return, including taxes and fees.
Flying KLM? Book a relaxing stay at the Dublin Airport Lounge
Image above: Boet Kreiken, Managing Director KLM Cityhopper and Dublin Airport Managing Director, Vincent Harrison