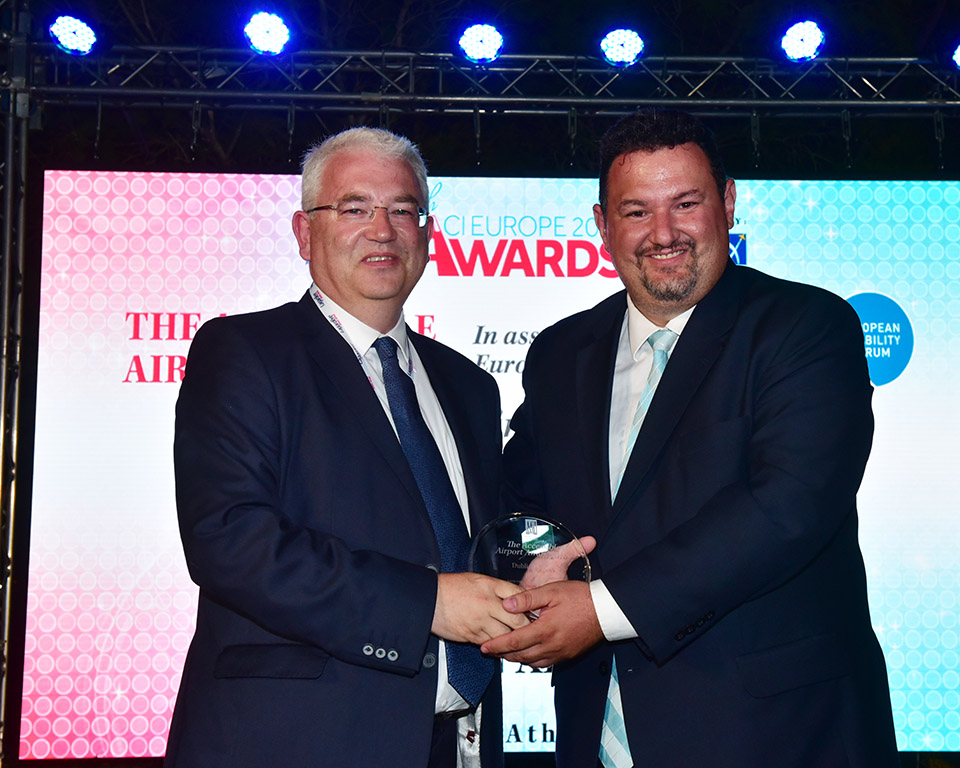 Dublin Named Best Airport in Europe for Accessibility at ACI EUROPE Awards
Dublin Airport has won a major European award for the way in which it deals with disabled passengers and those travelling with reduced mobility.
Dublin Airport won the inaugural Accessible Airport Award at ACI EUROPE's Best Airport Awards in Athens last night. Separately Dublin Airport was also short-listed in the best large airport category, which was won by Heathrow Airport.
"We are absolutely delighted to win this prestigious award for accessibility ahead of all our European peers," said Dublin Airport Managing Director Vincent Harrison. "This award recognises the significant efforts that the Dublin Airport team makes on a daily basis to ensure that disabled passengers and those with reduced mobility have the best possible airport experience. Winning this prize is a major endorsement for what we have achieved in this area to date and will encourage us to continue to improve the service that we offer to our disabled customers and to travellers with reduced mobility."
The judges for the award found that Dublin Airport "excels in accessibility features and facilities, including adult changing places, two separate relief areas for guide dogs, fully accessible retail and catering areas" and had service level agreements for assistance provision that exceed the European standards. The judges also cited Dublin Airport's website accessibility, which meets the required accessibility standards for persons with disabilities.
"This is Dublin Airport's second major customer-related award in just four months, which underscores our focus on ensuring that all our passengers have the best possible experience when they use the airport," Mr Harrison said. Earlier this year Dublin Airport was rated number one for passenger experience ahead all other European airports of a similar size in the 2015 ACI Airport Service Quality survey.
"As passenger numbers increase, we intend to continue to enhance the passenger experience for all customers. We are currently investing €10 million to upgrade the arrivals area in Terminal 1 and we also have recently installed new automatic tray return systems at passenger screening to help make this process more efficient."
The Accessible Airport Award was introduced by ACI Europe this year to mark the 10th anniversary of the adoption of Regulation (EC) 1107/2006 which relates to the rights of disabled persons and persons with reduced mobility when travelling by air.
ACI EUROPE partnered with the European Disability Forum (EDF) to present the new award. As well as rewarding the best airport in Europe for accessibility the award was also designed to encourage other European airports to continue their work on removing the barriers that people with disabilities and people with reduced mobility still face when travelling by air.
The judging panel for the Accessible Airport Award comprised members of the European Disability Forum's Executive Committee as well as Fotis Karamitsos, Acting Deputy Director-General for Mobility and Transport; Coordination of Directorates C and D, in the European Commission.
The Accessible Airport Award was presented to Dublin Airport Managing Director Vincent Harrison at a gala dinner in Athens last night by Yannis Yallouros, who is a member of the European Disability Forum's Executive Committee.
Dublin Airport is Ireland's key international gateway, accounting for 82% of all air passengers into and out of the State. Last year Dublin Airport celebrated its 75th birthday by setting a new a new all-time record for traffic, as it welcomed more than 25 million passengers. So far this year, passenger numbers are up 14% to almost 10.3 million. Dublin Airport has direct flights to over 180 destinations in 40 countries on four continents, and will welcome 16 new services this year.
Image above: Dublin Airport Managing Director, Vincent Harrison accepting the Accessible Airport Award from Yannis Yallouros, European Disability Forum's Executive Committee.