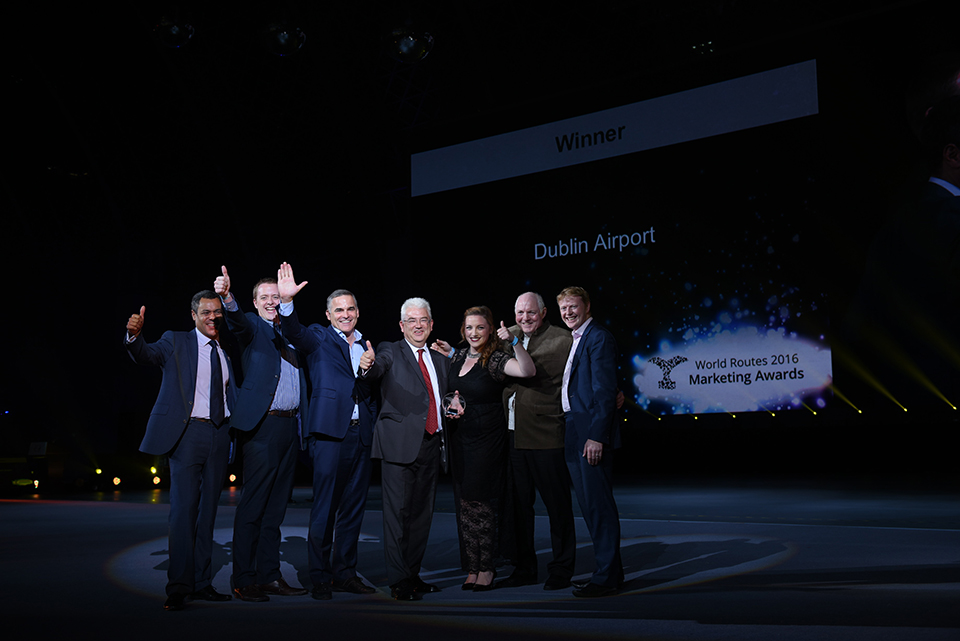 Dublin Airport has won a major global aviation industry marketing award.
The airport was today named the 2016 World Routes Award winner for airports in the 20-50 million passengers per year category.
Dublin Airport picked up the prestigious award at the World Routes conference in Chengdu, China. This is the second time in three years that Dublin Airport has won the award, having been shortlisted for the award three years in a row.
The World Routes Awards were created in 1997 to recognise excellence in marketing by airports to their airline customers, and are voted on exclusively by the global airline industry. That means that they offer senior airline representatives the opportunity to vote for the airport that they believe provides the best overall marketing services to them.
"We are delighted that Dublin Airport has again won this Routes Award as it shows that we are providing exactly the type of service that our airline customers require," said Dublin Airport Managing Director Vincent Harrison. "The fact that we have performed so highly in these awards on a consistent basis shows that Dublin Airport is a world-beater in this field," he added.
To win its category, Dublin Airport was placed ahead of Brussels Airport, Copenhagen Airport, Munich Airport and Vancouver International Airport.
Working collectively with airlines has been central to Dublin Airport's ability to grow its passenger numbers so strongly in recent years, according to Mr Harrison. Last year, passenger numbers at Dublin increased by 15% to a record 25 million and in the first eight months of this year, passenger numbers at the airport have increased by a further 12%.
The growth in passenger numbers and connectivity at Dublin Airport brings significant economic benefits, which are felt throughout the entire country. According to a 2015 study, Dublin Airport is worth €6.9 billion to the Irish economy, and supports or facilitates a total of 97,400 jobs.
"Our aviation marketing activity has a dual focus; as we constantly strive not just to attract new airline customers to Dublin, but also to help our existing customers expand their business at the airport," Mr Harrison said. Since 2014, Dublin Airport has welcomed new 12 airlines and this year alone, 28 of the airport's existing 35 scheduled airlines will increase their business at Dublin.
"By sharing the risk of launching new routes and services with our airline partners, and engaging in joint marketing activity, we work to ensure that all new services at Dublin Airport have the strongest possible foundation for success. We also supply airlines with in-depth market knowledge and market research to assist them and can also provide local marketing and public relations support as required."
The Routes Award is Dublin Airport's third major international accolade this year. In June it was named the Best Airport in Europe for Accessibility at the 2016 ACI Europe Awards. Dublin Airport was also rated number one for passenger experience ahead of all other European airports of a similar size in the 2015 ACI Airport Service Quality survey, the results of which were announced in February of this year.
More than 18.8 million passengers travelled through Dublin Airport in the eight months to the end of August, which is a 12% increase compared to the same period last year. Dublin Airport currently has direct flights to more than 180 destinations in 40 countries.