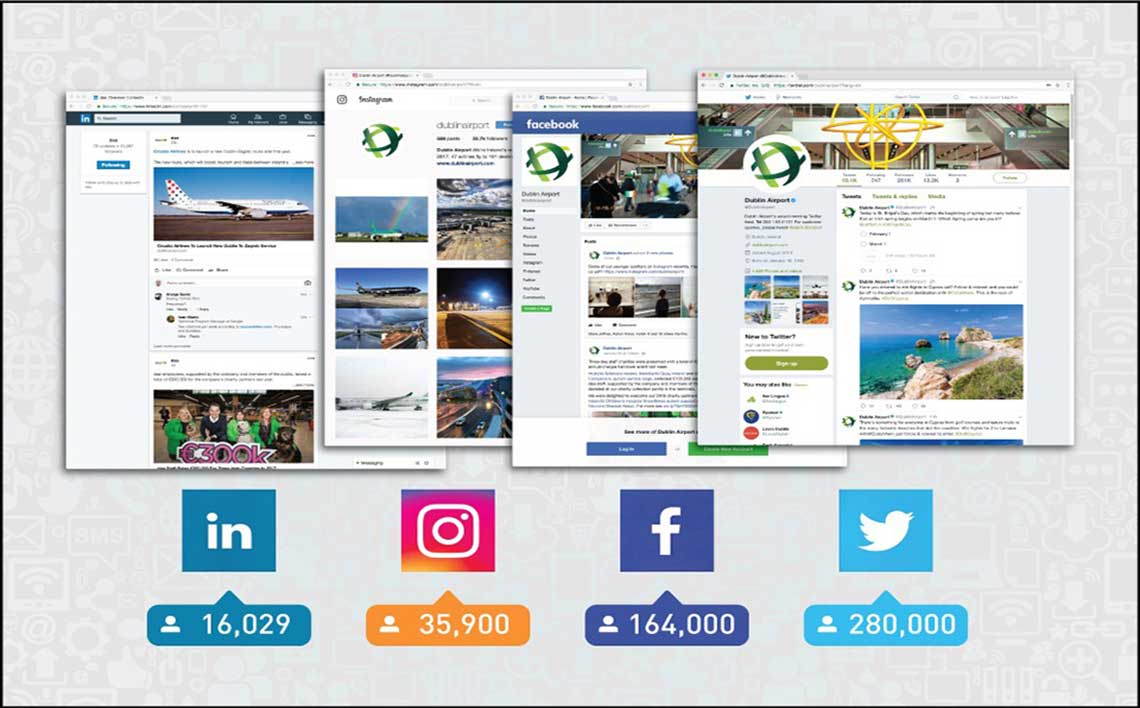 Dublin Airport has won three international awards for its use of social media.
Dublin Airport won the awards for the Best Airport Twitter Feed, the Best Use of Instagram by an Airport and the Best Use of Social and Digital Media by an Airport at the Moodies, which reward best practice in social and digital media among airports and airport retailers globally.
Dublin Airport was the leading player in this year's Moodies, as it was the only organisation to win three separate categories.
"Dublin Airport can boast excellence across all of its social and digital media platforms," the judges said. "Whether it's Twitter, Instagram or Facebook, it is always switched on, with fast-rotating, engaging content, superb sense of place and strong analytics."
"We are delighted our efforts have been again recognised with these prestigious awards," said daa Chief Communications Officer Paul O'Kane. "It's great to see that Dublin Airport can benchmark itself against the best and largest airports in the world and come out on top when it comes to social media," he added.
"Our social media channels are increasingly being used as the go-to source for accurate and reliable information about Dublin Airport, and we also try to have a bit of fun with our audience at the same time," Mr O'Kane said.
The Moodies, which are now in their fifth year, are organised by the Moodie Davitt Report and cover 22 separate categories for social, mobile and digital media activity by airports and airport retailers globally.
Dublin Airport has won the Best Airport Twitter account category in three of the five years it has been awarded.
"We're delighted to operate the world's best airport Twitter account and we'll continue to work to improve and refine how we communicate on Twitter, which is our most popular social media channel," Mr O'Kane added.
The judges said that Dublin Airport's Twitter feed "consistently delivers superb levels of interaction and engagement as well as fostering a strong sense of airport community."
Dublin Airport's social media content is created by a small, in-house team, all of whom have other functions within the communications department.
"Our goal is to provide practical and helpful information across our social media channels, to show some of what goes on behind the scenes and to use photographs and video to help us tell a wide range of Dublin Airport stories," Mr O'Kane said.
Dublin Airport has now won a total of nine awards for its social media accounts. It operates the world's fourth largest airport Twitter account, with more than 280,000 followers. Last year, Dublin Airport's tweets were seen by 28 million people at home and abroad, almost matching the airport's record throughput of 29.6 million passengers in 2017.
In the Best Twitter account category Dublin Airport was shortlisted alongside airports such as Amsterdam Schiphol, Heathrow, Gatwick, and Dubai.
In the Instagram category, Dublin Airport's account, which has almost 36,000 followers, was shortlisted alongside airports such as Changi in Singapore, Chicago O'Hare, Heathrow, LAX in Los Angeles, and Sydney. The judges said Dublin Airport's "high quality imagery" was key to the Instagram award.
Dublin was one of 10 airports shortlisted in the overall use of social media category, alongside airports such as Changi, Copenhagen, Dallas, Helsinki, Heathrow, and Ireland West.