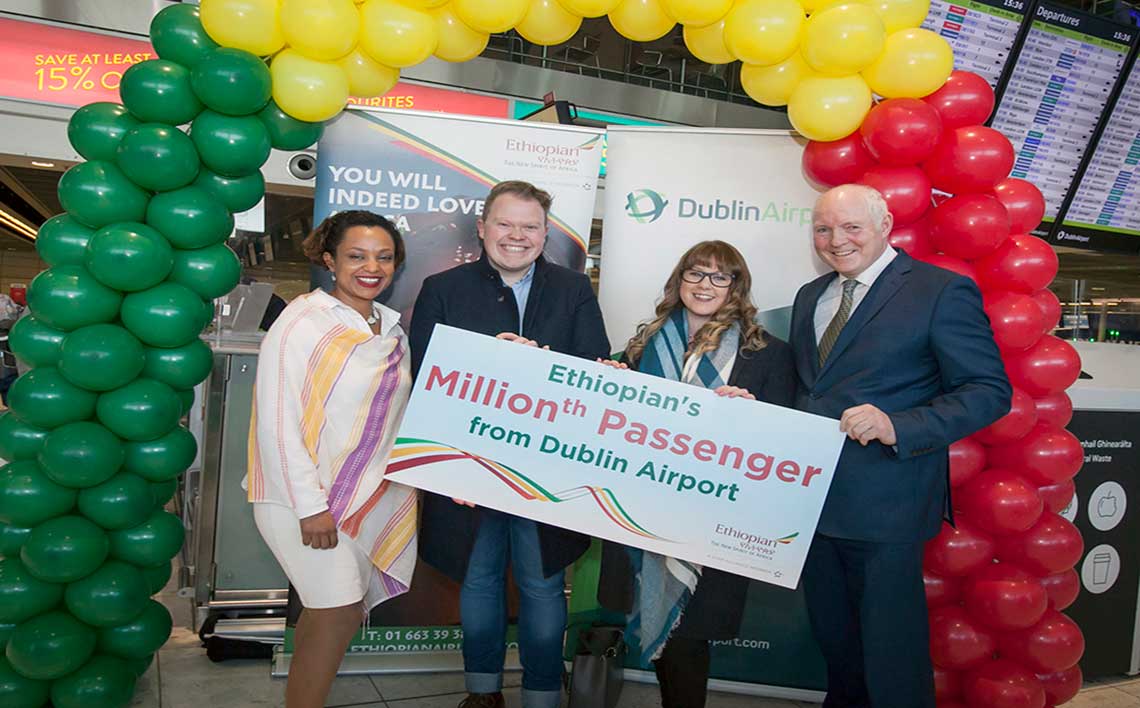 Ethiopian Airlines has reached a major milestone by carrying one million passengers from Dublin Airport on its Addis Ababa and Los Angeles services.
The airline is the first to connect the three continents of Africa, Europe and North America from Dublin Airport and has the accolade of being the first to operate scheduled services on a Boeing 787 Dreamliner from Dublin.
Dublin Airport Managing Director Vincent Harrison said "I want to congratulate Ethiopian Airlines on significant achievement. Ethiopian lunched direct services from Addis Ababa to Dublin and on to Los Angeles in June, 2015 so it is particularly impressive that the airline has reached one million passengers in such a short period of time.
"This strong passenger growth is testament to the popularity of Ethiopian Airlines which also offer connecting destinations in Africa through its Addis Ababa hub. We will continue to work closely with Ethiopian to ensure its continued success in the Irish market."
Country Manager, Meseret Tekalign said, "Ethiopian's steady growth since entering into the Irish market in June 2015 can be attributed to offering more choice of routes to Irish travellers with fares that are consistently competitive."
Mrs. Tekalign added, "We knew coming into a market that had little awareness of Ethiopian would have its challenges however, we've worked hard at overcoming them and we're now seeing positive results. With passenger numbers increasing month on month we added a fourth service in June 2017 to our Dublin to Los Angeles and Dublin to Addis Ababa routes and that increase in schedule means we are now attracting both leisure and business traffic."
Ethiopian operates a 4 times weekly direct service from Dublin to Los Angeles and Dublin to Addis Ababa, with onward connection to 55 African and 26 international destinations.
Dublin Airport has flights to 191 destinations in 42 countries operated by 47 airlines.
Image above: Meseret Tekalign, Ethiopian Airlines Area Manager Ireland, one millionth passenger Emer Hall and partner Fergus Whelan and Dublin Airport General Manager Customer Relations, Cormac O'Connell.