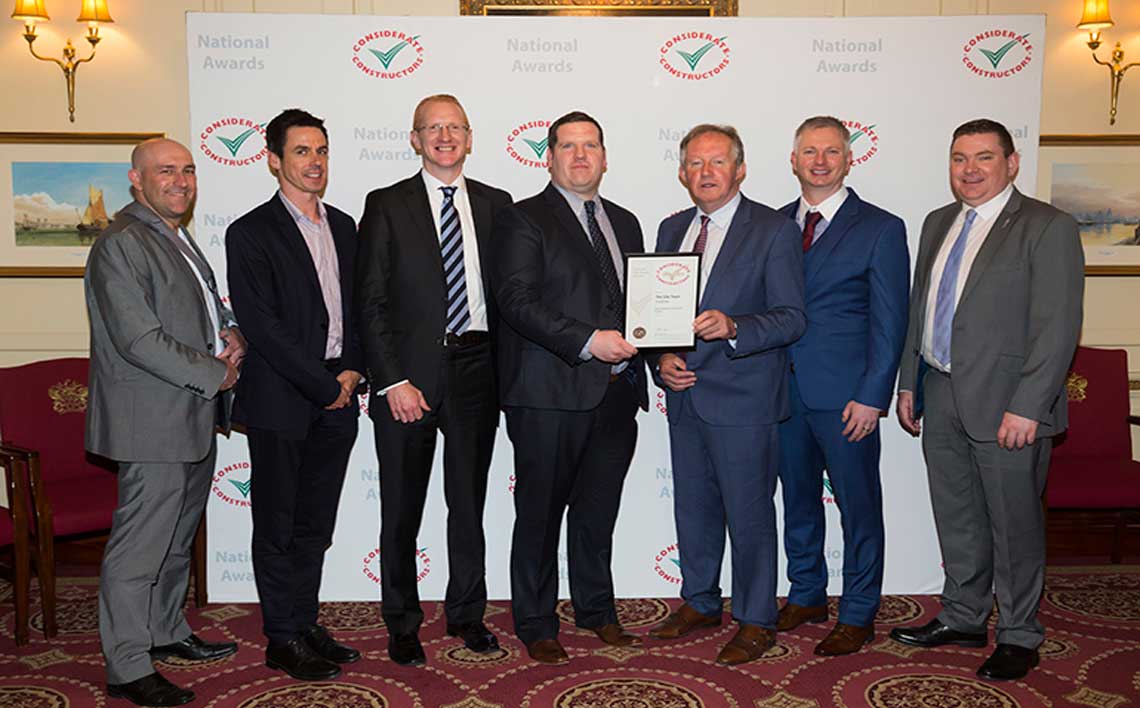 daa's North Runway has won a major international award for being a "considerate" construction project.
daa's main contractor on North Runway's first construction package, Roadbridge, was awarded Gold at this year's Considerate Constructors Scheme Awards in London. North Runway is the first ever Irish project to win a Gold Award in the Scheme. Representatives from both Roadbridge and daa's North Runway project team were in London on April 24 to accept the prestigious award at an official ceremony.
The aim of the Considerate Constructors Scheme is to promote innovative measures in the construction industry focussing on five main categories: Care about Appearance; Respecting the Community; Care for the Workforce; Protecting the Environment; and Securing Everyone's Safety.
The Considerate Constructors Scheme, which has been operating for 20 years throughout the UK, was rolled out to a number of Irish projects last year. Roadbridge nominated daa's North Runway Construction Project 1 as its first registered site. The project comprised road realignment and construction, site clearance and other preparatory works for the main runway construction package, which daa will award later this year. The project was audited by Considerate Constructors judges twice during 2017 and the scores attained placed Roadbridge and North Runway in the award-winning Gold category.
daa's Maurice Hennessy, who is the company's executive lead for the North Runway Project said he congratulated Roadbridge and the North Runway team on winning the award.
"This is a fantastic award for North Runway to win. It is of particular significance to daa that our corporate values align with those of the Considerate Constructor Scheme. We are hugely focussed on the positive culture of safety and respect that it promotes and reaffirms, as well as a commitment to ongoing open communication with our neighbours throughout the works. North Runway is the most important project that Ireland will build in a generation as it will drive growth in tourism, connectivity and jobs for decades to come. We are delighted at Roadbridge's success and commend them, and daa's project delivery team, on their commitment to the principles of the Considerate Constructors Scheme."
Dublin Airport's North Runway Construction package 1 included the construction and realignment of roads, drainage and utility works along with fencing and landscaping. Extensive archaeological site investigations, ecological surveys of badgers, bats and other species and provision of alternative locations as required, preparation of the site including tree and hedgerow removal and replacement planting in certain areas were also part of this element of the project.
Dublin Airport is one of the most important economic assets in the country. It supports or facilitates 117,300 jobs and contributes €8.3 billion annually to the national economy.
More than six million passengers have travelled through Dublin Airport in the first quarter of this year, representing a 4% increase, or an extra 248,500 passengers, compared to the same period last year.
This summer Dublin Airport will have flights to 195 destinations in 42 countries, operated by 56 airlines.
Image above (LtoR):Peter Byrne (Roadbridge), Siobhan O'Donnell (daa), Justin Hughes (daa), Cathal O'Kane (Roadbridge), Edward Hardy (CCS), Kim O'Meara (Roadbridge).