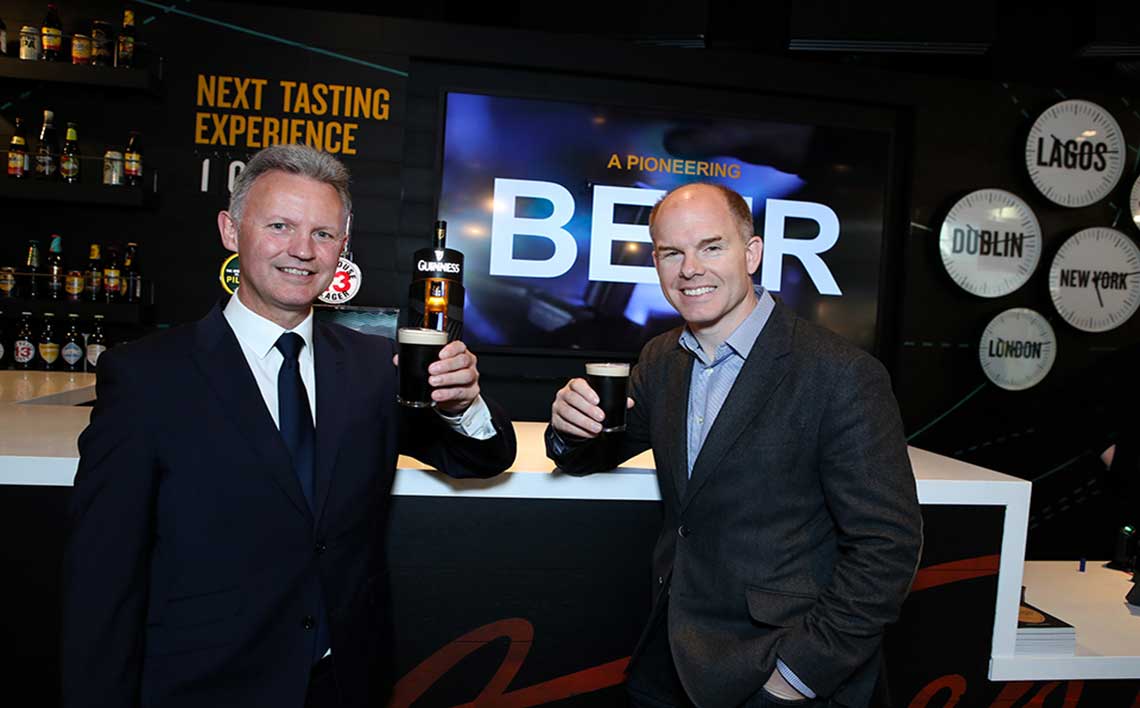 The Loop at Dublin Airport and Diageo have come together to launch the world's first Guinness Export House, a new and vibrant store in Terminal 2 at Dublin Airport.
The store, which is the first of its kind for the Guinness brand, is designed to offer passengers a unique opportunity to experience the world of Guinness.
The Guinness Export House, which represents a fusion of ideas and creativity between the two companies, invites passengers to immerse themselves in the Guinness brand and to take part in an interactive in-store tasting experience. In the expert hands of a Guinness beer specialist, this tasting experience gives customers an exciting opportunity to sample the craft, quality and distinctiveness of a range of speciality beers.
Speaking at the launch of the new store, General Manager for The Loop, Martin Carpenter said the connection between Dublin Airport and Guinness was an enduring one.
"We see how popular Guinness is with our customers, as every day passengers tag themselves having a pint before departure," Mr Carpenter added. "So it makes complete sense for us to partner with Diageo to offer passengers this unique experience when travelling through Terminal 2."
Research carried out by The Loop indicates that customers are looking for a more memorable experience by learning more and sampling a product before deciding to buy. "Diageo shares our commitment to providing our customers with an unforgettable experience in a bespoke setting and this new store is the perfect showcase to encourage passengers to savour some Guinness beers in a fun, and interactive environment," Mr Carpenter said.
Both Diageo and The Loop's parent company ARI believe the Guinness Export House is a concept that could work internationally.
"The Guinness Export House represents a fantastic opportunity to tell the Guinness story through taste and experience," said Gavin Krenski, Guinness Global Content Creation & Innovation Director.
"With the potential to roll out globally in partnership with ARI, this is a big, bold concept for a pioneering, ambitious brewer with a continuing thirst for discovery," Mr Krenski added.
Many of the 27.9 million passengers who travel through Dublin Airport annually have enjoyed visiting the home of Guinness and this new partnership aims to transport elements of the St. Jame's Gate experience to Dublin Airport, which is Ireland's global gateway.
Image above: General Manager for The Loop, Martin Carpenter with Guinness Global Content Creation & Innovation Director, Gavin Krenski in the new Guinness Export House in Terminal 2.