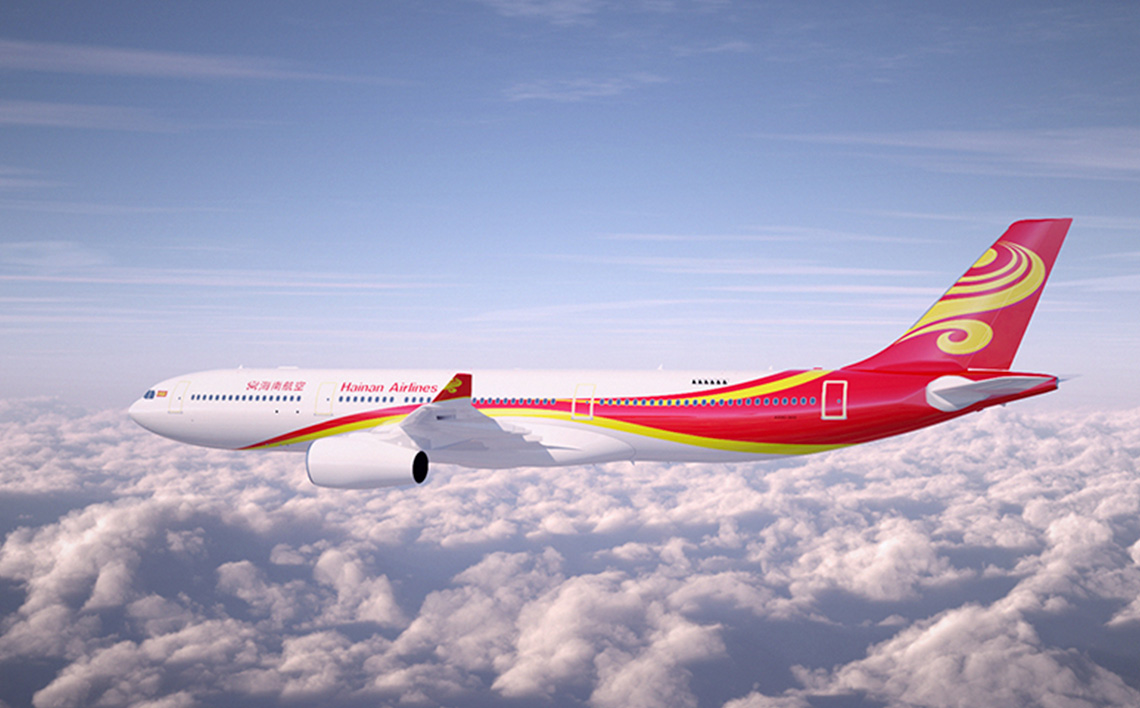 Hainan Airlines will launch a new year-round service from Dublin to Beijing starting on June 12.

Hainan, which is China's largest independent airline, will operate flights from Dublin to Beijing four times per week. On two days per week, the service will be direct non-stop flights between Dublin and Beijing. On the other two days, the flights will operate with a stopover in Edinburgh.

The new route was announced at a reception in the Irish Embassy in Beijing today attended by the Tánaiste Simon Coveney T.D. and representatives from Dublin Airport, Hainan Airlines, Beijing Airport and Tourism Ireland.

"This first ever direct route to mainland China and the first Irish destination in Hainan Airlines' international network is a major achievement, which will prove transformational to the bilateral relationship between China and Ireland," the Tánaiste said.

"This is a hugely significant announcement for the Irish economy," said Dublin Airport Managing Director Vincent Harrison. "Hainan's new Dublin-Beijing route links not just our two capital cities, but also our two countries. It is great news for tourism and trade and this improved connectivity will create new jobs throughout Ireland," Mr Harrison added.

Hainan Airlines Chairman Bao Qifa said: "As a five-star airline and an outstanding representative of Chinese national enterprises, Hainan Airlines actively participates in the One Belt One Road Initiative, and is committed to becoming the forerunner and practitioner of achieving China's civil aviation power. By continuously expanding and improving our international network, Hainan Airlines is dedicated to bringing more convenience to people's life. This opening of the first nonstop service from Beijing to Dublin will provide new facilities to stimulate the development of Sino-Irish relations."

Hainan Airlines carried almost 72 million passengers to 110 destinations last year on a fleet of 300 aircraft. It is part of the Chinese-based global HNA Group, which also owns the Dublin-based aircraft leasing business Avolon. Hainan, which has seven existing routes between China and western Europe, will operate its new Irish service with an Airbus A330-300 aircraft. Tickets for the new service will go on sale shortly.

Hainan was established in 1993 in Hainan Province, which is the largest special economic zone in China. Since then, Hainan Airlines has established bases in 12 Chinese cities including Beijing, Xi'an, Guangzhou, Dalian, Shenzhen and Chongqing. Hainan's route network comprises destinations in China and elsewhere in Asia and extends to Europe, North America and the South Pacific.

Winning this historic new route to Beijing was a collective effort that involved a number of Irish State agencies and Government departments working in harmony, according to Mr Harrison.

"Securing these new routes to China would not have been possible without the efforts of the Irish Embassy in China and officials at the departments of Foreign Affairs, Tourism, Transport and Sport, and Justice; our close colleagues in Tourism Ireland, and executives in IDA Ireland, Enterprise Ireland, and Bord Bia," Mr Harrison added.

Two-way trade between Ireland and China is currently estimated to be worth more than €14.9 billion per year. The new direct route will greatly facilitate Irish firms and exporters with operations and clients in China, as well as China's financial services and technology companies investing in Ireland. Ireland is also home to more than 5,000 Chinese students attending Irish educational institutions.

China's capital city Beijing has a population of almost 12 million people and is the most popular destination for air travel between Ireland and China. "This new route will provide direct connectivity to Beijing and convenient connections to other key Chinese cities via Hainan's hub in the Chinese capital," Mr Harrison said.

Last year, about 120,000 passengers travelled between Ireland and mainland China, with journeys to and from Beijing accounting for more than a quarter of those trips. Ireland is the largest travel market in Europe for Chinese traffic that does not currently have a non-stop flight.

Tourism Ireland estimates that about 70,000 Chinese visitors came to the island of Ireland last year, up from 60,000 visitors in 2016. China is the world's largest outbound travel market, and one of the fastest-growing, with trips from China predicted to grow to 200 million per year by 2020.

"We look forward to welcoming many more Chinese visitors to Ireland with this new service in the months and years to come," according to Mr Harrison.

The planned flight times for the new Dublin-Beijing route are as follows (all times local):

The direct Beijing-Dublin flights will operate on Thursdays and Sundays. Flights will depart Beijing at 01:30, arriving in Dublin at 06:00. The direct Dublin-Beijing service will operate on Tuesdays and Saturdays and will depart Dublin Airport at 11:10, arriving in Beijing at 05:00 the following day.

The Beijing-Edinburgh-Dublin service will operate on Tuesdays and Saturdays. Flights will depart Beijing at 01:30, arriving in Dublin at 09:10 via Edinburgh. The Dublin-Edinburgh-Beijing service will operate on Thursdays and Sundays, departing at 08:00 and arriving in Beijing via Edinburgh at 05:00 the following day.