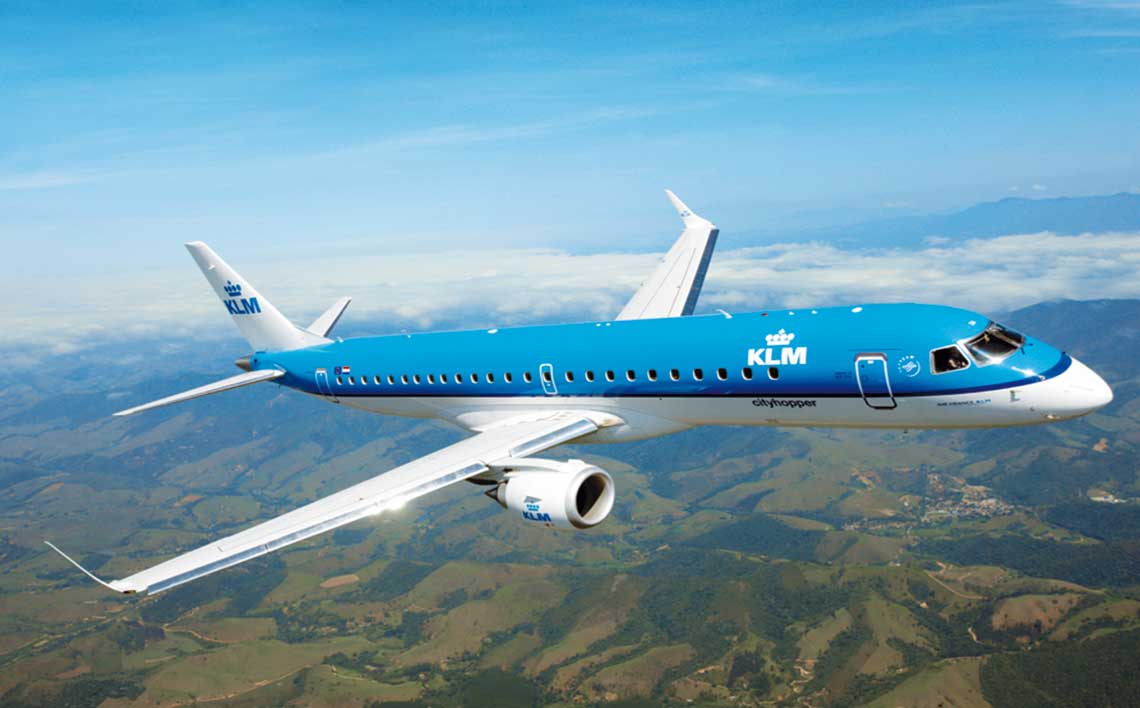 Tuesday 21st June 2016 - KLM Royal Dutch Airlines is set to expand its medium-haul network with daily flights to (and from) Dublin Airport. The route will form part of KLM's new Winter Schedule. Commencing on the 30th October, the twice daily flight will connect Ireland's capital city to KLM's award-winning hub Schiphol, in Amsterdam. The airline will offer convenient connections to its worldwide network of over 150 destinations.
All flights will be operated by using Embraer 190, carrying up to 100 passengers. The schedule has been devised to compliment KLM's long-haul network, offering passengers easy connections to destinations such as Johannesburg, Havana, Beijing and Hong Kong.
Origin Destination Departure (local time) Arrival (local time)
Dublin Amsterdam 05:55 08:30
Amsterdam Dublin 12:00 12:40
Dublin Amsterdam 13:15 15:50
Amsterdam Dublin 21:20 22:00
Fares will start from €99 return from Dublin to Amsterdam. Flights are open for sale from today on the airline's website www.klm.com, at KLM Reservations on 003536590442 and local travel agents.
The launch of the Dublin service strengthens KLM's positions in Ireland. The two new KLM operated flights will still be complimented by the existing cooperation with Partner Aer Lingus, to offer in total four flights per day between Dublin and Amsterdam. On the new KLM operated flights, passengers will benefit from the new range of KLM products and services on the ground and on board. This includes two cabins and three travel classes; a full Business and Economy class as well as Economy Comfort.
KLM has a rich history in Dublin, in 1947 it was the first continental carrier to serve Dublin Airport, initially operated by a DC3. The route was ceased in 1966, this year marks 50 years since KLM operated in Ireland. Despite not operating in the Irish market for 50 years, research shows huge recognition for the KLM brand and significant support from business and leisure sectors for the commencement of the route.
KLM's hub at Amsterdam Airport Schiphol is consistently voted one of Europe's best business airports and was voted Best Airport in Europe at the 2015 Business Traveler Awards for the 15th consecutive year. Connections to European cities can be made in as little as 40 minutes; to long-haul destinations 50 minutes is enough to efficiently transfer at the airport.
Warner Rootliep, General Manager of Air France-KLM UK & Ireland said:
"I am delighted to announce KLM will be serving Dublin Airport, offering passengers access to our worldwide network. Demand for efficient, seamless and convenient schedules to long-haul destinations from Ireland continues to grow, particularly to emerging markets such as Latin America, Africa and Asia – all markets where KLM has strong networks. We recognise the importance of Dublin Airport as a convenient departure point for both business and leisure travelers, and are pleased to now offer Dublin passengers access to our worldwide network of over 130 destinations, via our award-winning hub at Amsterdam Airport Schiphol. We know that the service we will provide out of Dublin will perfectly answer the needs of Ireland's capital and demonstrates our commitment to the Irish market.
Vincent Harrison, Dublin Airport Managing Director said:
"After five decades away, we're delighted to welcome KLM back to Dublin Airport. This new service will offer enhanced choice and connectivity to passengers travelling to Amsterdam and also for those connecting to onward destinations from the Schiphol hub. This new KLM route to Amsterdam will be Dublin Airport's sixteenth new service in 2016, as the airport continues to expand both its capacity and its route network."
Flying KLM? Book a relaxing stay at the Dublin Airport Lounge