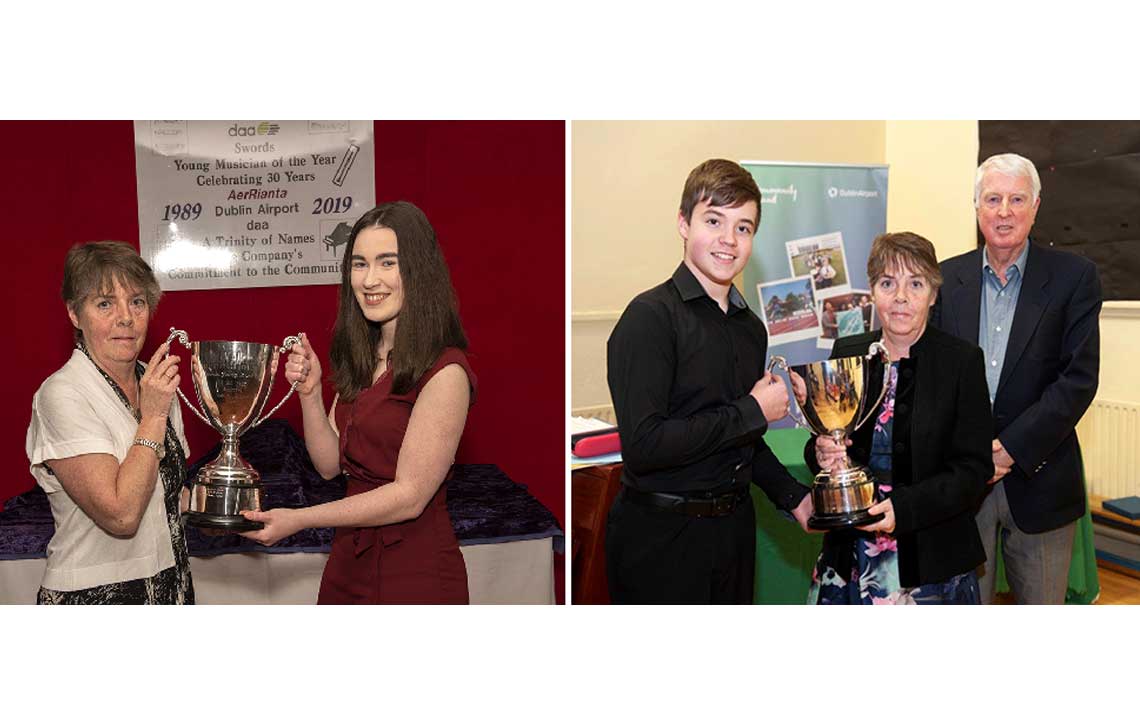 Dublin Airport is proud to continue its support of both the Malahide and Swords Young Musician of the Year 2019 competitions.
The Malahide Young Musician of the Year is open to all young people who live, go to school in, or attend music lessons in the Malahide, Portmarnock and Kinsealy areas.
The Malahide competition is one of the longest standing sponsorship relationships Dublin Airport has with a community event in Fingal since the beginning of the competition in 1981.
Participants compete in various categories including Brass, Pianoforte, String, Vocal, Woodwind and other instruments. The winners of each category then compete for the overall title which is awarded with a €200 bursary and the daa Perpetual Cup.
The winner of this year's event was Matthew Nolan who competed in the Senior Piano category. Matthew lives in Malahide and attends Belvedere College in the city.
The Swords Young Musician celebrated its 30th anniversary this year, and Dublin Airport has sponsored the event since its inception in 1989. The competition is open to young people who live in the Swords Electoral Area.
This year's event took place in the Carnegie Court Hotel in Swords where, the winners from 17 music categories competed for the coveted title.
Oldtown resident Lauren Smyth, a fifth-year student in the Dominican College on Griffith Avenue was crowned Swords Young Musician of the Year 2019. Lauren performed in the Under 18 Violin category.
Speaking about the airport's long association with both competitions, Dublin Airport's Community Liaison Manager Maura Cassidy said: "We are very proud of our longstanding and ongoing contribution to our local communities and these two wonderful events in particular. It was a pleasure to experience firsthand how talented our neighbouring musicians are. I want to congratulate all those who took part, especially the winners Matthew and Lauren."
Both events were among 48 organisations who received funding in March from Dublin Airport's Community Fund.
"We are eager to engage with as many organisations and community projects as possible and I urge all groups working to strengthen our local areas to visit our website and find more information on the Community Fund," Ms Cassidy added.
Dublin Airport's Community Fund will reopen for applications on September 1, 2019. More information is available on www.dublinairport.com.
Dublin Airport has flights to almost 200 destinations in 43 countries, operated by 53 airlines and is the 11th busiest airport in the European Union. It one of Ireland's key economic assets, as it generates or facilitates 117,300 jobs and €8.3 billion worth of economic activity.
Images above: Swords Young Musician of the Year, Lauren Smyth pictured with Dublin Airport Community Liaison Manager Maura Cassidy.
Malahide Young Musician of the Year, Matthew Nolan with Dublin Airport Community Liaison Manager Maura Cassidy and event organiser Derek Keogh.