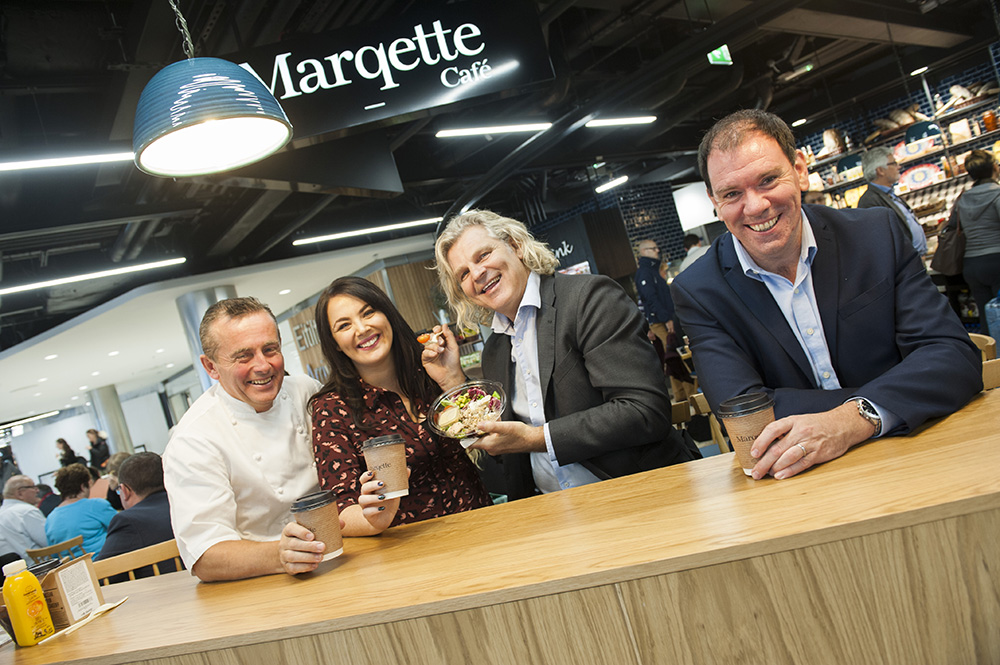 Fifteen new jobs have been created at Dublin Airport with the opening of Marqette Café in Arrivals at Terminal 1.
Marqette already operates an award-winning restaurant in Departures at Terminal 1 and the new café will offer locally sourced produce and fresh artisan bread baked on site.
The restaurant area, which has seating to accommodate almost 50 customers, will also serve signature sandwiches, and ready to go freshly made hot dishes.
"Marqette Café is a wonderful addition to the food and beverage offering available in the recently upgraded Arrivals Hall in Terminal 1," said Dublin Airport Managing Director Vincent Harrison. "It will open daily from 6am to midnight so all airport customers can enjoy a fantastic range of freshly prepared food options using the finest Irish ingredients. We are continuously reviewing our food and beverage offering to our customers and our goal is to create a greatly enhanced passenger experience for everyone using the airport."
Commenting on the latest edition under the Marqette brand, company CEO Michael Wright said, "The concept of Marqette café is to provide passengers and airport staff with the highest quality food and service in Dublin Airport. Marqette, has enjoyed great success airside and now we have a great opportunity to enhance the great refurbishment works done by daa on Terminal 1. We pride ourselves on using the best talent and local ingredients to deliver the freshest food to travellers."
Terminal 1, which opened in 1972, has been recently transformed to make it brighter, more spacious and modern.
The new Marqette Café is part of a plan to locate all restaurants in the Arrivals Hall in Terminal 1 in one area, making the floor layout more user friendly and intuitive for customers. The new dining area is modelled on Marqette, the company's flagship restaurant located beyond the security screening area in Terminal 1.
Owned and operated by the Michael JF Wright Hospitality Group, Marqette, which employs 135 people, has won many awards since it opened in Dublin Airport two years ago and was recently named as the global Airport Food Hall of the Year at the Moodie Davitt Airport Food and Beverage (FAB) Awards.
Dublin Airport is the largest employer in Fingal, with 19,200 jobs located directly at the airport or at airport-related businesses.
More than 20 million passengers have travelled through Dublin Airport in the first eight months of the year, which is a 6% increase on the same period in 2016.
Dublin Airport welcomed 1.2 million additional passengers between January and August. The airport has direct flights to more than 185 destinations in 41 countries operated by a total of 47 airlines.
Pictured above: Marqette Executive Head Chef Peter Brennan; daa External Communications Officer Audrey O'Hagan; Michael JF Wright Hospitality Group CEO Michael Wright; and Marqette General Manager Michael Thornton.