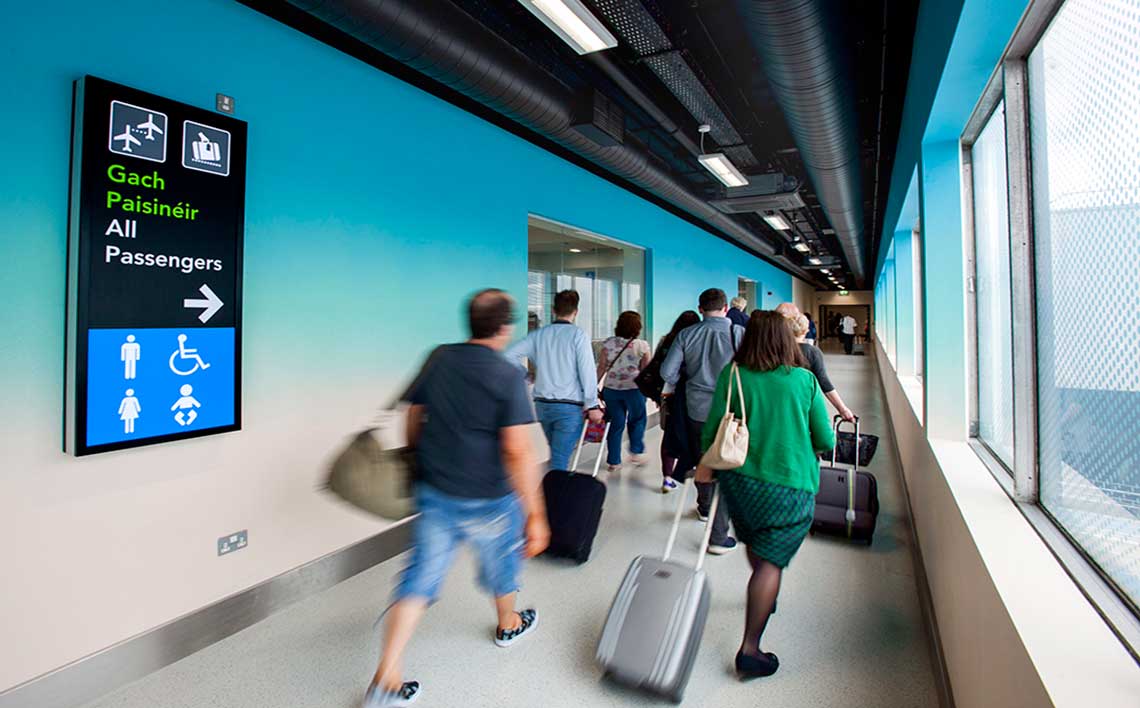 Dublin Airport welcomed more than 3.1 million passengers in July, which was a new monthly record for the airport, and a 6% increase on the same period last year.

July was the first time in the airport's 77-year history that more than three million passengers have been facilitated in a single month.

A total of 3,121,469 passengers used Dublin Airport in July, which was more than the airport's annual passenger traffic for 1986.

More than 16.9 million passengers have travelled through Dublin Airport in the first seven months of the year, which is a 6% increase on the same period last year. Despite welcoming almost 980,000 extra passengers during the first seven months of the year, Dublin Airport has improved its on time performance by 2% so far this year.

"This is a major milestone for Dublin Airport and for the Irish economy," said Dublin Airport Managing Director Vincent Harrison. "Growing passenger numbers means additional jobs at the airport, and at businesses throughout the country that benefit from growing tourism and additional trade and investment."

Dublin Airport supports or facilitates 117,300 jobs in the Irish economy and is the largest economic engine in the State. About 20,000 of those jobs have been created over the past four years and are linked to the significant growth in Dublin Airport's passenger numbers during that period.

The growth in passenger numbers at Dublin Airport has also played a significant role in delivering a record performance for Irish tourism this year, according to Mr Harrison. "The record visitor numbers for the first half of this year are being driven by passenger growth at Dublin Airport, with the new routes and additional capacity provided by our airline partners facilitating the growth in tourists so far this year."

Dublin Airport is continuing a significant investment programme to upgrade and expand the airport to cope with growing passenger numbers. "We're investing about €100 million per year in new facilities for our airline customers and passengers," Mr Harrison said.

Passenger data for July set new records in a number of areas. The number of passengers travelling to and from continental Europe increased by 7% to more than 1.7 million, which was a new high.
UK traffic was flat compared to July last year, as almost 896,000 passengers took flights to and from the UK in July. The number of the UK trips to Dublin fell during the month, but this was offset by an increase in the number of outbound trips to the UK.

Transatlantic traffic increased by 18% in July to a new record, with more than 404,000 people travelling on flights between Dublin and North America last month.

Traffic on other international routes, which includes flights to the Middle East and North Africa, increased by 8% with more than 91,000 passengers travelling to and from these locations.

The number of passengers on domestic flights, increased by 22% with more than 10,000 people taking flights within the Republic of Ireland last month.

Almost 158,000 passengers used Dublin Airport as a gateway to connect onward to another destination in July, which was a 30% increase. So far this year, transfer passenger numbers have increased by 42% to just over 812,000.

Dublin Airport Key Milestones
1940 – Dublin Airport opens with one flight per day to Liverpool
1949 – Welcomes 200,000 passengers per year
1958 – Welcomes 500,000 passengers per year
1959 – North Terminal opens
1963 – Welcomes 1 million passengers per year
1972 – Terminal 1 opens
1987 – Welcomes more than 3 million passengers per year
1989 – Welcomes more than 5 million passengers per year
1997 – Welcomes more than 10 million passengers per year
2006 – Welcomes more than 20 million passengers per year
2010 – Terminal 2 opens
2015 – Welcomes more than 25 million passengers per year
2016 – Welcomes a record 27.9 million passengers
2017 – Welcomes more than 3 million passengers in a month for the first time