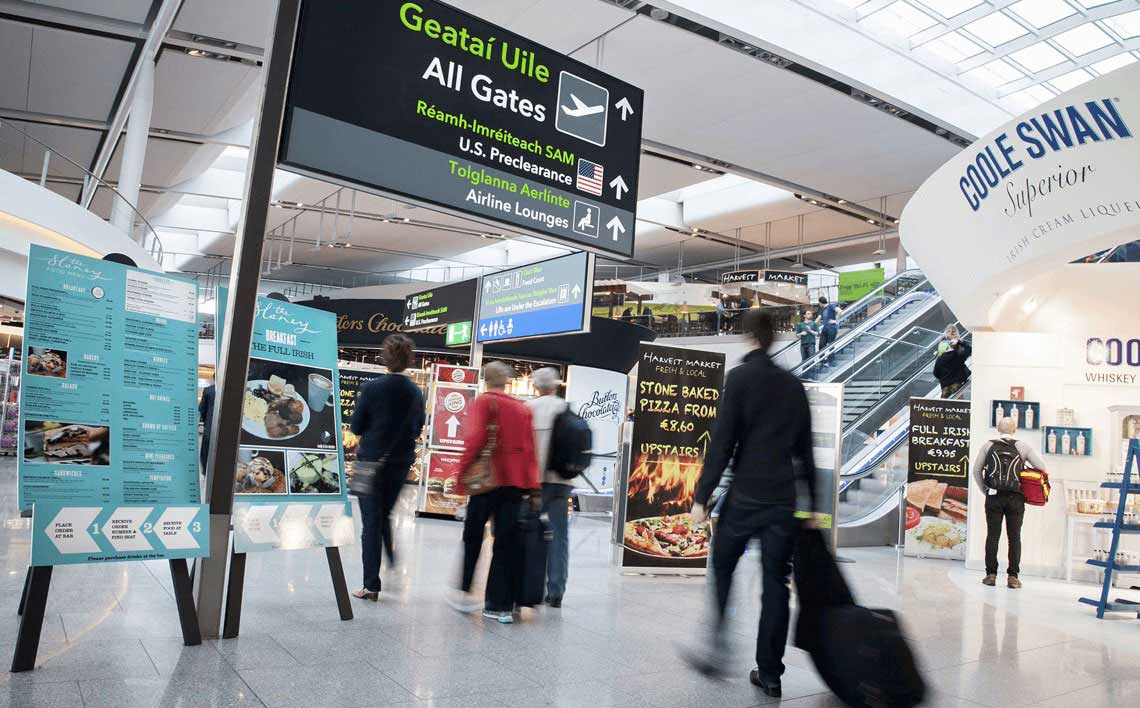 Dublin Airport is about to launch a major tender process which aims to transform the food and beverage offer at the airport.
The airport is about to tender for two separate contracts that will comprise 21 food and beverage outlets and four specialist bars that will also sell food. The outlets are in both Terminal 1 and Terminal 2 and in some of the boarding gate areas.
Dublin Airport is seeking a group of concessionaire partners to operate the 25 new outlets and work closely with the airport to devise an offer for passengers that includes international brands and also showcases the best of Ireland's local food scene.
The 21 food and beverage units are expected to have an annual turnover of about €35 million per annum, while the four bars are expected to generate annual sales of about €15 million. Dublin Airport welcomed 31.5 million passengers last year and there are also about 19,000 staff based on the airport campus.
The contracts are for 10 years, which is longer than those typically awarded in international airports, as Dublin Airport wants to work in partnership with the new concessionaires over the next decade. It is likely that major international players in the food and beverage sector will partner with Irish operators to bid for the business.
"Dublin Airport has an ambition to become a destination for food, by helping our passengers feel a sense of connectedness to Ireland and by ensuring that everyone is well fed and ready for their journey every time," said Dublin Airport Managing Director Vincent Harrison.
"Passenger expectations of airport food have increased significantly, and we recognise that the food we offer at Dublin Airport is a key driver of overall passenger satisfaction," Mr Harrison added. "We're seeking a step-change in the food and beverage offer that is provided at the airport. We want to have a world-class food offer that is enticing to all our customers and that delivers quality, fresh and satisfying food to passengers."
The 21 food and beverage outlets that are being tendered have a combined area of more than 4,000 square metres, while the four bars have a combined total of 1,350 square metres. The units going out to tender include Alcock & Brown in T1, the Garden Terrace in T1, Burger King in T1 and T2, the Slaney Bar in T2, the Chocolate Lounge in T2, and the Gate Clock in Pier 3. There will also be a new bar unit in the international departures area of Terminal 2.
The new food and beverage units and bars that will be delivered as part of the two tenders are expected to open for business from early 2020. The existing outlets will continue to operate in the interim period, and the new outlets will open on a phased basis.
The overall transformation of the food and drink offer at the airport will take place over the next three years, starting with the first two packages that are now going out to tender. Two further packages will go out to tender over the next 18 months - a second food and beverage package comprising 12 separate units and a specialist coffee package comprising four units.
Earlier this month, Dublin Airport was named one of the best airports in the world in a global ranking of passenger experience. Dublin Airport was the joint winner in its category of European Airports that have 25-40 million passengers per year in the Airports Council International (ACI) World Airport Service Quality (ASQ) Awards.
Dublin shared its category win with Oslo Gardermoen and Zurich airports. The ASQ Awards are based on 640,000 passenger survey results in 84 countries that measure the key elements of a passenger's experience at each airport.
Dublin Airport has flights to almost 200 destinations in 43 countries, operated by 56 airlines and is the eleventh busiest airport in the European Union. It supports 117,300 jobs in the Irish economy, including 19,200 people employed directly at the airport and its environs. The economic activity underpinned by Dublin Airport in terms of the spin-off benefits through trade, tourism, and jobs, is worth €8.3 billion to the Irish economy annually.