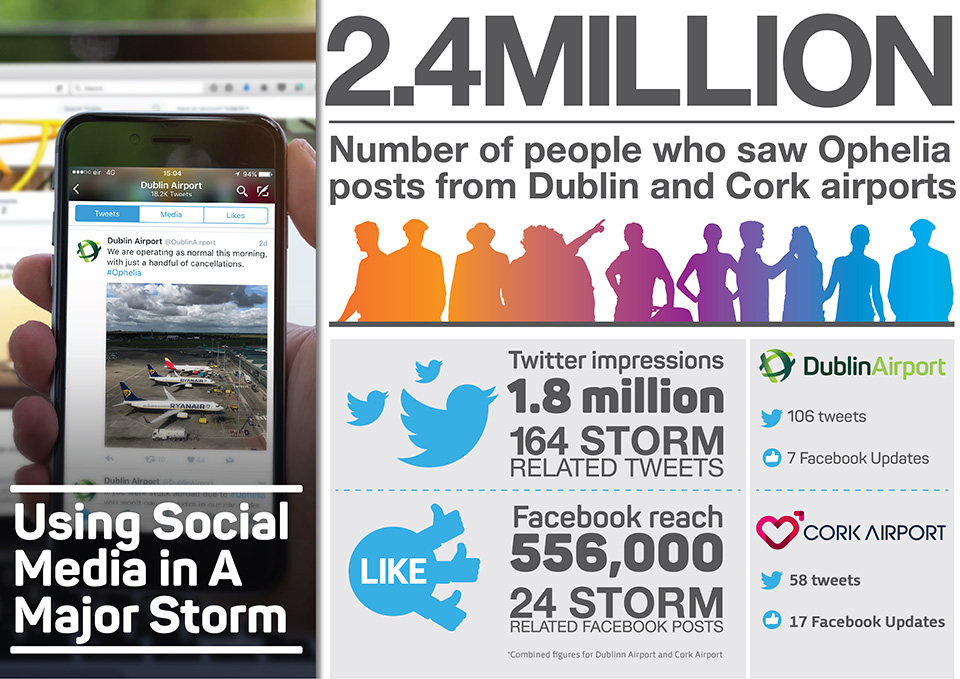 About 2.4 million people were kept informed about the impact of storm Ophelia on the Republic of Ireland's two largest airports - Dublin and Cork – by the airports' social media channels.
The combined reach of almost 190 social media posts from the two airports from Sunday evening, as the storm approached, until Tuesday morning, when Ophelia had passed, was about 2.4 million.
Twitter was the key social tool for Dublin and Cork airports during the storm, as their combined 164 Ophelia-related tweets were seen by 1.8 million people. The 24 Facebook updates posted by the two airports reached a total of 556,000 people during the period.
"Social media has been a key tool for communicating with our airports' passengers and stakeholders for several years, and is particularly useful in major weather events," said daa's Chief Communications Officer Paul O'Kane. "During storm Ophelia, Dublin and Cork airports used our social media channels to provide passengers with the latest information as the situation evolved."
Dublin Airport had about 180 cancelled flights on Monday, when storm Ophelia hit Ireland, but the airport remained open throughout the day and about 75% of its schedule was operational.
"Dublin Airport used its social channels to explain that the airport was open, to direct customers to information in relation to cancelled services, provide updates on ground transportation and to answer customer queries," Mr O'Kane said.

Cork Airport was much more affected by the storm, as it had 48 flight cancellations on Monday. About 80% of its daily schedule had to be cancelled.
"The importance and relevance of social media channels to our business of connecting people across the South of Ireland with the world was never more evident than during storm Ophelia", said Kevin Cullinane, Head of Communications at Cork Airport.
"Communicating timely and relevant messages to our stakeholders was our second most important consideration, after ensuring a safe and secure airport during this unprecedented storm," he added.

Dublin and Cork airports have won both domestic and international awards for the quality of their social media accounts. Dublin Airport has twice been named the world's best airport twitter account, while Cork has won several digital marketing awards.
Dublin Airport has 244,000 followers on Twitter and its Facebook Page has 134,000 followers. Cork Airport has almost 26,000 followers on Twitter and its Facebook Page has almost 60,000 followers.
Dublin Airport is the State's largest airport and welcomed a record 27.9 million passengers last year. Cork Airport is the Republic of Ireland's second largest airport, with more than 2.2 million passengers last year.