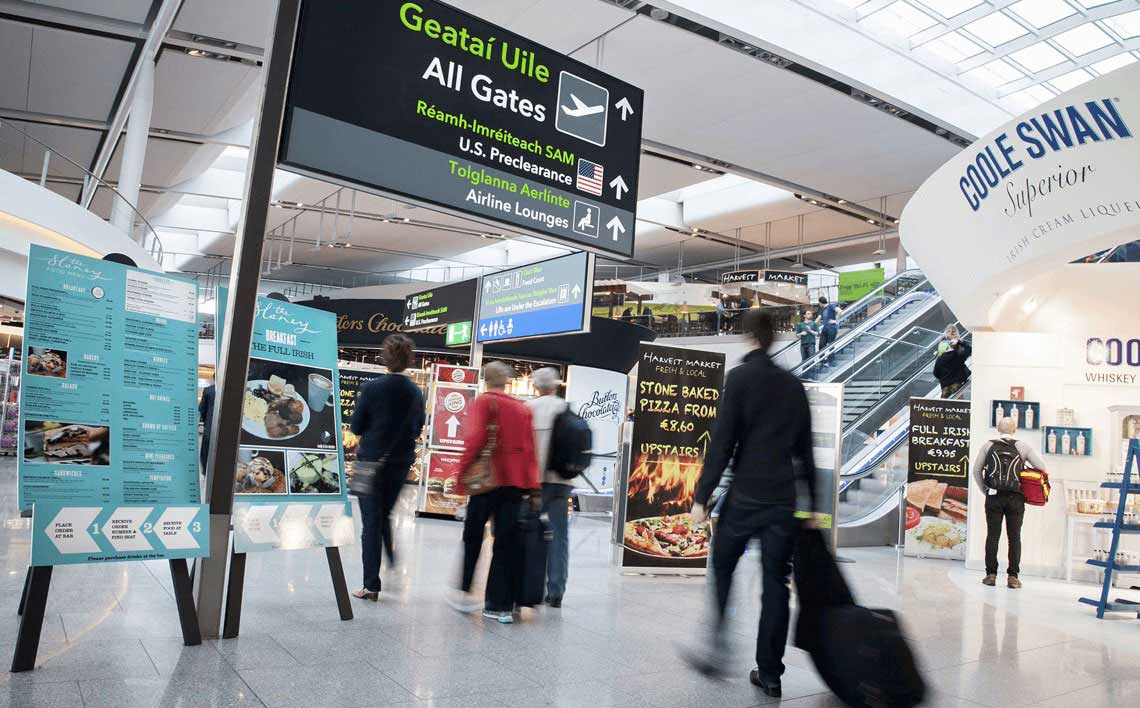 Passenger numbers at Dublin Airport increased by 2% last year to 19.1 million, the second consecutive year of traffic growth at Ireland's main international gateway.

The growth in passenger numbers was underpinned by a major expansion in long-haul traffic, which was up 16%, while short-haul traffic at Dublin Airport increased by 1% during the year.

Total traffic at DAA's three airports – Dublin, Cork and Shannon* - increased by 1% last year to 22.8 million, which was also the second year of consecutive overall growth.

As a result of the expansion of passenger numbers, Dublin Airport Authority (DAA) is paying a €1.5 million rebate in airport charges to 25 airlines that grew their business at Dublin Airport during the year.

Under its Growth Incentive Scheme, a rebate is being paid to each airline based on its overall level of growth at Dublin during 2012. Airlines that grew their business at Dublin Airport last year included; Aer Lingus, Aer Lingus Regional, Air Canada, American Airlines, Etihad, Lufthansa, SAS and Turkish Airlines. British Airways and Emirates also launched significant new services from Dublin last year.

Over the past two years, DAA has returned €3 million in airport charges rebates to its airline customers at Dublin under the Growth Incentive Scheme. The scheme, which will continue to operate in 2013, is aimed at encouraging airlines to maintain and grow their business. DAA also offers generous other incentive schemes to attract new routes and boost transfer traffic.

"We're delighted that 25 airlines grew their business at Dublin Airport last year and we're rewarding them for that growth with a €1.5 million rebate on our already highly competitive airport charges," said DAA Strategy Director, Vincent Harrison. "Despite the downturn, we have seen growth in overall passenger numbers for the second year in a row, and strong demand for long-haul travel into and out of Ireland."

An extra 360,000 passengers used Dublin Airport last year. International passengers – both incoming and outgoing – increased by 420,000 or just over 2%. Terminal 1 handled 10.3 million passengers in 2012, while almost 8.8 million passengers used the award-winning Terminal 2. The overall long-haul market from Dublin increased by 16% last year with new services to the Middle East and North America.

"Emirates started its new Dublin-Dubai service last January and has already introduced a larger aircraft on the route, while Etihad also grew traffic on its Dublin-Abu Dhabi service last year," Mr Harrison said. "While many business and leisure passengers are using these services to connect to the Far East and beyond, we have not seen any reduction in traffic to the major European hubs such as Heathrow, Paris and Amsterdam," he added.

Dublin Airport's long-haul market should continue to grow during 2013, according to Mr Harrison. Etihad will add an extra 30% capacity to its Dublin-Abu Dhabi route, which is one of its top 10 services, and there will also be almost 20% more seats available on Transatlantic routes to and from Dublin this summer.

"American Airlines is launching a new Dublin-JFK service this summer, Aer Lingus will have seven extra return flights per week to US destinations, while Delta is adding three extra flights per week on its daily JFK route and operating the service with a larger aircraft. United and US Airways are also expanding their schedules this year. These increases mean that Dublin Airport will have up to 112 direct flights per week to 11 North American destinations this summer."

Just over 10 million Dublin Airport passengers travelled on flights to and from continental Europe last year, a 2% increase on 2011. Almost 6.9 million people travelled to and from Britain, which was a decline of 1%. Transatlantic traffic increased by 5% as 1.6 million people travelled between Dublin and North America last year. Traffic to the Middle East and North Africa increased by 84% in 2012, as almost 480,000 people travelled on these route sectors. Domestic air travel within the State continued to decline as 63,000 people took internal flights to or from Dublin, a 49% fall on 2011.

Dublin Airport saw 15 new routes and services launched last year, with continental Europe accounting for 11 new services. There were also new long-haul services to the Middle East and to the United States, and two short-haul new services to Britain.

The amount of cargo passing through Dublin Airport increased by 10% last year with an extra 10,000 tonnes of goods shipped.

*Shannon Airport ceased to be part of DAA at 11.59pm on December 31, 2012.