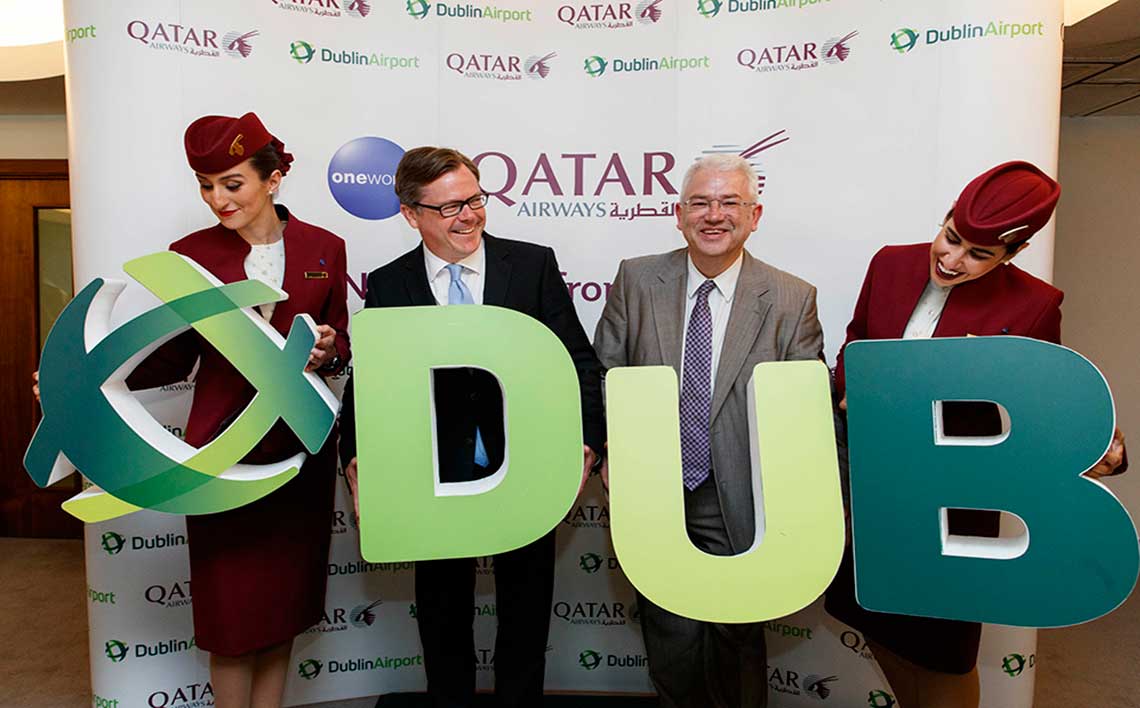 Dublin Airport is delighted to welcome Qatar Airways' new daily service between Dublin and Doha.
To celebrate this special occasion, the airline flew its new generation Airbus 350 aircraft to Dublin for the inaugural flight. This was the first time an Airbus A350 had operated a scheduled service to Dublin. From tomorrow onwards, Qatar will operate its daily Dublin service with a Boeing 787 Dreamliner.
Dublin Airport Managing Director Vincent Harrison said he was delighted to welcome Qatar Airways to Dublin. "This new daily service will add increased connectivity to the Middle East and beyond, offering more choice to both business and leisure travellers."
Qatar's new service to Doha is one of 11 new routes at Dublin Airport this year. During 2015 and 2016, Dublin Airport welcomed 42 new services and 71 existing services were expanded with either additional flights or larger aircraft.
Qatar Airways Group Chief Executive, His Excellency Mr. Akbar Al Baker said: The launch of our new service to Dublin is an important milestone for Qatar Airways. The new service will connect the Irish people with more destinations globally and provide them the opportunity to experience our five-star service. We look forward to welcoming our new passengers on board and to connecting them to Doha and beyond."
The new service provides passengers with easier access to over 150 destinations worldwide including the Middle East, Asia and Australia, with seamless connections to Sydney, Hong Kong, China and many more attractive destinations.
Qatar Airways is a member of the global oneworld alliance and will be marketing Dublin and Ireland to this network of more than 1,000 airports in more than 150 countries. A multiple award-winning airline, Qatar Airways was named World's Best Business Class; Best Business Class Airline Lounge and Best Airline Staff Service in the Middle East at the 2016 World Airline Awards managed by Skytrax.
Qatar Airways will operate its Dublin – Doha flights as follows:
Monday, Wednesday, Friday and Sunday
Flight QR017 departing Doha at 07.45 arriving in Dublin at 13.20
Flight QR018 departing Dublin at 15.25 arriving in Doha at 00.30
Tuesday, Thursday and Saturday
Flight QR019 departing Doha at 01.50 arriving in Dublin at 07.25
Flight QR020 departing Dublin at 08.50 arriving in Doha at 17.55
So far this year, more than 10.9 million passengers have travelled through Dublin Airport, a 6% increase compared to the first five months of last year. Dublin Airport has welcomed and additional 640,000 passengers between January and May.
Dublin Airport has direct flights to more than 185 destinations in 41 countries operated by a total of 47 airlines.
Image above: Qatar Airways cabin crew with its Senior Vice President Jonathan Harding and Dublin Airport Managing Director Vincent Harrison at the launch of the airline's Dublin to Doha service.