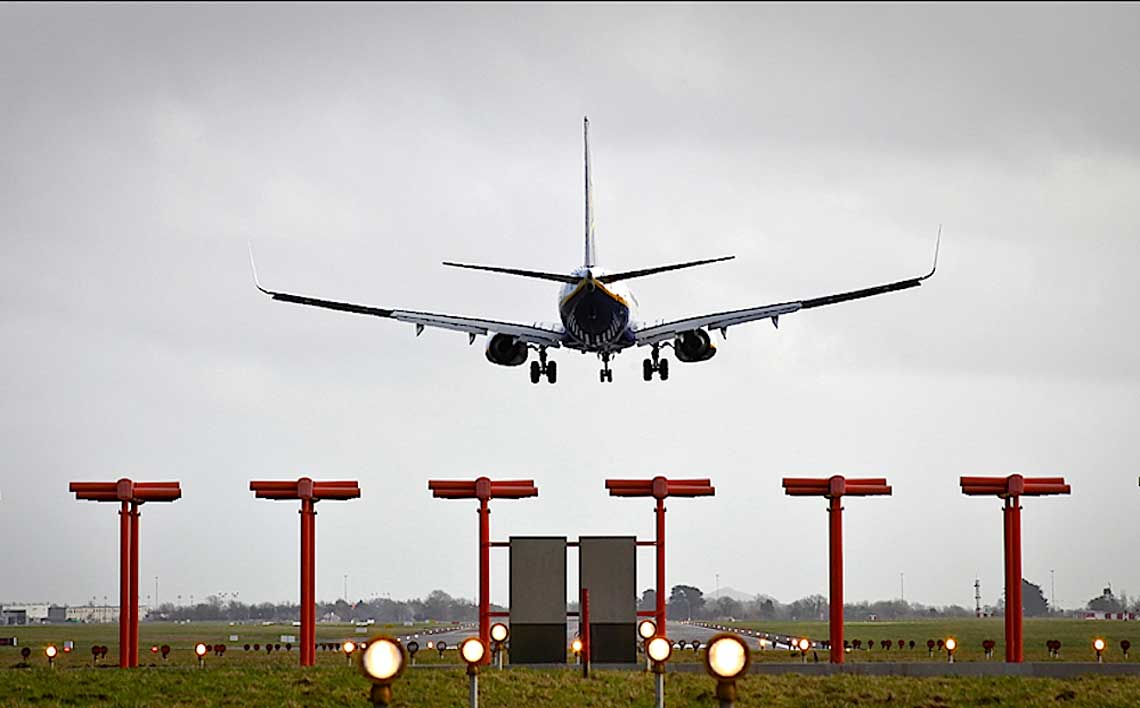 Work to resurface Dublin Airport's main runway, R10/28 is more than two-thirds complete.
The runway, which is 28 years old, also needs an upgrade of its ground lighting system and a full replacement of all cabling and ducting.
The 18-month project, which started in November 2016, is essential to ensure the airport's main runway can continue to operate safely.
Runway 10/28 is a critical element of Ireland's infrastructure according to Dublin Airport Managing Director, Vincent Harrison. "Our main runway has been the workhorse of Dublin Airport since it opened in 1989. It has facilitated over four million aircraft take offs and landings since then and this upgrade work is vital to the ongoing safe operation of the airport."
The project involves the full resurfacing of R10/28, which is 2,637m long, with three new layers of asphalt. Three taxiways serving the main runway have also been resurfaced. The runway ground lighting system is being upgraded with 1,700 new LED lights, which will reduce energy consumption by 66%. More than 10 kilometres of new electrical ducting and 200 kilometres of electrical cabling is also being installed.
"This work is required to ensure the main runway continues to meet the strict regulations governing the operation and specification of runways at major airports. It is a complex and challenging project because it is weather dependent and it can only be done at night time, as it requires the full closure of the airport's main runway," said Mr Harrison.
Construction work had been taking place between 11pm and 5am nightly up to the end of October, however, due to shifts being lost because of low visibility, heavy rain and storms, the project start time was recently brought forward to 9pm to meet the end of April 2018 finish deadline.
Contractors have eight hours every night to mobilise over 200 workers and 150 items of construction plant to work on a 100 metre section of the runway. When all the equipment and contractors have left the site the entire runway is put through a rigorous safety inspection to ensure it is ready for the first wave of early morning flight departures.
During the construction work, Dublin Airport's oldest runway, R16/34 is being used. This runway has two flight paths for arriving and departing aircraft. The R16 flight path brings aircraft over rural areas of North Dublin, while the R34 approach brings aircraft over South Dublin across to Dublin Bay to Clontarf, Artane, Beaumont, Santry and Turnapin.
The Irish Aviation Authority (IAA), which has responsibility for air traffic control services, gave a commitment that during the construction works the preferred inbound flight path for Dublin Airport's secondary runway will be the northerly R16 approach, which brings aircraft over the least populated areas. The southerly R34 approach will only be used if required due to wind direction and speed – as aircraft must land and take off into the wind.
Since the project started, 78% of flights have been directed to the northerly flight path while 22% of flights have been directed to the southerly approach.
Dublin Airport has welcomed more than 25.3 million passengers so far this year, which is a 6% increase over the same period in 2016.
More than 1.4 million extra passengers have travelled through the airport between January and October.
Dublin Airport has direct flights to more than 185 destinations in 41 countries operated by a total of 47 airlines.