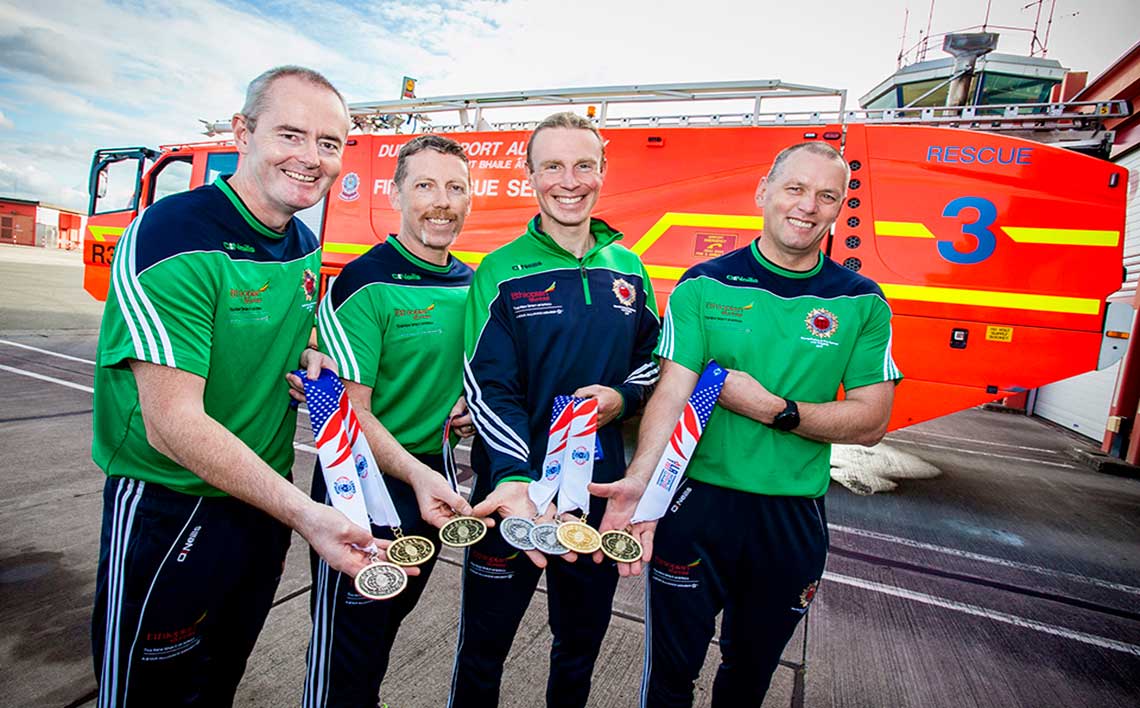 Four members of Dublin Airport's Fire Service brought home a total of seven medals from the World Police and Fire games which were held in Los Angeles recently.
Cian Delaney, Mick Gurley, Mick Bracken and Eric Flanagan represented Ireland at the games which saw over 10,000 firefighters and law enforcement officers from 65 countries compete in more than 60 separate events.
Dublin Airport fire officer and paramedic Cian Delaney won an impressive four medals at the games including gold in the cycling time trial as well as two silvers and a bronze in other cycling events.
Mick Gurley took silver and bronze in the rowing competitions, while Mick Bracken won bronze in the stair climb. This gruelling event sees competitors scale 128 flights of stairs in full protective gear while also carrying an extra 20kg of breathing apparatus.
Dublin Airport's Fire Service last competed in the annual World Police and Fire games in 2013 when Belfast was the host city. The team defied all expectations on that occasion by securing eight medals.
Dublin Airport Fire Officer Eric Flanagan, who narrowly missed out on a medal in the stair climb said the team was immensely proud of its performance in LA. "It was a huge honour to represent Ireland at these games, the team trained very hard for this competition and we wanted to come to LA and do everyone proud".
The team arrived back to Dublin Airport to a heroes' welcome from family, friends and work colleagues. All seven medals are now on display in the Airport's Fire Station.
The Dublin Airport Fire & Rescue service is responsible for all fire and rescue duties at the airport in the event of an aircraft accident or incident.
Other services include domestic fire cover for buildings and medical responses on the airport's campus.
The unit is also responsible for airside safety functions including runway inspections, apron safety, wildlife management, runway friction and braking action testing, and reporting.
Dublin Airport has over 19,000 people working in over 100 companies on the airport's campus. The airport welcomes an average of 80,000 passengers arriving and daily.
Image above: Dublin Airport Fire Service colleagues Mick Gurley, Mick Bracken, Cian Delaney and Eric Flanagan with their seven medals from the World Police and Fire Games.