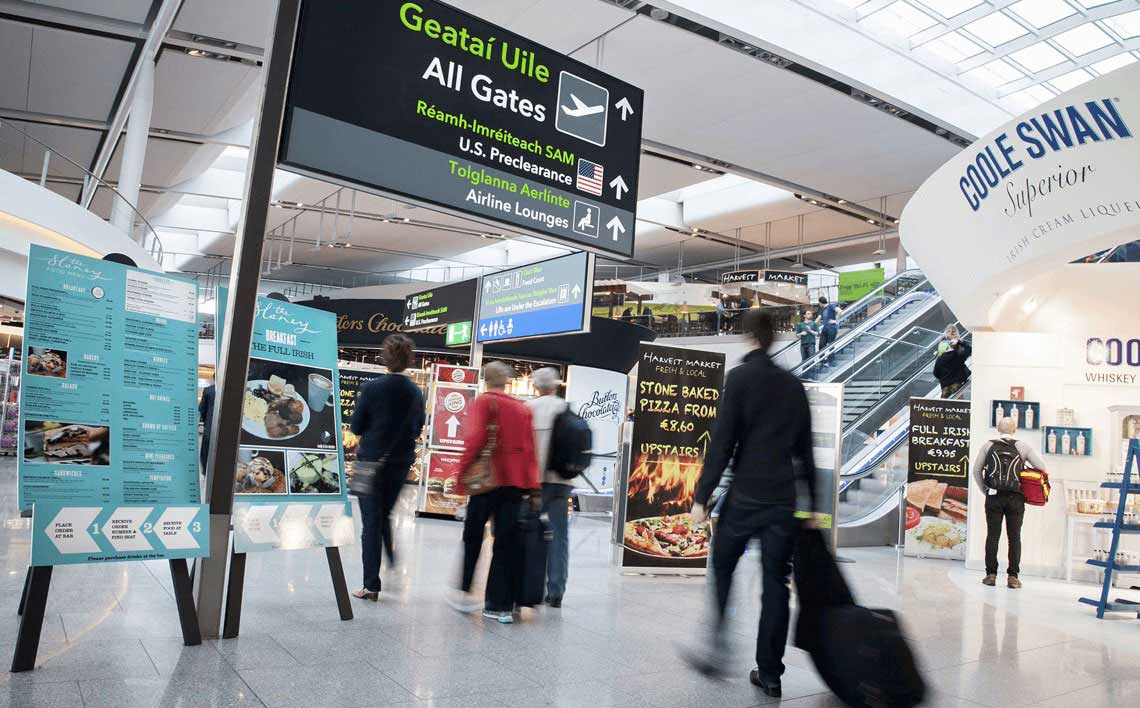 Dublin Airport's Terminal 2 celebrates its 5th birthday today, November 19.
Terminal 2 has welcomed 46 million passengers since it opened in 2010 and is now home to Aer Lingus, Aer Lingus Regional, Etihad Airways, Emirates, Delta Airlines, American Airlines and United Airlines.
The award-winning passenger terminal has flights to 90 destinations - 56 European, 17 in Britain, 11 in North America, two in the Middle East, two in North Africa and two in Ireland.
T2 was designed to improve the passenger experience at the airport and to help boost Dublin Airport's connectivity. Long-haul connectivity has grown by more than 65% since the new terminal opened while short-haul connectivity has increased by 16%.
"Terminal 2 has proven itself to be an enormous success since it opened five years ago," said Dublin Airport Managing Director, Vincent Harrison.
"We have been strengthening connectivity and growing our passenger numbers every year since 2010 and the airport has also improved its customer satisfaction rating during the same period. Dublin Airport has welcomed a total of 13 new long-haul services since 2010, and has also significantly expanded its short-haul network."
Terminal 2 will also have three new transatlantic services next summer, with direct Aer Lingus flights to Los Angeles, Newark and Hartford Connecticut.
This summer, Dublin Airport was Europe's sixth largest airport for transatlantic connectivity according to Mr Harrison. "Only the main European hubs of Heathrow, Schiphol, Paris CDG, Madrid and Frankfurt had more flights to the United States and Canada than Dublin this summer," he added.
Dublin Airport is the only major airport in Europe that offers US preclearance facilities, which is a unique feature of Terminal 2. This service enables US-bound passengers to undertake all immigration, customs and agriculture inspections in Dublin prior to departure.
Last year, Dublin Airport welcomed a record 2.1 million transatlantic passengers. There has been further significant growth in this market during 2015, as transatlantic passenger numbers have increased by 17% so far this year. In 2010 when T2 opened, Dublin Airport had 1.5 million transatlantic passengers.
Dublin Airport's traffic to the Middle East has also grown significantly in the past five years, with Etihad Airways and Emirates now offering double daily services to Abu Dhabi and Dubai respectively.
Construction work on Terminal 2 started on October 1 2007 and the first piece of structural steel was erected in March 31 2008. At its peak, the Terminal 2 project was the largest construction project in the State, with 2,600 workers on site. T2's first flight – an Aer Lingus service from Manchester – arrived shortly after 11am on November 19. Flight operations started moving into the new terminal on a phased basis from November 23.
Dublin Airport, which is celebrating its 75th birthday this year, has flights to 167 destinations. Passenger numbers are up 15% so far this year, with almost 21.5 million people travelling through the airport in the 10 months to the end of October. About 2.9 million extra passengers have been welcomed at Dublin Airport during that period, as the airport has experienced strong growth across all major route sectors.