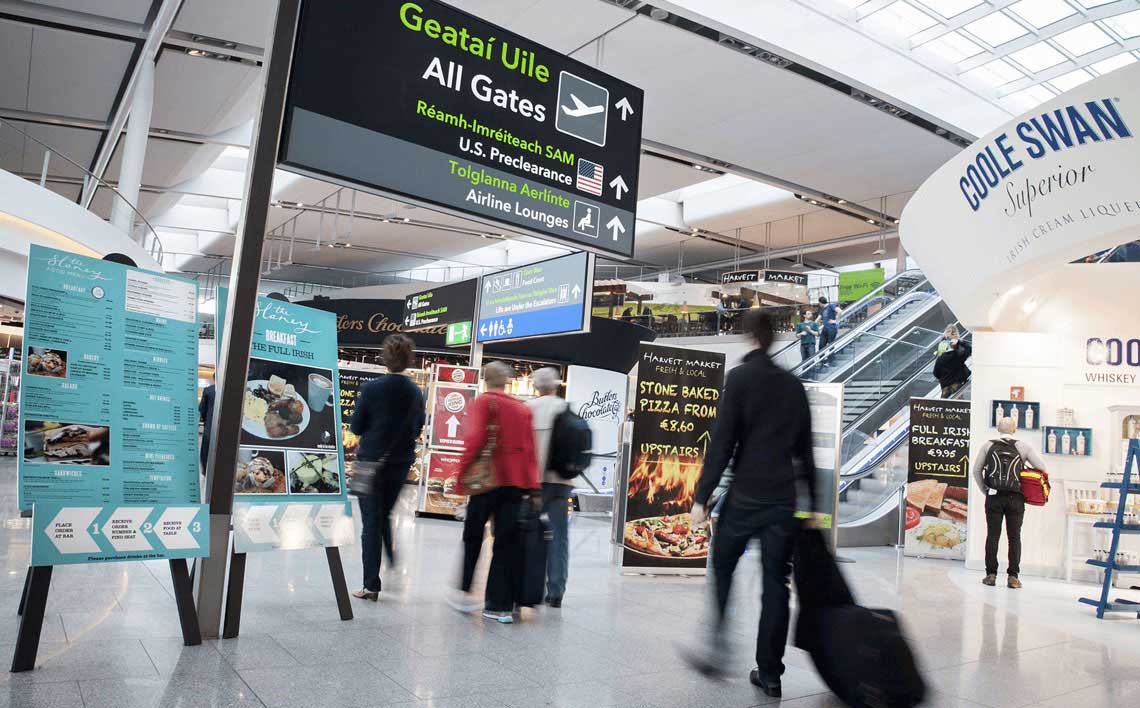 A new €8 million retail area has opened at Terminal 1 in Dublin Airport, showcasing the best of Irish and international brands and offering consumers a radically improved shopping experience at Ireland's main international gateway.
The Loop's new state-of-the-art retail area, which comprises more than 18,300 sq ft of new and improved stores, will rival the best of Dublin Airport's global peers. The new retail design, which was based on passenger research, represents the culmination of 18 months of development and construction in the airside retail area of Terminal 1.
"Featuring the best of Irish design and Irish and international products, this new retail area will create a fantastic sense of modern Ireland and offer our customers a wonderful shopping experience," said Paul Neeson, Director of Retail at Dublin Airport.
"Investing in this new retail area will dramatically improve the customer experience in Terminal 1 and will also help increase overall passenger spends. The income that is generated from this commercial activity in turn subsidises airport charges at Dublin," Mr Neeson added.
"This new retail area was truly designed by our customers. Extensive customer research from the outset and indeed throughout the design process has driven the retail concept to deliver what our Irish and international customers really want from The Loop," he said.
The development includes new and refreshed stores such as the award-winning Irish Whiskey Collection, which has the most diverse range of whiskey brands in the world, Candy Cloud a vibrant new confectionery concept created in Ireland and the Wine Goose Chase, which features wines with an Irish provenance from around the world. It also boasts an enhanced perfume and cosmetics area, which will have Ireland's largest collection of fragrances and a number of Irish exclusives.
Opened just in time for St Patrick's Day, the new stores showcase an expanded range of products with an Irish provenence, including newly designed souvenirs, a total of 119 Irish whiskies and 70 wines with an Irish heritage.
The new retail area will serve a growing number of customers at Dublin Airport, as passenger numbers increased by 8% to 21.7 million last year. That growth is set to continue into this year, with 20 new services being launched at Dublin Airport during 2015.
"This is a very significant upgrade of the retail offer in Terminal 1 and we look forward to serving the many millions of customers that use Dublin Airport every year," Mr Neeson said. "We hope that our customers can take a little piece of Dublin and Ireland with them on their travels, as well enjoying the unique Loop experience," he added.
The new airside shopping area within Terminal 1 features both new and enhanced retail concepts.
• The new Perfume & Cosmetics area has Ireland's largest range of beauty brands, with 70 international names including MAC, Clarins, Bobbi Brown, Jo Malone, Crème de la Mer, Estee Lauder, Lancome and Chanel. It features two highly sought after fragrance exclusives – Dolce & Gabbana Velvet Collection and Elie Saab Les Collections des Essences. Urban Decay, Kiehls and Aveda will also now be available for the first time at Dublin Airport.
• The Irish Whiskey Collection boasts a unique collection of 365 whiskies – one for every day of the year. It features 119 varieties of Irish whiskey as well as more than 200 brands from other countries such as Scotland, USA, Japan, Canada, Wales, France, Holland, the Czech Republic, Sweden, Finland, India, Taiwan, Australia and New Zealand and is the most diverse collection in the world. Award-winning Irish artist Shane Holland has designed and developed a copper sculpture that takes pride of place over the new Whiskey Collection store.
• Drawing on strong Irish links to some of the great wine producing families, the Wine Goose Chase features a selection of 70 wines from France, Australia, New Zealand, Chile and America, all of which have an Irish provenance. In the 17th and 18th centuries Irish families left their homeland to travel far and wide and set up vineyards. The Loop now celebrates their rich and storied history in wine making. Only stocking wines with an Irish heritage, the new wine selection is perfect for those looking for a present for friends and family abroad.
• The Loop is also introducing a unique confectionary concept Candy Cloud, which features a swirl of colours, with a huge range of chocolate, sweets and other tasty treats as well as toys and themed stationery. The new store has 180 different products and features a special "magic hollow" area for children allowing them to explore an enchanted forest filled with giant lollipops and marshmallows. Local school children helped inform decisions on name, store design and range, so a purchase from Candy Cloud should not disappoint.
• The Irish Memories brand has been refreshed to reflect a more modern Ireland and features two new ranges of Irish souvenirs which are exclusive to The Loop. To deliver a real sense of place, it also houses some iconic Irish street furniture such as an old fashioned phone box perfect for selfies and a fully restored post box.