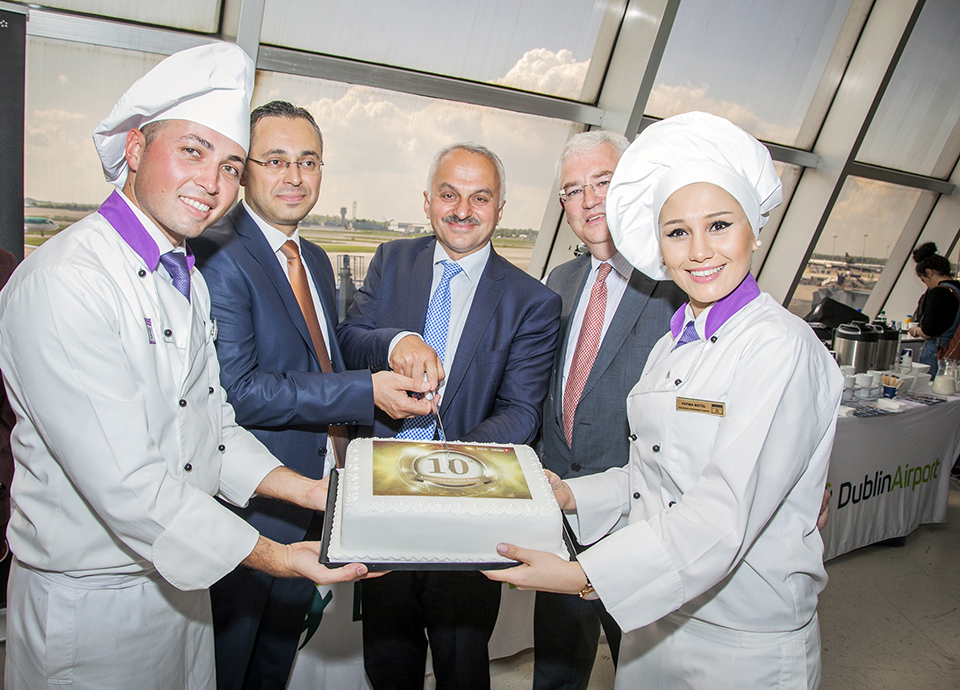 Turkish Airlines celebrated 10 years of flying direct services between Dublin Airport and Istanbul.
The airline first started flight operations in summer 2006 with a twice weekly year-round service. In 2009, Turkish Airlines increased its flight operations to a daily service and further growth in passenger numbers saw the airline expand again last year as it moved to double daily flights between the two cities.
"We are very proud of our decade long partnership with Turkish Airlines and we congratulate them on reaching this major milestone," said Dublin Airport Managing Director, Vincent Harrison.
"Turkish Airlines has gone from strength to strength since it started operations at Dublin Airport 10 years ago. By the end of this summer the airline will have carried one million passengers between Dublin and Istanbul since it started. The continuing growth in passenger numbers is testament to the popularity of the route for business and leisure passengers," he added.
Turkish Airlines Chief Executive, Dr. Temel Kotil said: "I am delighted to be in Ireland to celebrate this important milestone in our airline's history in Ireland. We will continue to invest in Ireland and have a competitive product offering that will serve the Irish market well for both business and leisure travel. We look forward to investing further in pilot training as well as hiring key staff to sustain growth in the Irish market."
Dublin Airport will continue to work closely with Turkish Airline to progress further opportunities in the future, Mr Harrison added. Passengers travelling with Turkish Airlines from Dublin to Istanbul can connect directly into one of the airline's 289 destinations globally.
The Dublin-Istanbul service is one of 180 direct routes available from Dublin Airport. Dublin Airport, which welcomed a record 25 million passengers in 2015, is adding 15 new services this year.
Almost 7.8 million passengers have travelled through Dublin Airport in the first four months of this year, which is a 15% increase over the same period last year. So far this year the airport has welcomed more than 1 million additional passengers.
Image above: (LtoR) General Manager Turkish Airlines Ireland, Hasan Mutlu, Turkish Airlines CEO Dr. Temel Kotil and Dublin Airport General Manager, Vincent Harrison with in-flight chefs celebrating Turkish Airlines 10 years at Dublin Airport.