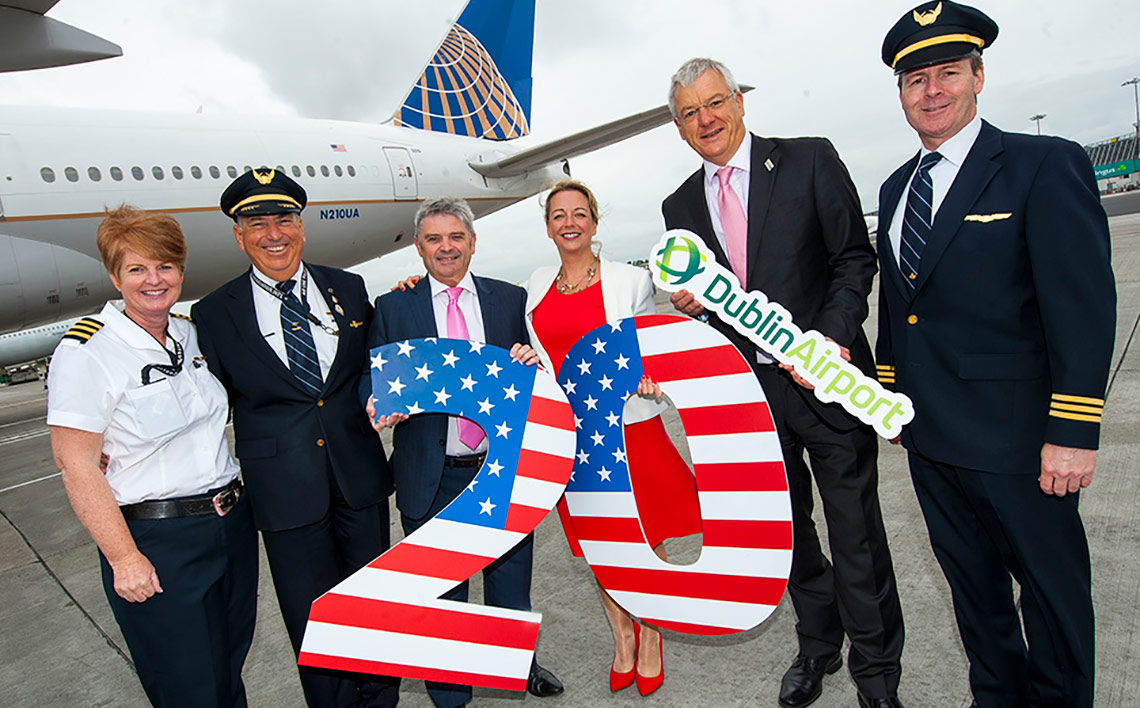 United Airlines is celebrating 20 years of flying its nonstop service between Dublin and New York/Newark.
The airline has carried over 2.7 million customers on more than 17,000 flights between the two cities since it launched services in June 1998.
Congratulating United Airlines on its significant milestone, Dublin Airport Managing Director Vincent Harrison said, "United Airlines is an important customer and I want to acknowledge its commitment to Dublin Airport and its Newark route since it started in 1998.
"We have worked closely with our friends at United fostering strong relationships and we were delighted to see its route network go from strength to strength with the addition of Washington and Chicago in recent years. United Airlines has carried a total of 3.5 million passengers on its three routes from Dublin Airport during those 20 years. We wish United Airlines continued success with its route network from Dublin Airport and we are committed to work closely with the airline to grow passenger numbers further."
At a boarding gate event to mark its 20th Anniversary of the airline flying from Dublin Airport, United Airlines' Managing Director Sales, UK & Ireland Bob Schumacher said "We are extremely proud to mark two decades of our nonstop service from Dublin to New York/Newark and thank our valued customers and the travel trade community across Ireland for choosing United.
"Since 1998, our service has allowed our Irish customers to take advantage of our extensive route network from our New York/Newark hub that today offers almost 80 nonstop connections across the US, Canada, Central America and Mexico."
In addition to the daily, year-round service from Dublin to New York/Newark, United today offers its customers from Ireland nonstop flights on a seasonal basis from Dublin to Washington/Dulles and Chicago. All flights are conveniently timed to connect at United's US hubs with an extensive network of services to destinations throughout the Americas.
Passengers travelling on United Airlines flights to the US can avail of US pre clearance facilities at Dublin meaning passengers save time on arrival in the US by completing all the necessary immigration and customs checks prior to departure. The only queue a pre cleared passenger encounters on arrival in the US is the taxi queue to their final destination.
More than 8.7 million passengers have travelled through Dublin Airport in the first four months of this year, a 4% increase over the same period last year. Dublin Airport has welcomed an extra 374,000 additional passengers in the first four months of 2018.
This summer season Dublin Airport will have flights to 195 destinations in 42 countries, operated by 56 airlines.


Image above: Celebrating 20 years of its nonstop service between Dublin and New York/Newark with United flight UA22 crew is Dublin Airport SVP Aviation Business Development Jon Woolf, United Country Sales Manager Ireland Martina Coogan and United Managing Director UK and Ireland, Bob Schumacher.