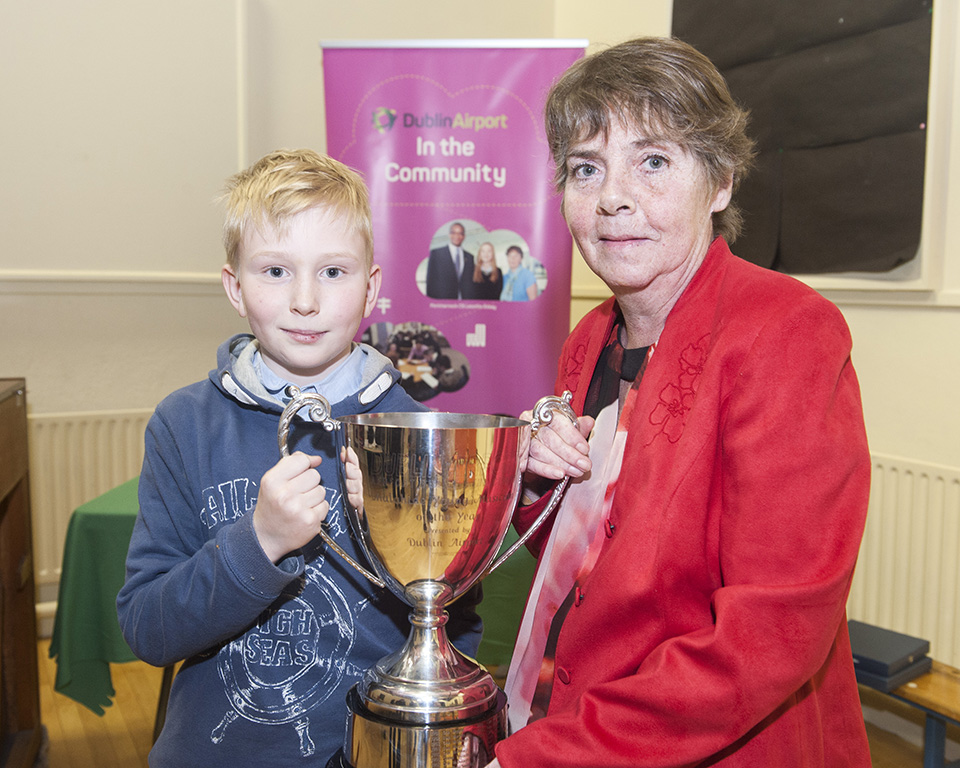 Jeremy Campbell Irwin from Kinsealy was declared the overall winner of the Dublin Airport Malahide Young Musician of the Year 2018.
Playing two contrasting pieces on his violin, 11 year old Jeremy impressed the judges to take the overall prize of €200 and the daa Perpetual Trophy.
This year's event saw every level of musical ability, from beginner to the very accomplished, taking part.
Prizes are awarded for Brass, Pianoforte, String, Vocal, Woodwind and Other Instrument with the coveted title of Malahide Young Musician of the Year awarded following a play-off involving the winners of all individual categories. There are also prizes awarded for ensemble performances. Winners in individual categories were presented with a commemorative plate.
Dublin Airport has been a proud supporter of the competition since it began in 1981 and it is one of the longest standing relationships the airport has with a community event in Fingal.
Dublin Airport's Community Liaison Manager, Maura Cassidy said the competition showcases young talent in our local communities. "Every year I am impressed by these young students, their performances are exceptional and many have become professional musicians. Jeremy is a gifted violinist, he wowed the audience and judge by his performance and is a worthy winner."
Event organiser Derek Keogh was amazed at the high standards on show "We witnessed some outstanding performances and the results showed the great musical potential in the young people in the area. I would like to thank daa for its continuous support for the competition since its inception 37 years ago."
The event was judged by Dr. Orla McDonagh, Head of DIT Conservatory of Music and Drama, a past winner of the competition.
The Malahide Young Musician is supported through Dublin Airport's Community Fund. Dublin Airport is investing €400,000 per year over the next 25 years in local projects focused on areas such as environment and sustainability, sports and recreation, social inclusion and community development, health and wellbeing, and culture and heritage.
The Community Fund is just one of a number of ways in which Dublin Airport makes a positive contribution to its neighbouring and society in general.
Dublin Airport is a major economic generator, facilitating almost 120,000 jobs nationally bringing huge benefits to the local community and contributing €8.3 billion annually to the Irish economy.
Many of the 19,000 people who work on the airport campus, not just for daa, but also for all of the other businesses that are located at the airport, are drawn from neighbouring communities. The employment opportunities provided at the airport are vital to the economic well-being of the local community.
Image above: Dublin Airport's Community Liaison Manager, Maura Cassidy presents Jeremy Campbell Irwin winner of the Malahide Young Musician of the Year 2018 with the daa Perpetual Trophy.