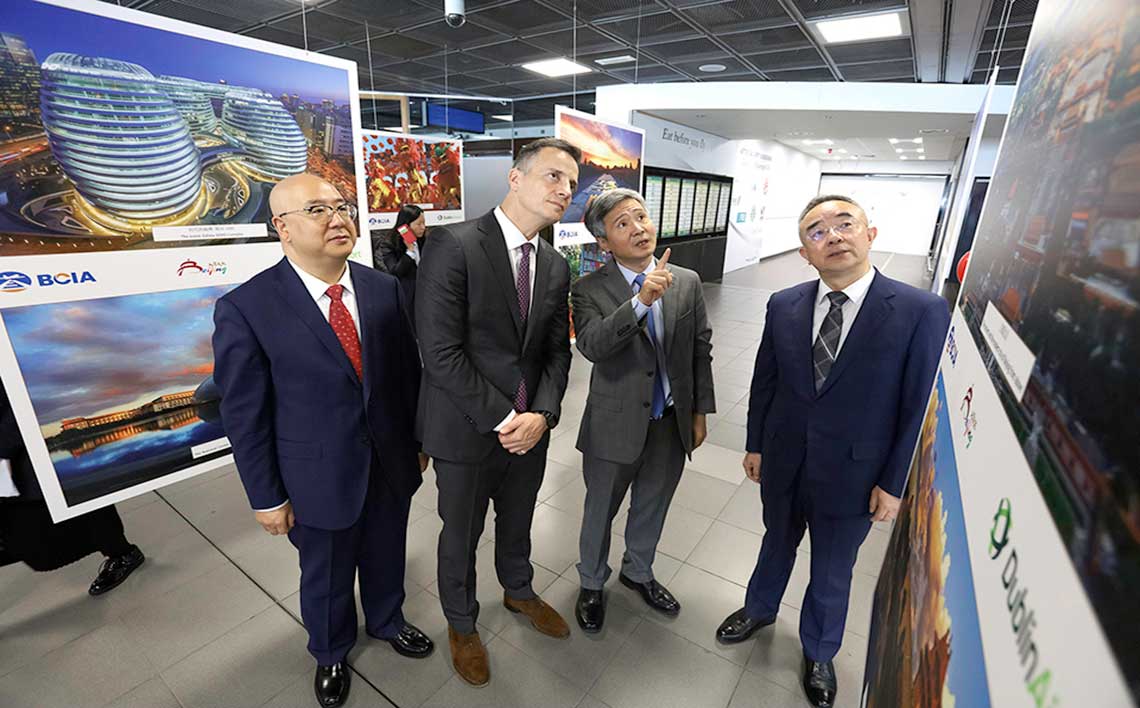 Dublin Airport, in partnership with Beijing Capital International Airport (BCIA) and the Beijing Tourism Board, is hosting a photo exhibition of images from China.
The exhibition, which features 26 images showcasing Beijing's tourism and cultural landscape, was officially opened by daa Chief Executive, Dalton Philips and the Chinese Ambassador to Ireland, His Excellency Ambassador He Xiangdong.
Located on the Mezzanine area of Terminal 1, the exhibition aims to promote tourism links between Ireland and China and strengthen the increasingly close ties between the two countries.
Visitors to the exhibition will see landmarks and tourist attractions of Beijing and its surrounding regions such as the world-famous Forbidden City Palace, a snowy vista of the Great Wall of China and the magical Longqingxia Ravine.
A similar exhibition, depicting iconic tourist landscape images from Ireland will be displayed in Beijing Capital Airport later this year.
"We highly value our two direct connections from Dublin Airport to Beijing and Shenzhen bringing our two countries closer together," said Mr Philips.
"We are delighted to host these stunning images of Beijing which we hope will entice viewers to consider visiting China's capital city," he added.
Dublin Airport and BCIA officially became 'sister airports' in 2013 when both organisations signed an agreement to further commercial and tourism links between the two cities.
The agreement is also designed to enable the two airports engage in joint marketing initiatives to promote the direct airline services between Dublin and Beijing.
China is the world's largest outbound travel market and one of the fastest growing. The United Nations World Tourism Organisation estimates that outbound travel from China will reach 200 million by 2020.
Dublin Airport currently has two direct services to mainland China with Hainan Airlines. Passengers can fly to Beijing on any of the four services per week or Shenzhen twice a week. An estimated 70,000 Chinese people travelled to Ireland in 2017 and, according to Tourism Ireland, this number is expected to grow to 175,000 by 2025.
So far this year, more than 12.3 million passengers have travelled through Dublin Airport, a 7% increase compared to the first five months of last year.
Dublin Airport has welcomed an additional 764,000 passengers between January and May.
Dublin Airport has flights to almost 200 destinations in 43 countries, operated by 53 airlines and is the 11th busiest airport in the European Union.
Image above: Vice President, Beijing Capital International Airport Co. Ltd., Mr. Du Qiang; daa Chief Executive Dalton Philips; Chinese Ambassador to Ireland HE Xiangdong and Associate Counsel of Beijing Municipal Culture and Tourism Bureau Mr. Ma Wen at the official opening of the iconic images of Beijing exhibition in Terminal 1, Dublin Airport.