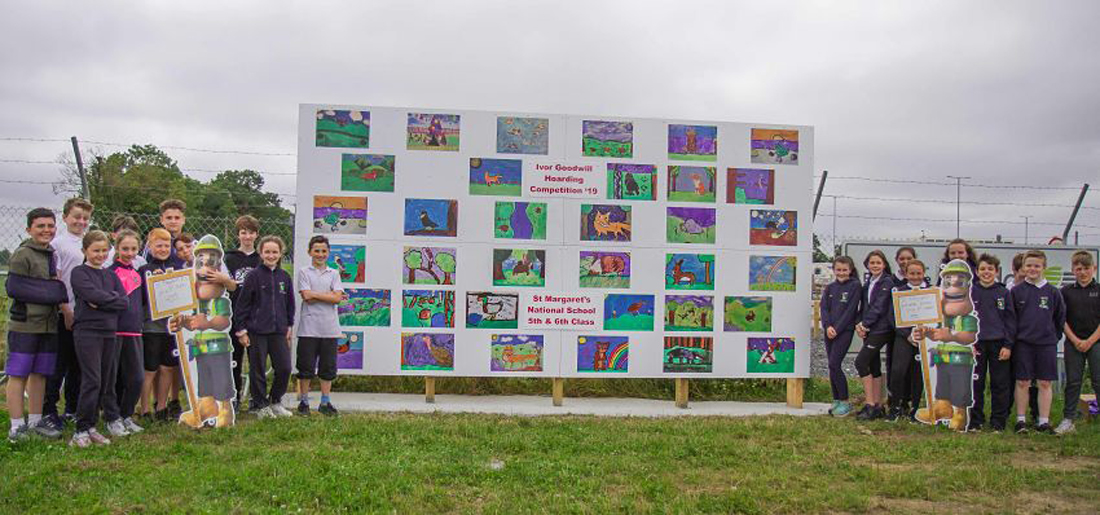 Dublin Airport's North Runway site entrance is hosting art from St. Margaret's National School's entry to the Ivor Goodsite Hoarding Competition.
The competition encourages children of all ages to design and create a mural or collection of images based on a theme of their choice on site hoardings in their locality.
The fifth and sixth class students of St. Margaret's chose the natural environment around the North Runway construction site and the various plant and wildlife common to the area as their theme.
Commenting on the initiative Dublin Airport Community Liaison Manager Maura Cassidy said: "Dublin Airport has a long-standing relationship with St. Margaret's NS. The school takes part in our seasonal entertainment programmes, Junior Achievement programme as well as benefitting from our Community Fund.
"We are delighted to see the students actively engage in the North Runway project at this early stage of the development. Taking part in the competition has helped them learn about their natural environment and how a construction project of this nature can co-exist within local eco-systems," she added.
North Runway is being constructed by an Irish-Spanish joint venture Roadbridge FCC Construcción (FCC). Roadbridge Environmental Manager Lorna Conway-Hynes said "It was a pleasure to speak to the students and explain the different plant and animal species on the runway site to help kick start their imaginations for this project. The result is a beautiful and fun array of art on display at the runway compound site entrance."
The Ivor Goodsite Hoarding competition is part of the Considerate Contractors Scheme, a non-profit, independent organisation that aims to encourage best practice beyond statutory requirements for building contractors.
Dublin Airport and Roadbridge FCC are committed to continuing the airports long-standing track record of working and engaging with local communities through community sponsorship, educational and school programmes and dedicated engagement forums.
Dublin Airport's new 3.1k runway will be located almost 1.7km north of Dublin Airport's current main runway. Construction will take about two years and a nine-month period of commissioning will then take place. North Runway will support the creation of 31,200 new Irish jobs and €2.2 billion in additional economic activity by 2043.
Image: Students from fifth and sixth class of St. Margaret's NS with their artwork. The mural is on being hosted at Dublin Airport's North Runway site entrance.