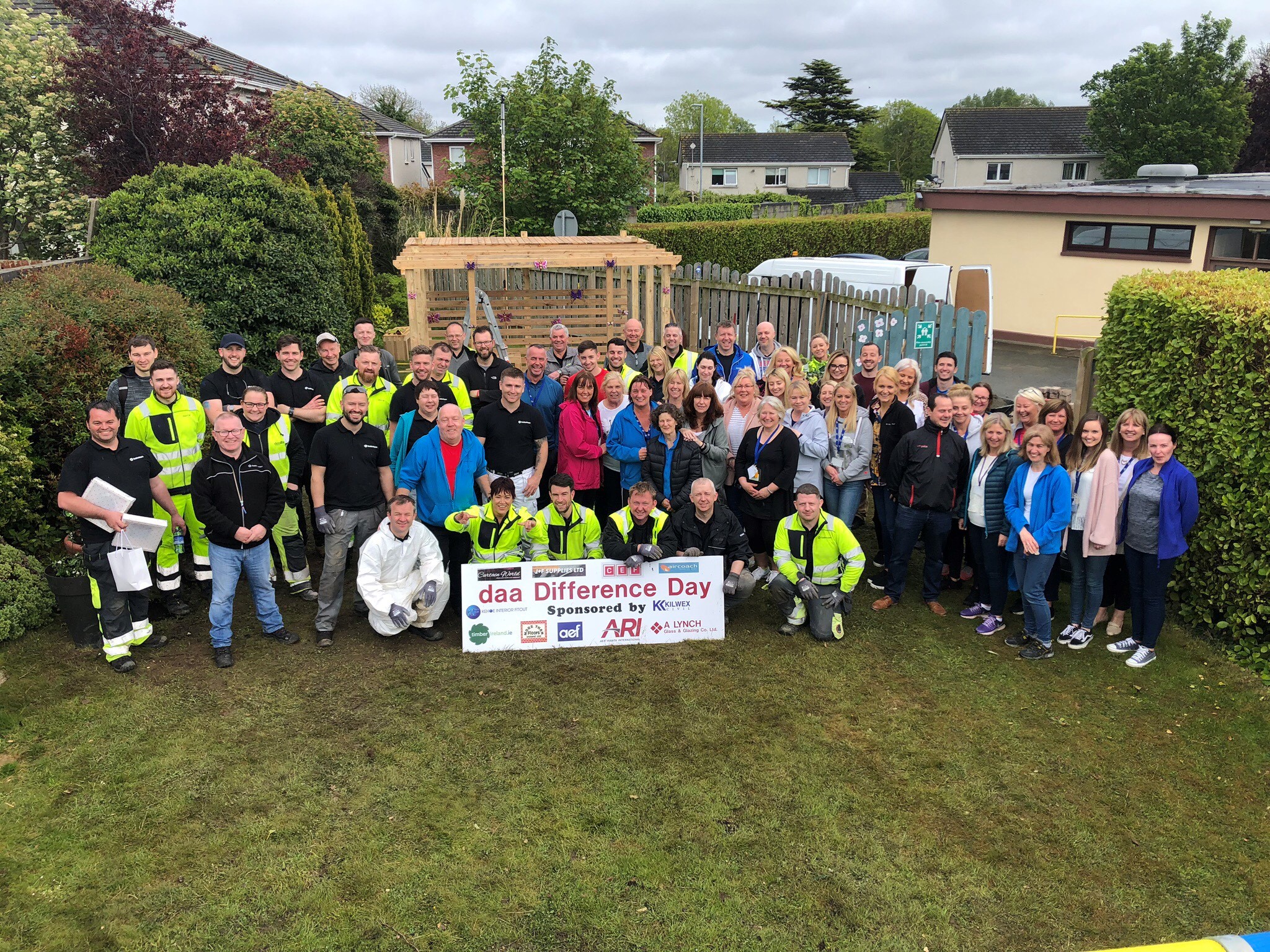 Dublin Airport's Asset Care team made a real difference to the children of St. Paul's Special School in Beaumont Woods, Beaumont, Dublin when it recently undertook a major renovation project of the school's outdoor recreational spaces as part of a teambuilding event.

St. Paul's caters solely for children with an Autistic Spectrum Disorder (ASD) diagnosis. The focus of the school is on small classes that consider pupils' ages and individual support needs.
The Asset Care team at Dublin Airport, which is responsible for the maintenance and management of all airport assets including car parks, airfield maintenance, utilities, baggage systems wanted to give something back to the local community.
The comprehensive project focused on restoring an existing gazebo in the grounds of the school, extensive restoration and paint works, designing and building picnic and relaxation benches, cutting back shrubbery and trees, creating colourful games for the yard area, and other sensory additions like trampolines, swings and pathways.
The Asset Care team carried out preparatory works before the day long volunteering event. This included spraying weeds, pre-painting, digging and earth removal as well as several site visits to assess the work hours needed to finish the different elements of the job.
"I am very proud that so many members of the Asset Care team volunteered their time and expertise to support this very worthy project," said Dublin Airport Group Head of Asset Care, Peter Chambers.
"It's rare that the extended Asset Care team from those working on the airfield and in the terminals, to management and administrative colleagues have an opportunity to collaborate practically like this. I am delighted our team took this unique opportunity to work together creating a beautiful, sensory space the 54 students in St. Paul's can enjoy every day," he added.
St. Paul's Principal Adrian Harkin said the airport's Asset Care team had made a real difference and the school had been truly transformed. "It was remarkable to see the enthusiasm and kindness of Dublin Airport's Asset Care team who came here to create these new, exciting and engaging outdoor spaces".
"They have given a tremendous amount of support to some of the most vulnerable children in our society. I am very grateful to Peter and his team and delighted that our pupils can now explore new surroundings in a safe and secure environment".
Dublin Airport invests €400,000 annually into local communities through its Community Fund. The €10 million fund was launched in 2017 and will run for 25 years. Support is focused on areas such as environment and sustainability, sports and recreation, social inclusion and community development, health and well-being, and culture and heritage.
The Community Fund supports projects in the neighbouring communities around Dublin Airport, from Santry south of the airport to Rolestown in the north, and from Tyrrelstown on the west to Portmarnock on the east.
Image: Dublin Airport's Asset Care team recently undertook a major renovation of the outdoor recreational spaces at St. Paul's Special School in Beaumont Woods, Dublin.