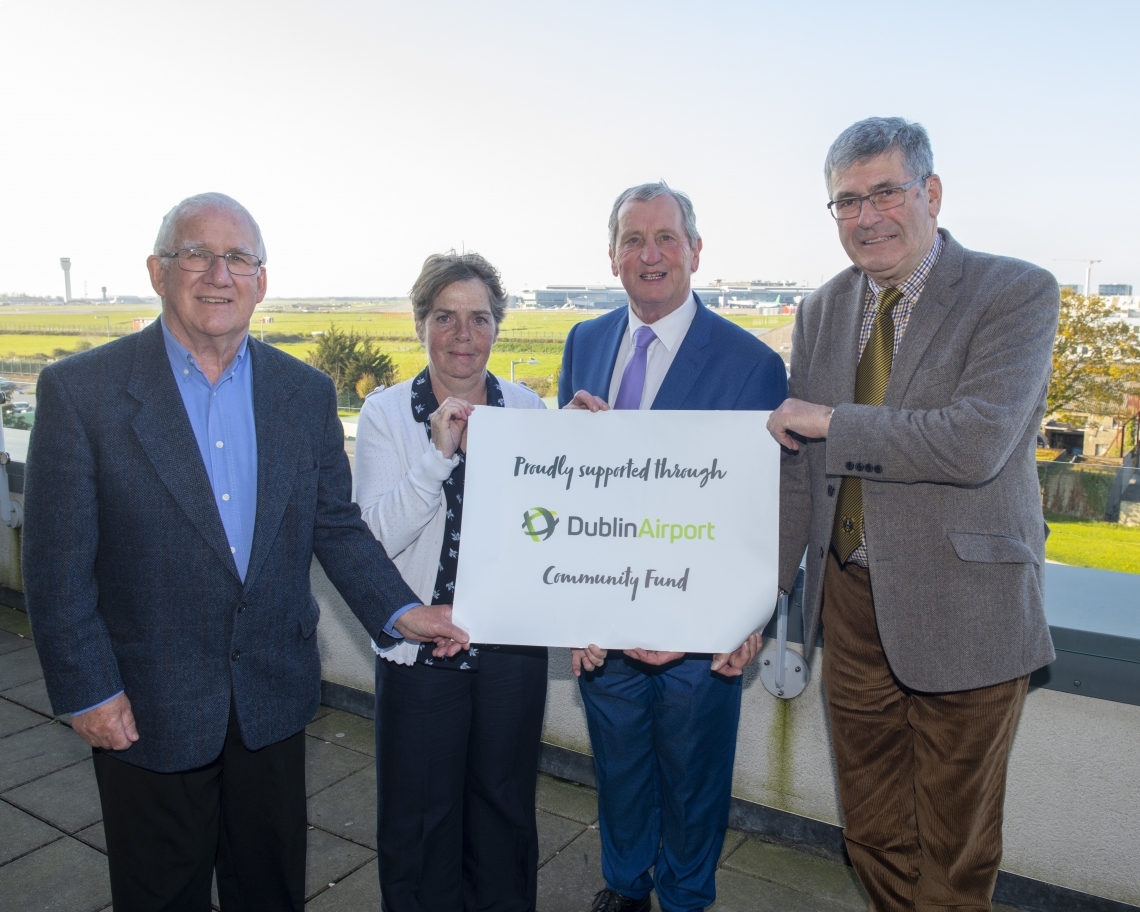 Dublin Airport is delighted to support the Portmarnock Senior Men's Initiative through its Community Fund.
The initiative promotes a positive identity for retired men in the Portmarnock area where members are encouraged to come together for friendship and comradery. Here they set targets to achieve goals in a variety of activities which contributes to members feeling valued.
Dublin Airport Community Liaison Manager Maura Cassidy said "It's very uplifting to hear and see how grateful community groups are for the support we have given. The best part about our community fund is that it reaches many different aspects of society and helps all age groups."
The club works with men most at risk of isolation such as those living alone or whose work may have prevented them from getting to know others in the community.
"We organise various social events including tours to places of interest/scenic beauty, golf outings, exchange visits with other active retirement clubs, keeping fit and exercise classes," said Tony Owens founding member of Portmarnock Senior Men's Initiative.
"It is great to see senior men coming together for comradery and joviality while minding their physical and mental health. We are proud and privileged to have been supported by Dublin Airport's Community Fund and we have spread the benefit of the funding to the wider community by inviting members of Portmarnock Arch Club to attend our events," he added.
The recently group visited Glencree Centre for Peace and Reconciliation which promotes peace within and between communities, followed by a quick stop in God's Cottage near Glendalough, where they viewed a demonstration of Irish working sheepdogs. A visit to Wicklow Gaol was followed by a meal in Hunter's Hotel Restaurant.
The trip was made possible thanks to funding received in Round four of Dublin Airport's Community Fund. Round five of funding will open on September 1, 2019. For more information, an application form and a how-to-apply guide visit www.dublinairport.com/community-fund
Dublin Airport's €10 million Community Fund was launched in 2017 with an annual investment of €400,000 over 25 years. Support is focussed on areas such as: environment and sustainability, sports and recreation, social inclusion and community development, health and well-being, and culture and heritage.
The Community Fund supports projects in the neighbouring communities around Dublin Airport from Santry south of the airport to Rolestown in the north and from Tyrrelstown on the west to Portmarnock on the east.

Image: Maura Cassidy, daa, Community Liaison Manager pictured with representatives of Portmarnock Senior Men's Initiative at Dublin Airport's Community Fund Awards Evening.