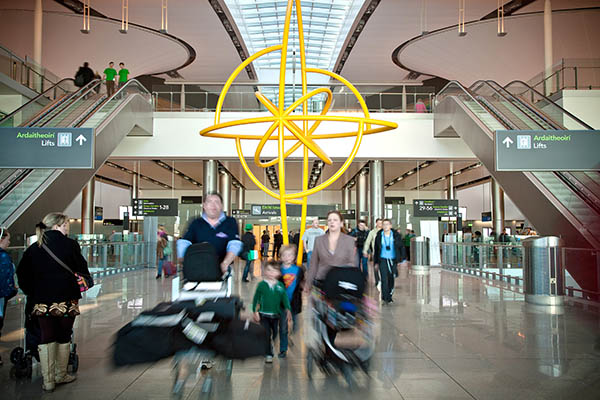 Dublin Airport, in partnership with Volunteer Ireland, is to trial a new volunteer-based assistance programme for passengers this Christmas.
The volunteer group, which will be known as the Fáilte Abhaile/Welcome Volunteers will comprise members of the local community and retirees from the aviation industry. The role of volunteers is to welcome passengers and offer assistance during the busy Christmas season.
A small team of 32 volunteers will be recruited to volunteer for a four-hour shift once a week, between 7am and 10pm in the Arrivals Hall in Terminal 1 or Terminal 2.
More than 1.1 million passengers arrived and departed in the days before, during and after Christmas in 2018 and this number is expected to increase further this year.
The programme is being conducted in partnership with Volunteer Ireland, the national volunteer development organisation which will recruit volunteers through its registration and screening programme. Successful volunteers will attend a customised Dublin Airport training programme which will include airport familiarisation, problem solving, passenger assistance and communication skills.
"There are many retired people in our local community and former colleagues who would love to help passengers on arrival at Christmas, so we are delighted to partner with Volunteer Ireland on this initiative," said Dublin Airport Managing Director Vincent Harrison.
"Many airports throughout the world operate similar volunteer-based initiatives. While we already have established customer teams at Dublin Airport, the Fáilte Abhaile/Welcome Volunteers will complement the work they do."
Training and Programmes Manager at Volunteer Ireland, Stuart Garland said "We are delighted to work with Dublin Airport on its Fáilte Abhaile volunteer programme. Similar volunteer welcome programmes across the world have been a big hit with volunteers and passengers alike and we're confident it will have a positive impact in Dublin Airport over the festive period. Volunteers will use their local knowledge, passion and enthusiasm to bring something extra special to the airport this Christmas."
The volunteer programme is being trialled initially for the month of December and maybe activated at other times of the year during busy periods such as St. Patrick's Day, Easter and the summer peak times.
"Working at the airport for a couple of hours a day, welcoming passengers' home, helping with problems that may arise is a wonderful and meaningful way to contribute to the first and overall impression of Dublin Airport and of Ireland," Mr Harrison said.
Dublin Airport has flights to almost 200 destinations in 43 countries, operated by 53 airlines and is the 11th busiest airport in the European Union.
Those interested in volunteering can register their interest via this link: http://bttr.im/hih91
Volunteer applications will be open until Friday November 22, 2019.