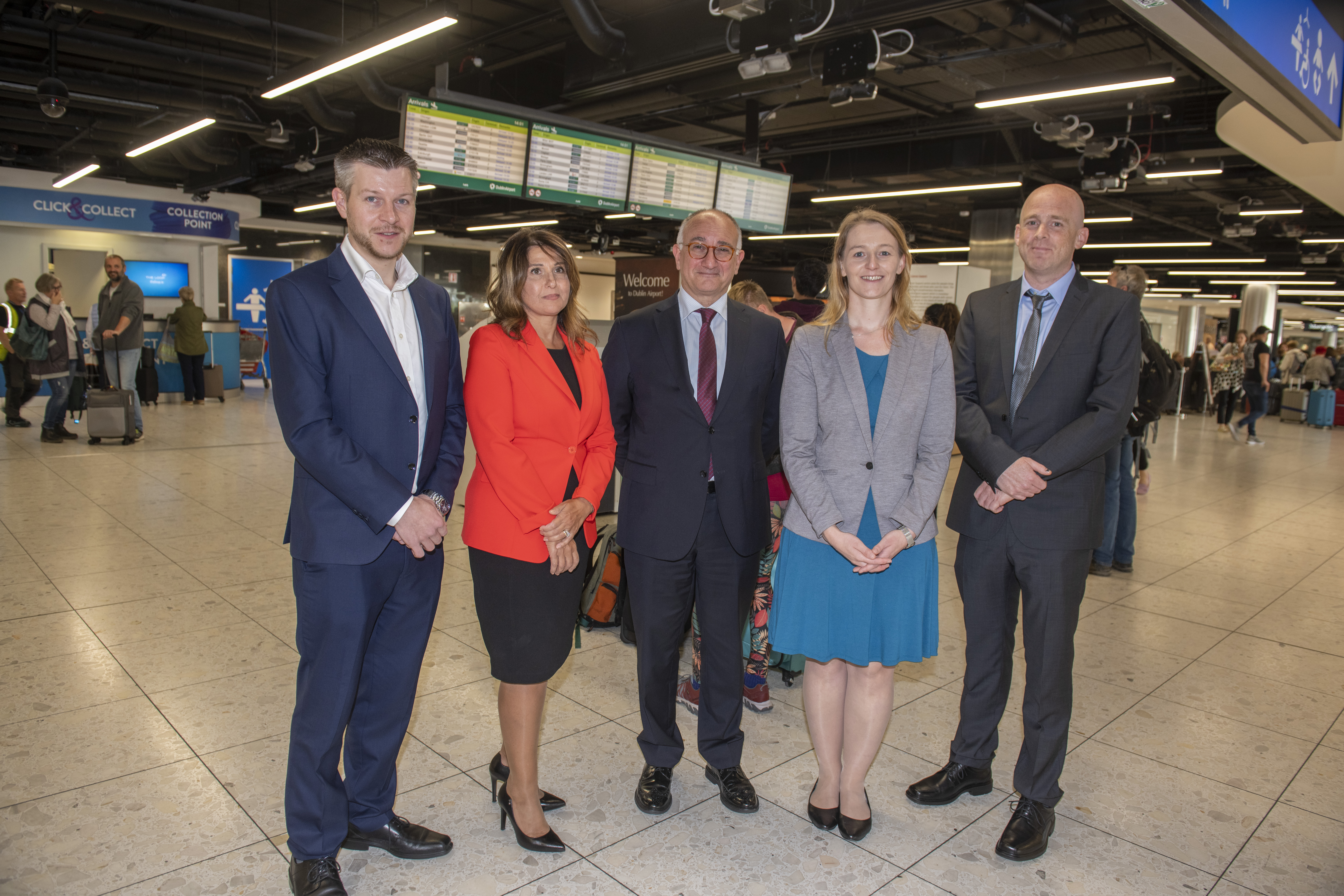 Dublin Airport recently welcomed a delegation from the European Commission, representing the Single European Sky Air Traffic Research (SESAR) project to the airport.
Dublin is part of a wider group of airports, airlines and air navigation service providers across Europe that are working together on the SESAR project.
The project aims to improve air space capacity and management in EU Member States and is funded by the Connecting Europe Facility (CEF) for Transport, a key EU funding stream that supports targeted infrastructure investment at European level.
The CEF for Transport aims to support innovation in the transport system to help improve the use of infrastructure, reduce the environmental impact of transport, enhance energy efficiency and increase safety.
Since 2014, Dublin Airport, supported by colleagues in SESAR, identified several projects that were suitable for funding. A total of nine projects have received approved funding of €10.3 million which is approximately 47% of the total combined costs of the projects.
"Dublin Airport is extremely proud to partner with colleagues from across the EU working together to deliver the Single European Sky vision," said Dublin Airport Managing Director Vincent Harrison.
"We recently welcomed delegates from the European Commission and SESAR, the Innovations and Networks Executive Agency, along with representatives from the Department of Transport, Tourism and Sport to Dublin Airport to view the various completed and ongoing projects funded by the CEF for Transport. Dublin Airport is committed to SESAR's core ethos of making air travel easier and, most importantly, more sustainable," he added.
Chief Strategy and Programme Management at SESAR Mariagrazia La Piscopia at said "Site visits of this nature clearly show the operational benefits SESAR delivers. We have 115 fully completed SESAR deployment projects bringing concrete benefits to EU passengers, citizens and economy throughout the EU."
The implementation of Airport Collaborative Decision Making (A-CDM) at Dublin Airport is one of the projects that received funding. A-CDM is a Europe-wide initiative under the guidance of Eurocontrol, which is the European organisation for the safety of air navigation.
A-CDM focuses on aircraft turnaround times and pre-departure sequencing processes to boost air traffic flow and operational efficiency of all airport operators by reducing delays and increasing the predictability of events.
The recent installation of the Advanced Visual Docking Guidance System at Dublin Airport also received funding from SESAR. AVDGS is an electronic display above aircraft parking stands which provides real time information to pilots as they are parking aircraft on arrival or pushing back for departure.
This information means that airline baggage and ground handlers can get to the aircraft quicker to ensure faster aircraft turnaround thereby helping to reduce potential delays for the airline and its passengers. It also means that the aircraft and its support vehicles are not running engines unnecessarily, which in turn can help reduce carbon emissions from the airfield.
The group were also briefed by Ryanair and the Irish Aviation Authority on SESAR funded projects they have undertaken to further secure and enhance Ireland's connectivity.
Dublin Airport, which is Ireland's key aviation gateway, welcomed 31.5 million passengers last year. It has flights to almost 200 destinations in 43 countries, operated by 53 airlines and is the 11th busiest airport in the European Union.

Image: David Reddington, Dublin Airport, Marco De Sciscio, European Commission, Mariagrazia La Piscopia, SESAR, Elisabeth Stroebitzer, Innovations and Networks Executive Agency and Ross Keane, Department of Transport, Tourism and Sport pictured at Dublin Airport.