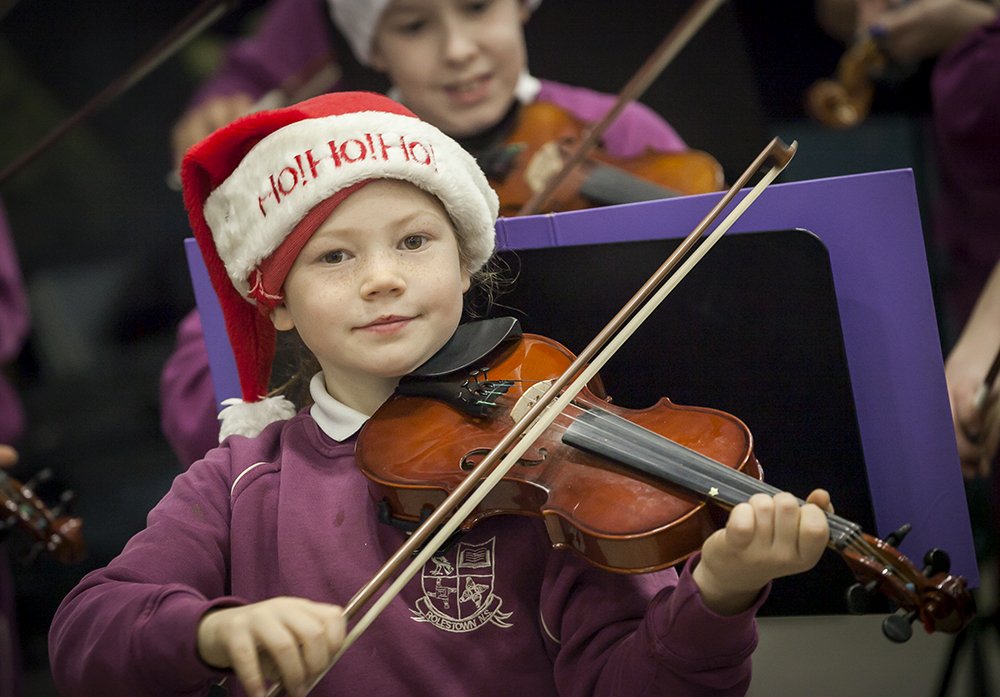 Dublin Airport is set to host its biggest and busiest festive entertainment programme this Christmas.
More than 1,600 performers from 50 schools, choirs and musical groups will entertain passengers from today Monday, December 9 with two performances in each terminal daily, right up to Christmas Eve.
"Dublin Airport is a very special place for the thousands of passengers travelling home for Christmas from all over the world and also for those visiting Ireland for the holidays," said Dublin Airport Managing Director Vincent Harrison.
"We have been arranging our Christmas entertainment calendar since September and we are delighted to present our biggest musical schedule ever. Our teams in the terminals love to see the surprise and delight on the faces of passengers as they are greeted by festive music and song when they walk into the arrivals hall," he added.
RTÉ Radio One's Ryan Tubridy will broadcast his show live from Terminal 2 Arrivals on Monday, December 23 from 09.00 – 10.00.
Dublin Airport's entertainment programme will end on Christmas Eve with the Dublin Gospel Choir performing live in Terminal 2.
"Many of our performers are from schools in our local communities including Kilcoskan National School in the Ward, Mary Queen of Ireland National School in Toberburr and Thornleigh Educate Together, Swords," according to Mr Harrison. "We also have adult choirs such as Prosper Fingal, the Airport Fire Service Band and Voices of Hope - Move 4 Parkinsons. We would like to thank all our performers for helping to make Christmas homing comings extra special at Dublin Airport."
Dublin Airport has welcomed almost 28.4 million passengers in the first 10 months of the year, a 5% increase over the same period in 2018. Almost 1.4 million extra passengers have travelled through the airport between January and October.
Date
Time
Terminal
Group

09/12/2019

11.00

11.00

19.00

19.00

T1

T2

T1

T2

St. Brigid's Boys National School

Kylemore College

Fingal Gospel Choir

Skerries Ukele Group

10/12/2019

11.00

11.00

19.00


T1

T2

T1


Mary Queen of Ireland

Rolestown National School

Voices of Hope - Move 4 Parkinsons


11/12/2019

11.00

11.00

19.00


T1

T2

T1


St. Mary's National School, Garristown

Gaelscoil Cholmcille

Brother Kevin Singer

12/12/2019

11.00

11.00

19.00

19.00

T1

T2

T1

T2

Forget-Me-Nots

St. Margaret's National School

Tolka Dots

Dublin Airport Fire Service Band

13/12/2019

11.00

11.00

19.00

19.00

T1

T2

T1

T2

Cannistown National School

Portmarnock Community School

Clane Musical and Drama Society

Dublin All-Stars

14/12/2019

11.00

11.00

T1

T2

Kylemore Music Group

Young European Strings

15/12/2019

19.00

T2

St. Mary's College Singers

16/12/2019

11.00

11.00

19.00

19.00

T1

T2

T1

T2

Holywell Educate Together National School

Kilcoskan National School

Songs in the key of D

Portmarnock Singers

17/12/2019

11.00

11.00

19.00

19.00

T1

T2

T1

T2

Prosper Fingal

Scoil an Duinnínigh

North Dublin Community Gospel Choir

Cór Duibhlinne

18/12/2019

11.00

11.00

19.00

19.00

T1

T2

T1

T2

Scoil Bhríde

St. Louis Infant School

Lambay Singers

CCÉ Port Mearnóg

19/12/2019

11.00

11.00

19.00

19.00

T1

T2

T1

T2

Virgin Mary Girls National School

St. Joseph's Rush

Heritage Singers, Balrothery

Precision Pianos

20/12/2019

10.00

10.00

19.00

19.00

T1

T2

T1

T2

Thornleigh Educate Together

St. Cronan's Junior National School

Rush Musical Society

K&S Accordian Orchestra

21/12/2019

11.00

11.00

T1

T2

Dublin Airport Singers

Gluais

22/12/2019

11.00

19.00

T2

T1

Royal Meath Accordion Orchestra

St. Paul's Choir Ayrfield

23/12/2019

09.00

19.00

T2

T2

Ryan Tubridy Show - RTÉ Radio One

Dublin Airport Fire Service Band

24/12/2019
11.00
T2
Dublin Gospel Choir