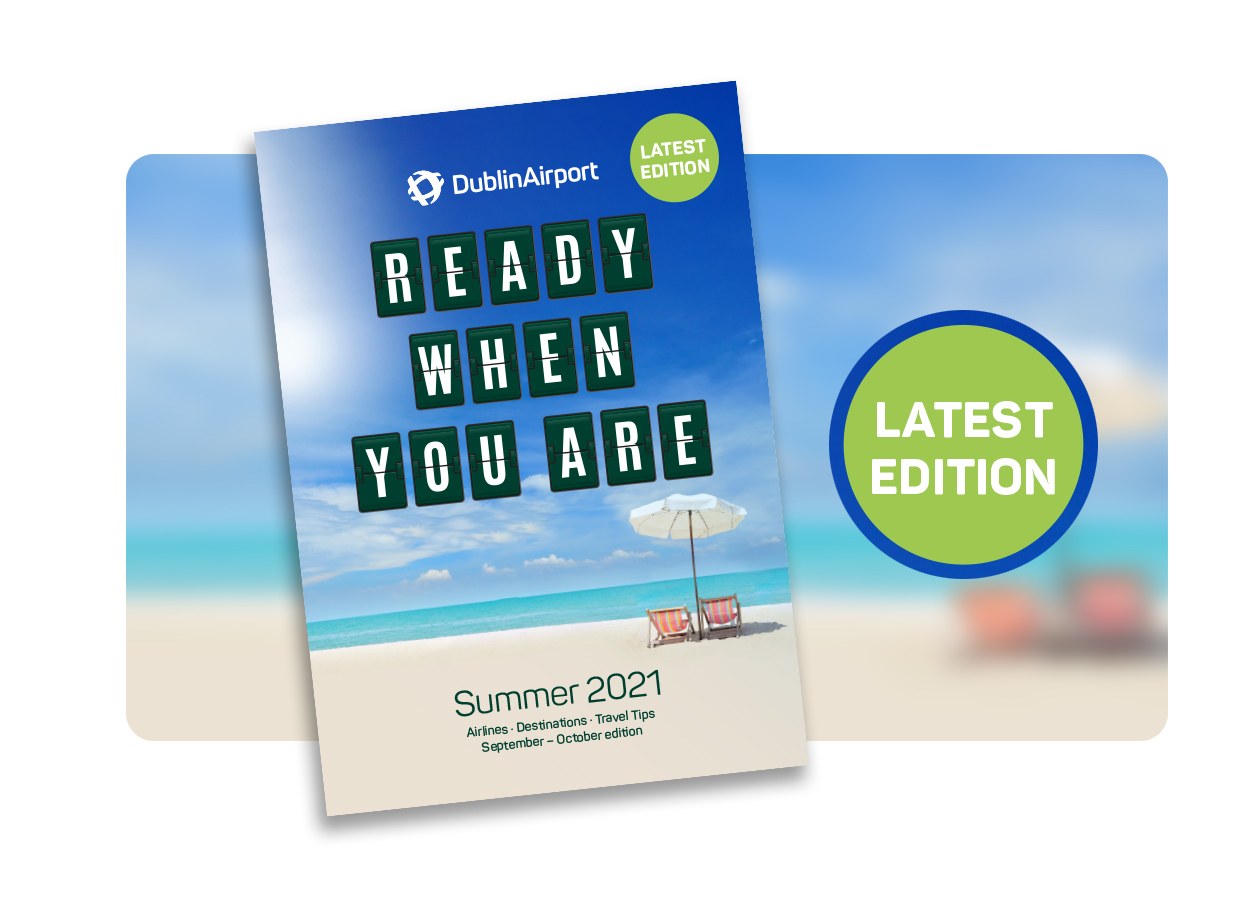 Dublin Airport has launched the latest edition of its 2021 flight schedule in digital flip book format to reflect the flight schedule for September/October.
Dublin Airport will have 39 airlines flying to 145 destinations worldwide as it continues to rebuild its global reach following the devastating impact on the aviation sector because of COVID-19.
The easy-to-read Dublin Airport guide contains a variety of helpful information such as a list of handy travel tips, passenger safety information as well as the details of all the destinations and frequency of flights serve by our airline partners.
The lifting of international travel restrictions on July 19 saw the demand for international travel grow stronger and the number of flights departing Dublin Airport increase. Since the last edition published in July, flights to the UK have increased by 23% to 305 flights per week, services to continental Europe rose 8% to 831 and a growth of 29% in the frequency of flights destined for the USA.
Edel Redmond, Head of B2B and Partner marketing at Dublin Airport said:
"It has been truly wonderful to welcome passengers back to Dublin Airport in recent weeks, and it has been exciting to see the return of our airline partners too. We have been working hard to strengthen Dublin Airport's route network coming out of this pandemic and the improved frequency on many routes provides even more, choice and flexibility for both business and leisure customers alike."
Other highlights from the updated schedule from Dublin Airport include:
• Canadian flights have resumed, with Air Canada operating 3 flights per week while Aer Lingus will be operating 4 flights per week from Dublin to Toronto.
• September will also see the return of Norwegian's service to Copenhagen, Eurowings flights to Dusseldorf, Sun Express flying direct to Izmir and the return of the Transavia route to Paris Orly.
• Loganair will operate a new service to Aberdeen, while Emirates increases its frequency to Dubai to 7 flights per week, and British Airways resumes its popular Dublin – London City route.
Over 2.9 million passengers have travelled through Dublin Airport in the first eight months of this year, representing 87% decrease when compared to pre COVID levels.
Please Click Here to view the latest version of the Dublin Airport Summer Schedule 2021.