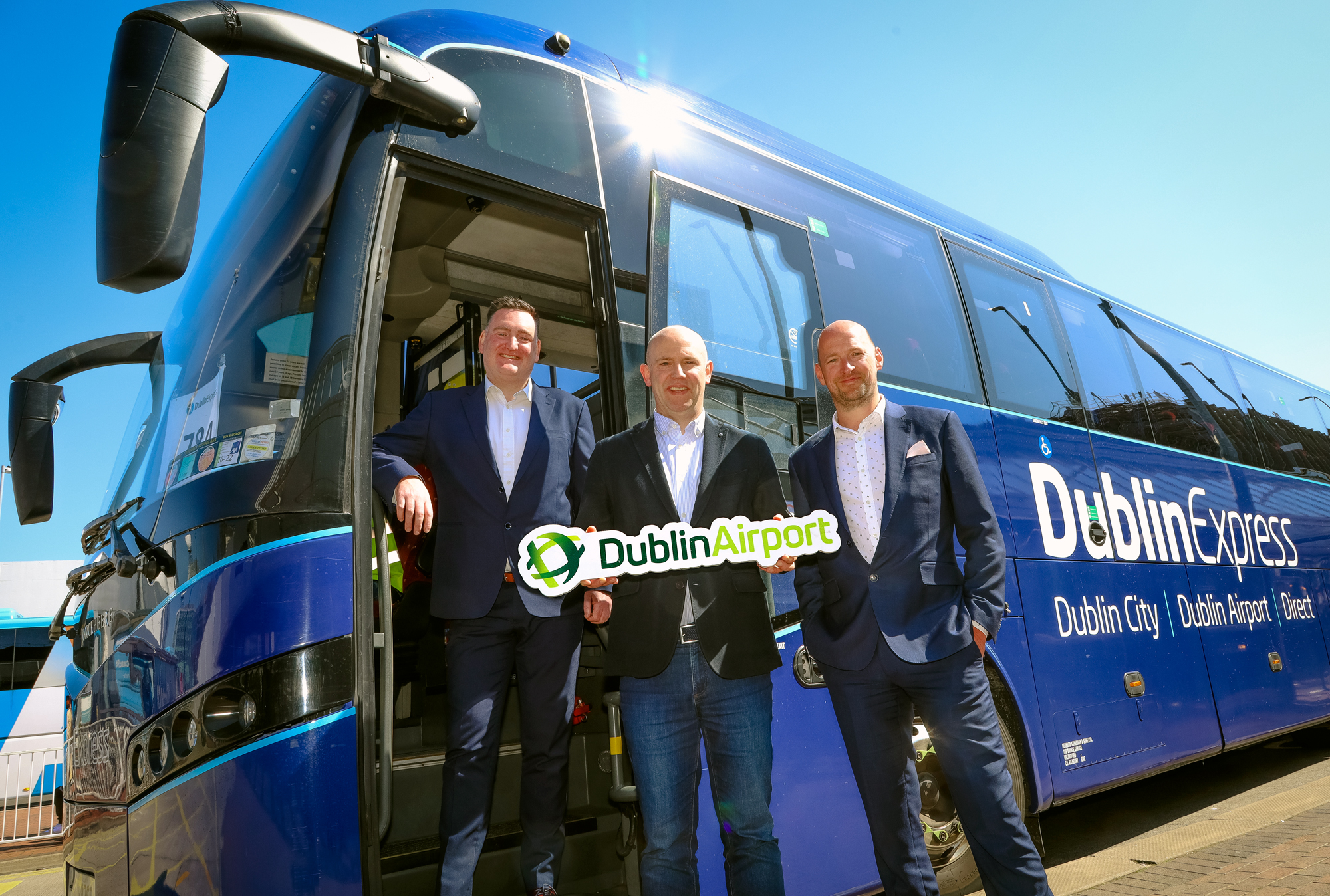 Dublin Airport has welcomed the launch today of a new bus service between the airport and the city centre, operated by Dublin Express.
The new Dublin Express service will operate every half hour between Dublin Airport and a number of stops on both the north and south side of Dublin, including the Docklands, Pearse Station, Trinity College and Merrion Square. The addition of the new service provides a welcome boost to the number of public transport options available to Dublin Airport passengers.
The new route will serve:
Dublin Airport
Docklands
Custom House Quay
Eden Quay
Pearse Station
Trinity College
Merrion Square and
Charlotte Way
Ronan Fitzsimons, General Manager Commercial, Dublin Airport welcomes this new route saying:
"We are delighted to support the expansion of Dublin Express services between Dublin Airport and Dublin City. The growth of their services in such a short period of time is testament to the quality of their service and the demand from our passengers. The expansion of our public transport offering is paramount to our sustainable growth as we rebuild our business and we look forward to supporting Dublin Express as they continue to grow at Dublin Airport and connect us to even more communities."

John Boughton – Commercial Director, National Express, said:
"We're delighted to have launched our latest shuttle service from Dublin Airport into the south of the city. This represents a doubling of National Express Ireland's investment in its hugely popular Dublin Express service, just 8 months after launching.
This represents only the start of our plans for helping to develop sustainable public transport in Ireland and we look forward to announcing further plans in due course."
Dublin Airport is served by over 750 bus departures per day, with our public transport providers connecting us to over 100 destinations and communities across the island of Ireland.
With operations running 24 hours, Dublin Airport is connected by fast, frequent and reliable public transport services. Over the coming weeks we will see increased frequencies and new routes added to key destinations into Dublin city and across the country. Public transport providers continue to increase services as passenger numbers increase. In April, bus services to and from Dublin Airport will be back to almost 80%of what they were in 2019.
To discover the best options available to you to travel to and from Dublin Airport visit https://www.transportforireland.ie/plan-a-journey/ or check out https://www.dublinairport.com/
Dublin Airport will serve 180 destinations worldwide this year, in partnership with 44 airlines, as it continues to rebuild its global reach following the devastating impact on the aviation sector due to COVID-19.