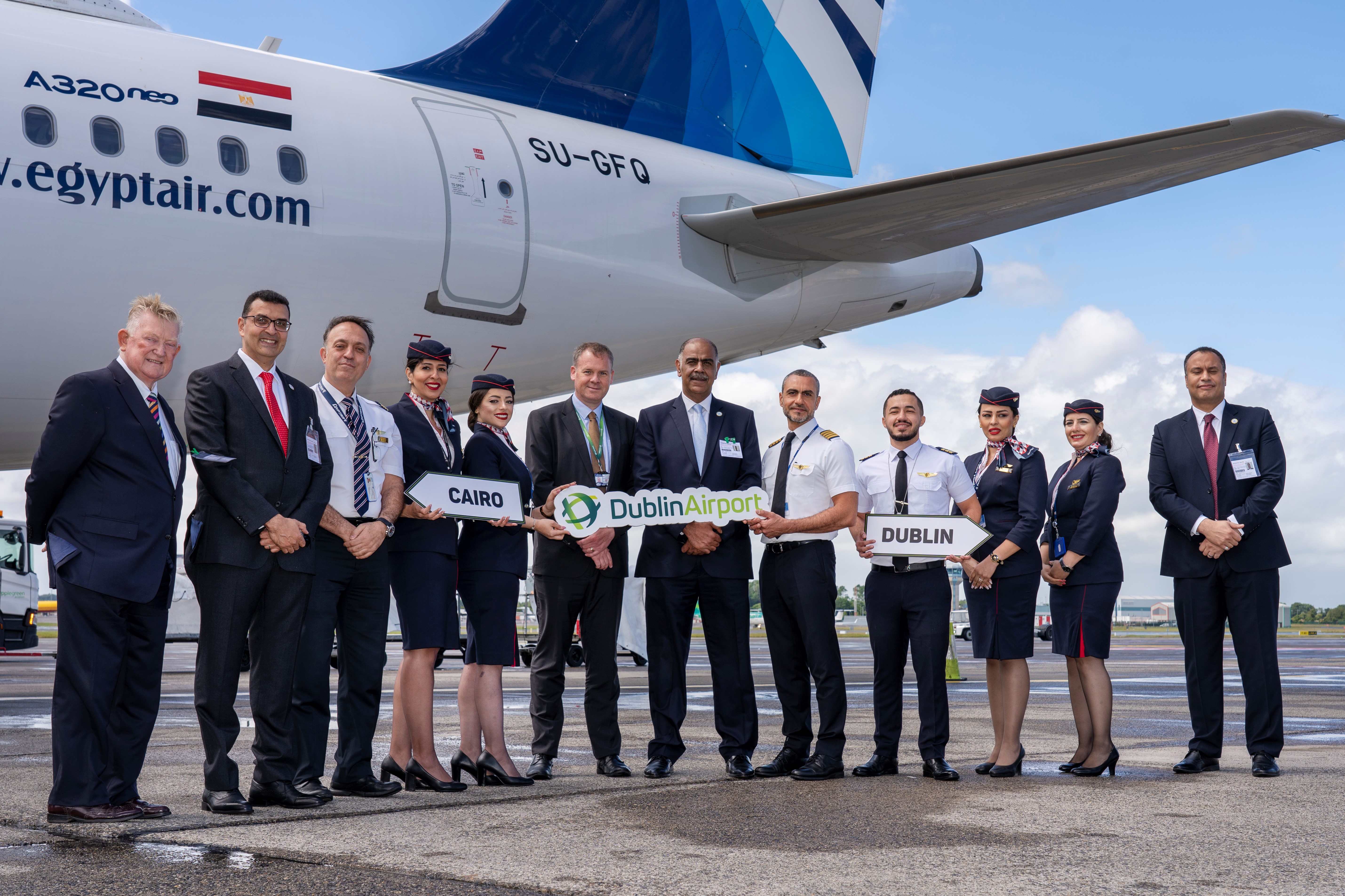 EGYPTAIR has launched a new year-round route from Dublin Airport to Cairo, with the inaugural flight taking off earlier this month.
The new route will operate four times per week and is Ireland's first scheduled air service to and from Egypt.
EGYPTAIR is the state-owned flag carrier of Egypt. The airline is headquartered at Cairo International Airport and operates scheduled passenger and freight services to more than 75 destinations in the Middle East, Europe, Africa, Asia, and the Americas. EGYPTAIR is also a member of Star Alliance.
Gary McClean, Deputy Managing Director of Dublin Airport, welcomed the news, saying:
"Dublin Airport welcomes the launch of a first ever direct route between Dublin and Cairo. The expansion of EGYPTAIR's route offering out of Dublin Airport to Cairo is very exciting for both business and leisure passengers in Ireland and Egypt. Cairo is a beautiful city steeped in culture and with a rich history. We look forward to working with EGYPTAIR to promote this new service."
Captain Amr Nabil, EGYPTAIR CEO, said,
"On behalf of EGYPTAIR, the national carrier of Egypt and Star Alliance member, I would like to express my pleasure and sincere appreciation to all of you who generously supported us to operate the non-stop service between Cairo and Dublin.
The new route represents an additional link between Egypt and Ireland, boosting the tourism and trade traffic between the two countries and beyond on our network.
This year, EGYPTAIR celebrates its 90th anniversary, as the first airline in the Middle East and Africa to join IATA. These 90 years have marked many successes and limitless ambition to connect people and cultures all around the world together."
With a metropolitan area population of 20 million, Cairo is the largest city in the Arab world. It is located on the banks of the Nile, and the famous Pyramids at Giza and the Sphinx are less than 10 miles from the city centre.
The new Dublin-Cairo service will operate with an Airbus A320NEO aircraft that is due to join the EGYPTAIR fleet in February. The 142-seat configuration will have 16 seats in business and 126 in economy.
Dublin Airport will serve over 180 destinations worldwide this year with 43 airline partners as it continues to rebuild its global reach following the devastating impact on the aviation sector due to COVID-19.