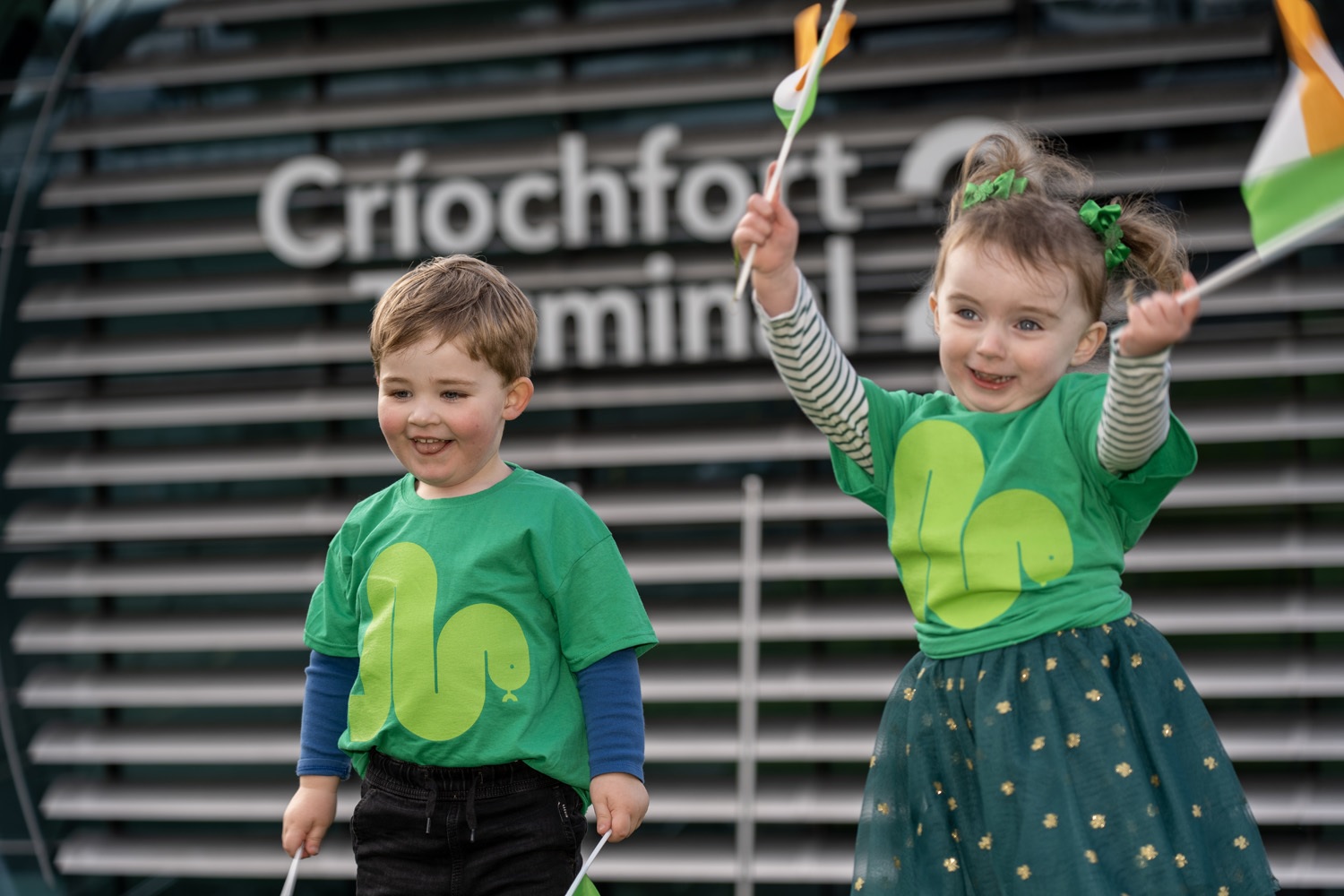 Around 432,000 passengers will pass through Dublin Airport over the coming St Patrick's Day weekend, according to the airport's operator daa.
With St Patrick's Day falling on a Friday, many Irish people are set to avail of the three-day weekend to make a trip overseas with 220,000 passengers forecast to depart between Thursday, March 16 and Monday, March 20.
There will also be a steady flow of arrivals over the course of those five days, with 212,000 set to fly into Dublin Airport. Many of those will be coming to Dublin to enjoy the St Patrick's Day festival, which Dublin Airport is proudly sponsoring, and also the Ireland versus England rugby match on Saturday.
daa is working with Failte Ireland to ensure a true Irish welcome in the terminals at Dublin Airport over the St Patrick's weekend, with a number of Irish dancing groups set to entertain passengers at arrivals. With visitors set to come to Dublin from all over the world, a dedicated team of Failte Ireland 'Meeters and Greeters' will be in Dublin Airport's Terminal 1 and Terminal 2 arrivals halls, providing a friendly face and a wealth of knowledge to guide passengers on their way to the festivities.
As part of the St. Patrick's Festival celebrations, Dublin Airport will proudly support a host of activities in Dublin's city centre on Friday, March 17, including live music, bands, street theatre, interactive games, circus and science shows, talks, film screenings and lots more. The theme of this year's festival celebrations is 'ONE', conveying a message of unity and welcome.

Hugh Fitzsimons is very excited for Dublin Airport's partnership with St. Patrick's Festival
Dublin Airport has the following advice for those travelling over the coming days:
Dublin Airport advises passengers travelling on short-haul flights to arrive at the airport two hours before their flight and three hours prior to a long-haul flight. Passengers checking in a bag with their airline should allow up to an additional one hour.
In order to ensure the smoothest journey possible, Dublin Airport is advising passengers to prepare for security in advance and make their way directly to the security screening area once checked in.
To help prepare for the security screening process, passengers should visit the Security page on the Dublin Airport website. Travellers are reminded that EU security regulations state that liquids over 100mls cannot be brought through the security screening area. Liquids under 100mls are permitted and should be placed in a single transparent, re-sealable bag measuring not more than 20cm x 20cm. Exemptions are in place for medicines and for baby food.
Passengers are advised to check which terminal their flight is departing from prior to arriving in the airport, which you will be able to find here.
Dublin Airport wishes all passengers a safe and celebratory weekend ahead.