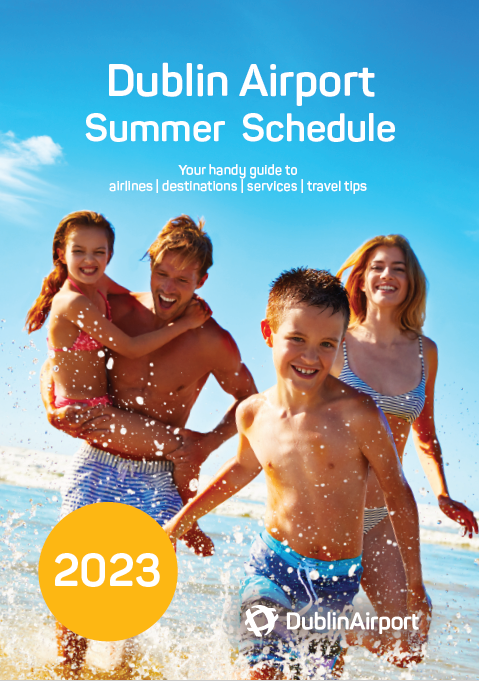 The summer schedule, published in a convenient digital flip book format includes almost 1400 flights each week to over 30 European cities.
Passengers will be able to fly coast-to-coast direct from Dublin Airport to the USA with almost 190 flights each week to destinations such as, Boston, Chicago, Hartford, Seattle, New York and LA.
Other highlights of the Summer Schedule from Dublin Airport include:
New Ryanair routes to Trieste, Brindisi, Asturias, Kos, Zakynthos, Burgas and Leipzig.
New Aer Lingus routes to Olbia and Cleveland, Ohio
New airline EL AL with 3 direct flights to Tel Aviv per week.
New airline Wideroe with 2 flights to Bergen, Norway per week.
Details of all destinations and the frequency of flights served by airline partners can be found in Dublin Airport's easy-to-read guide, which also contains a range of helpful information such as a list of handy travel tips and passenger safety information. Click HERE to view.
London continues to be the most served city destination from Dublin. This summer will see 320 London bound flights alone departing Dublin Airport each week.
With summer fast approaching, Dublin Airport would like to help you plan your next break with some destination inspiration and tips on having the smoothest journey possible.
If you are planning to travel this summer, we want your Dublin Airport experience to be as seamless and enjoyable as possible. So, before you jet off, take a moment to read our travel check list and always check the latest updates from your airline.
We encourage all passengers to prepare for security screening ahead of arriving to the airport. Please see HERE for a guide on security.
You can find further travel tips and information on Car Parks, Fast Track, Lounges, Security Screening and all the health and safety measures in place at Dublin Airport – plus lots more – on dublinairport.com
See Dublin Airport's 2023 summer schedule HERE.
We are excited to be welcoming you very soon.

The Dublin Airport team